Megan Hilty Sets The Record Straight About Reports On The Tragic Death Of Her Family Members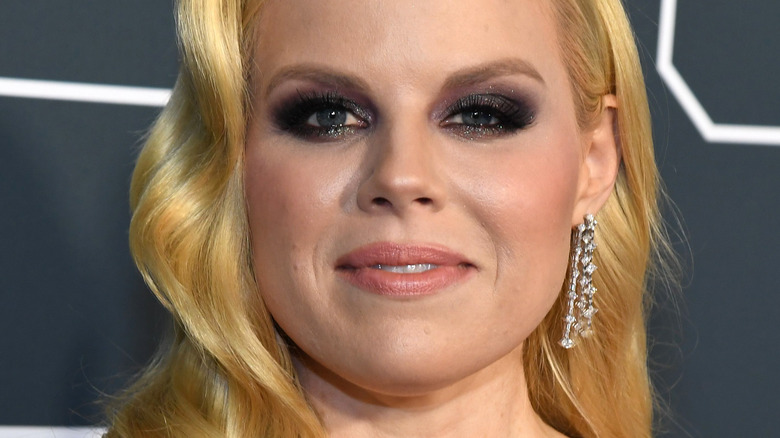 Kevin Mazur/Getty Images
As Lea Michele makes a surprising stage comeback in "Funny Girl," another Broadway icon is mourning a family tragedy. On September 6, TMZ reported that Megan Hilty's sister, brother-in-law, and their young child died in a plane crash on September 4. In a statement, the "Wicked" and "Smash" actor said, "The last three days have been the worst of our lives. There are truly no words to appropriately convey the depth of our grief." The plane boarded by Hilty's family crashed into Puget Sound off of Whidbey Island 30 miles outside of Seattle, also killing the pilot and six other passengers, per KIRO 7.
Friends, fans, and colleagues of Hilty and her family offered their kind words and support, with "Frozen" actor Josh Gad saying, "My heart breaks in ways words can not describe for my friend @meganhilty and her family. What a truly unthinkable tragedy. Please join me in sending love and light their way." Washington Gov. Jay Inslee also commented, "[My wife] Trudi and I are devastated at the loss of those aboard the plane that crashed near Whidbey Island this weekend. Our hearts are with their families and communities today."
Hilty had initially planned to grieve in private, but some inaccuracies in the early reports compelled her to speak up publicly. By correcting the mistakes, she hopes to honor her family's memory in the right way.
Megan Hilty's latest post corrects reporting errors
In an Instagram post, Megan Hilty publicly acknowledged the tragic plane crash that left her sister Lauren, brother-in-law Ross Mickel, and nephew Remy dead. In addition to addressing their loss, she took the opportunity to clear up some misinformation spread by early reports of the accident: "It is important these details be corrected to respectfully honor everyone we've lost and the loved ones they've left behind."
Hilty began by revealing some important information that a few sources left out: "To make this news even more devastating, my sister was eight months pregnant and we were expecting to welcome baby boy Luca into the world next month." The late family is also survived by a daughter, Hilty's niece, whose name and information the actor wants to keep private. On the subject of her nephew Remy, who some initially reported as her niece, Hilty said, "The last thing I wanted to do was acknowledge this painful family tragedy publicly, but it's come to my attention that several news outlets have misgendered my sweet nephew and some haven't even mentioned baby Luca."
Including Luca and the family's surviving daughter, there are now two more lives touched by the crash. While Hilty shouldn't have had to release a statement in the first place, hopefully clarifying the details will give her some peace of mind as she grieves.