What Lisa Barlow From RHOSLC Does For A Living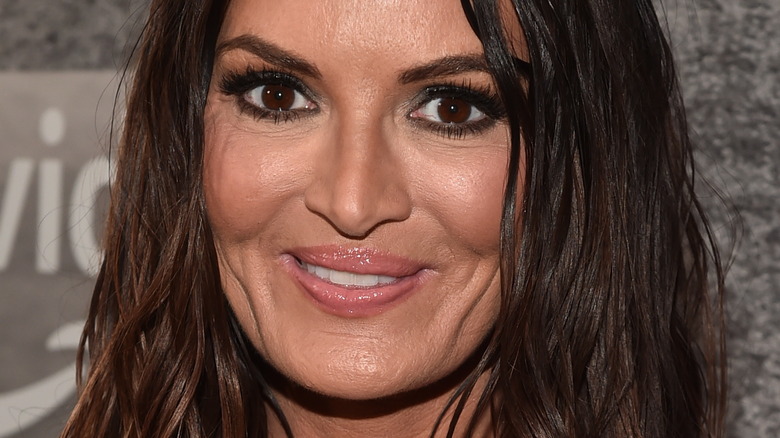 Alberto E. Rodriguez/Getty Images
"The Real Housewives of Salt Lake City" star Lisa Barlow is a force like no other. Even though the series only debuted in 2020, Barlow's already making waves as a fierce queen. Not only does she hold down the titles of wife, boy mom, and glam queen extraordinaire, but she's also stackin' loot like one of the OG's rich housewives. In fact, Barlow reminded her cast mates of her alleged net worth in one of the franchise's most dramatic scenes.
The Bravolebrity was having a moment in the bathroom, where she was crying. At one point, she yelled out (via Twitter), "Guess what, I am f***ing richer than all of you, I don't need to f***ing be here!" Wifey was just letting the rest of her audience know she doesn't need the dough to be on the show. At the time, Barlow seemed to believe that she was the richest cast member on "RHOSLC" and implied that Jen Shah, Heather Gay, Meredith Marks, Mary Cosby, Whitney Rose, and former housewife Jennie Nguyen had nothing on her. 
Barlow appeared on the "RHOSLC After Show" (via Bravo Insider), and clarified her remarks. "The whole point of saying that is I don't need to be here. I have a good life. I worked really hard for my life," Barlow explained. "I can leave here, and I can never be a part of this again and I'm good ... It wasn't to insult anyone." Of course, this begs the question — how did she accumulate her wealth?
Lisa Barlow is the self-proclaimed 'Queen of Sundance'
Lisa Barlow seems to have the Midas touch when it comes to business. She and her husband, John Barlow, founded Vida Tequila in 2007, per The Salt Lake Tribune, and the brand quickly became a firm favorite at dining establishments in cities such as Chicago and New York. Even though their liquor business is not usually congruent with the Church of the Latter Day Saints, the Barlows made it work for them. According to Bravo Insider, Barlow identifies as "Mormon 2.0." The story goes that a fellow "RHOSLC" co-star coined the phrase after questioning the Barlows about how their alcohol-based business blended with their beliefs. "It's been like five, six years now that I refer to myself as Mormon 2.0. But that's all thanks to Seth Marks," she said. So, does that mean former bestie Meredith Marks' husband is due some royalties or something? Just asking for a friend.
Barlow also identifies as the "queen of Sundance," per Bravo. Thanks to her marketing brand, she's apparently in high demand at certain times of the year. "My marketing company is LUXE Marketing, and, you know, I'm busy year-round. When it comes to Sundance, I am my most busy. I have ten days straight of nonstop events ... It is hard, it's not for everyone, but I love it," she revealed. Barlow clearly has the business acumen to back up her cash claims, but what is her net worth?
Lisa Barlow shares highest net worth title with another cast mate
Lisa Barlow and Mary Cosby both have an estimated net worth of $5 million, per SCMP. "The Real Housewives of Salt Lake City" stars came into their coin differently though. While Cosby married her step-grandfather (and seemingly kept Rosemary Redmon Cosby's multi-million dollar fortune in the family) per her grandmother's wishes, according to Page Six, Barlow is a self-made millionaire. She built an empire with the help of her husband, John Barlow, and the two are reaping the benefits from putting in the hours. 
Even though she built her career from scratch, Barlow still has her priorities in order. She told Forbes, "To be involved heavily into things you are passionate about requires a level of sacrifice. My kids come first, and then business, and sometimes that means late nights and super early mornings." The entrepreneur and her husband John also took a hands-on approach when teaching their kids about their own startup, Fresh Wolf. Their sons, who were only 16 and 8 at the time of the Page Six interview, could count on their parents for support. "They created their own business too," she said. "It's really fun to be able to work with them on that and make their dreams come true too." Barlow is also teaching her sons how to make their own money and is setting them up for success. Now that's some mompreneur goals!