Body Language Expert Reveals Meghan Markle's Telltale Signs Of Discomfort With William And Catherine - Exclusive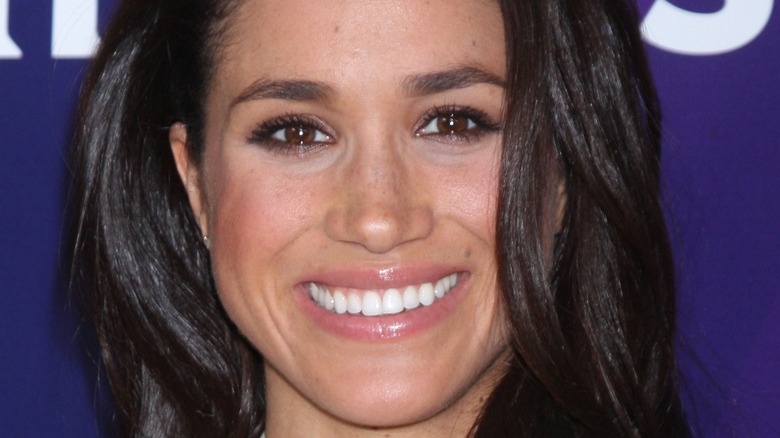 Kathy Hutchins/Shutterstock
As someone who has made a career for herself looking poised and confident in front of the cameras before transitioning into royal life, Megan Markle has always given off a distinct air of self-assuredness. In an interview with Smart Works back in 2020, the Duchess of Sussex opened up about the importance of feeling self-assured about yourself. She said, "It's the confidence, it's what is built within, that is the piece that you walk out of that room with and walk into the interview with."
Fast-forward to the present day, and it seems like if there's one thing that has been missing in Meghan's suitcase, it's that confidence, which she might have left back at home in Montecito, California. In fact, a lot of eagle-eyed fans have noticed that the duchess doesn't look anything like her normal self, from her tense on-camera moment with royal aides that has everyone talking to all of the awkwardness between Prince William, Kate Middleton, and Meghan.
It's certainly plausible that King Charles III's request not to have Meghan travel to Balmoral on the day of Queen Elizabeth's death might or might not have something to do with Meghan's uneasiness, as detailed by The Sun. It's understandable, though, considering she has spent the last year and a half bashing the royal family. Now, a body language expert spoke exclusively with Nicki Swift and revealed telltale signs of her uneasiness with the newly minuted prince and princess of Wales.
Does Meghan really feel that uncomfortable with William and Kate?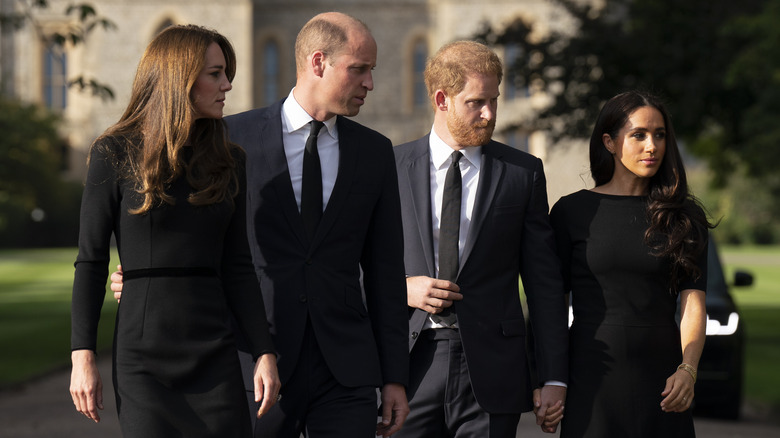 Wpa Pool/Getty Images
Reddit users have been analyzing every little move that the royals have been making ever since it was announced that Queen Elizabeth had tragically passed away. But it's Prince William, Kate Middleton, Prince Harry, and Meghan Markle who are getting the most attention with their body language. One Reddit user pointed out a "power move" that Kate supposedly made toward Meghan right before they both went back inside their cars after greeting well-wishers outside the gates of Windsor Castle. Apparently, Meghan felt so uncomfortable after she and Kate locked eyes that she turned around and awkwardly fidgeted with her hair in a flustered move that fans really haven't seen from her before. Kate, meanwhile, didn't even flinch. A Reddit commenter called Kate's demeanor "breathtaking" and "a study in pure confidence."
So, is something going on between Meghan and William and Kate? Body language expert and communication coach Jess Ponce III, who is also the author of "A.W.E.S.O.M.E.: 7 Keys to Unlock the Speaker Within," thinks so. He told Nicki Swift in an exclusive interview that the Duchess of Sussex certainly looked very uncomfortable with her in-laws. "There was an awkward moment in public, in which Kate and William paused for a proper, formal greeting from Meghan. It didn't happen," he explained. "Rather Meghan looked around, awkwardly stood back, and fidgeted. After a moment, Harry lovingly put his hand behind her as if to signal forward movement."
Ponce also believes that there might be something else underneath these bizarre moments between Meghan and the rest of the royals. 
The royals' body language is telling a story of its own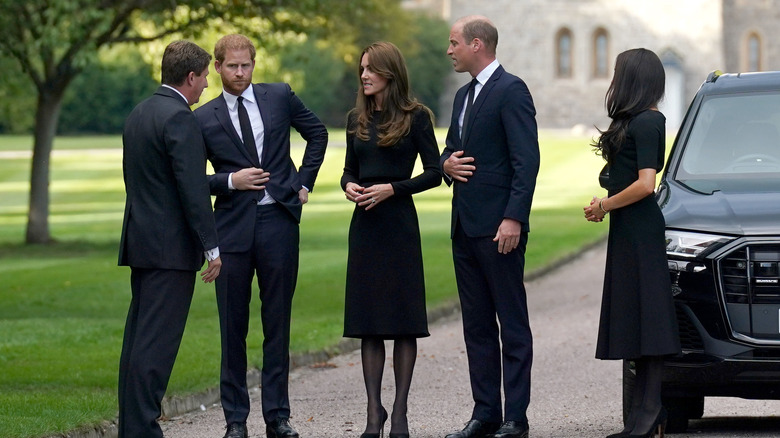 Wpa Pool/Getty Images
Body language expert Jess Ponce III added that there's a lot of speculation as to why Meghan Markle feels like the fourth wheel in the royal family, even though she was very much a part of it not too long ago. Unfortunately, you'd have to be a fly on a palace wall to know what is being said. Ponce told Nicki Swift, "We know that William and Kate won't say anything about it, but will she? Who knows." He also added, "Be kind. Be patient. After all this week is about the former queen of England."
Then again, Meghan and Prince Harry's bombshell of an interview with Oprah Winfrey, her recent interview with The Cut, and some of the things she has said in her "Archetypes" podcast might have something to do with her feeling so out of place with her husband's family. There are only so many interviews you can do and so many secrets you can reveal until the other side says they've had enough of it, right? As Ponce put it, "There are two sides for every story." While Meghan continues to tell her side, the prince and princess of Wales are telling theirs in a much less communicative, but physical way. William and Kate's body language is clearly telling a story of its own. It looks like this is yet another chapter in the never-ending royal drama coming out of Windsor Castle.