Inside Ryan Seacrest And Simon Cowell's Tense Relationship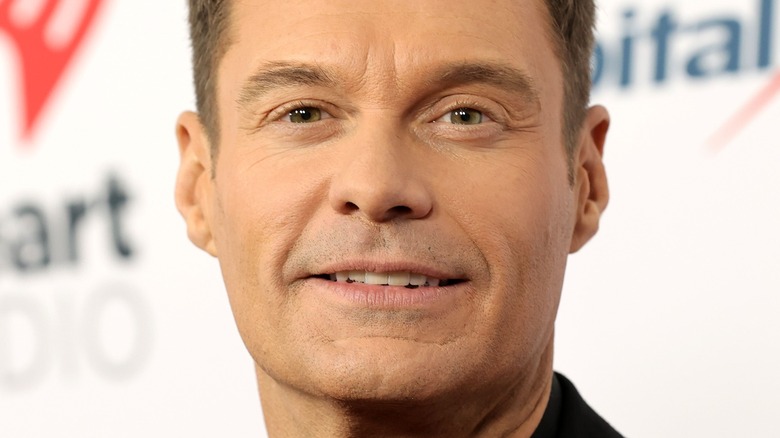 Amy Sussman/Getty Images
"American Idol" first hit the airwaves in the early aughts with a simple premise: scavenge the nation for raw talent, parade them around in a cut-throat singing competition, and crown the victor as the nation's newest star. While the show has managed to find a few diamonds in the rough, the real gems have always been the judges, and by extension, the show's host. You'd be hard-pressed to find bigger names to emerge from the reality competition than Simon Cowell, the brash British talent scout known for his searing honesty, and Ryan Seacrest, the show's steadfast host and a frequent subject of Cowell's barbs.
OK, we admit Kelly Clarkson did alright for herself, but that's neither here nor there. Seacrest has hosted "Idol" for 20 years, a number rarely seen in Hollywood outside of Leonardo DiCaprio's dating pool, while Cowell remained onboard for eight before jumping ship to "The X Factor," and later "America's Got Talent." While we loved to watch Seacrest and Cowell razz each other, we have a feeling they weren't always singing the same tune.
Simon Cowell loved to poke fun at Ryan Seacrest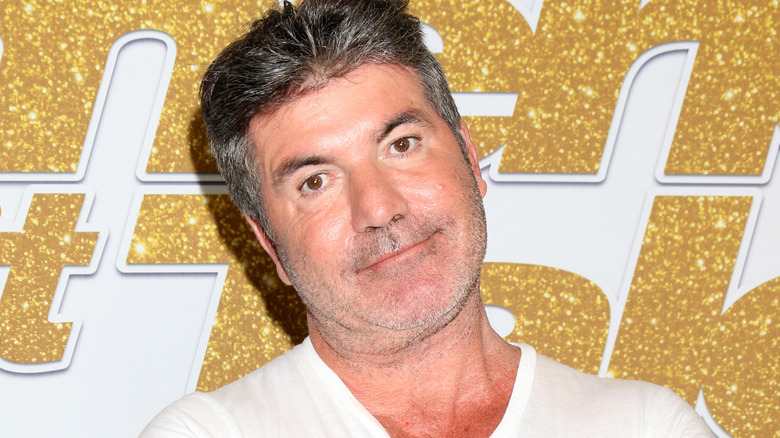 Kathy Hutchins/Shutterstock
Throughout Ryan Seacrest's early tenure on "American Idol," speculation was rife over the host's sexuality, something Simon Cowell evidently loved to have a laugh about. One particularly notable example of this occurred during Season 6. According to Rolling Stone, Seacrest was rather vexed when Cowell called him "sweetheart," and a tense back and forth ensued. "Don't call me sweetheart. ... We don't have that kind of relationship," Seacrest said, adding that he didn't "want that kind of relationship" with the judge. "I don't want that kind of relationship," Cowell reiterated, to which Seacrest responded, "Exactly. We'll just work together, that's fine with me."
According to Towleroad, a similar back and forth occurred when Seacrest asked Season 6 contestant Melinda Doolittle what she believed the hardest part of the competition was. "I would have to say the high heels and these dresses," she responded. The host then asked Cowell for any advice he might have on the heels, to which he said, "You should know, Ryan." After Seacrest jokingly told the judge to "stay out of my closet," he quipped, "Well, come out."
For what it's worth, a source close to the show said the jabs about Seacrest's sexuality were in good fun (via Today): "Most of these rifts have been outlined. Simon and Ryan are real good friends off-camera... When the show is on the road for auditions, the two go for drinks and dinner."
Ryan Seacrest and Simon Cowell might be closer than it appears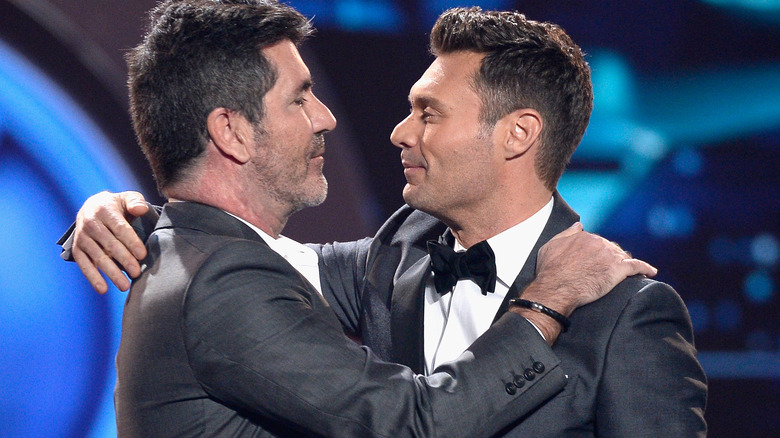 Kevork Djansezian/Getty Images
Simon Cowell finally departed from "American Idol" in 2010, but that didn't stop the brash Brit from disparaging Ryan Seacrest. According to Daily News, Cowell said he favors "The X Factor" host Nick Cannon to his former "Idol" co-worker. "If you're judging them based upon sincerity, Ryan is about a two, while Nick is a nine-and-a-half," Cowell told the outlet.
Seacrest sat down with Ellen DeGeneres in 2017 to rebuff the idea that the two were anything but cordial. "I miss Simon," he admitted to DeGeneres (via Entertainment Tonight), adding that Cowell is "a lot of fun to work with."
"We're actually friendly," the host said during a taping of "The Ellen DeGeneres Show" (via People). Seacrest told the host that there's no grudge between the two and their back-and-forth barbs could be chalked up to the "competitive spirit and attitude of the show." He added jokingly: "I would be there for him if he needed a loan or something ... because he's really hurting."