The Real Reason Simon Cowell Left American Idol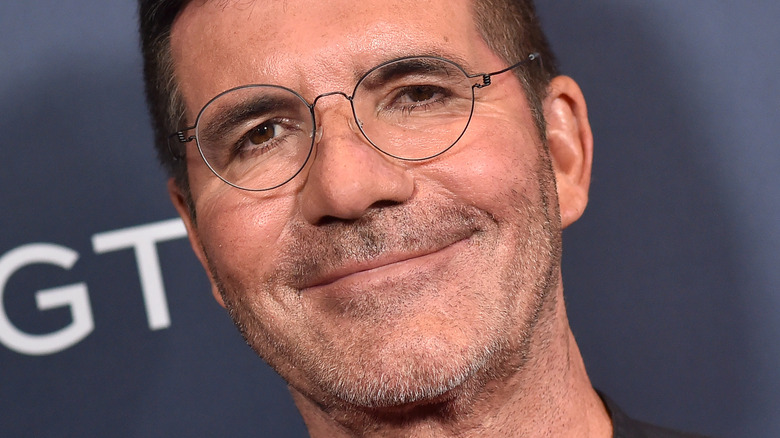 DFree/Shutterstock
When Simon Cowell stepped away from "American Idol" in 2010, hopeful contestants from across the country breathed a sigh of relief. For every Kelly Clarkson or Carrie Underwood, there were dozens of contestants that the British record executive didn't take so kindly to. Whether in auditions or live tapings, Cowell was never afraid to speak his mind, even if people weren't ready to hear it. 
Although Cowell had judged other competition shows like the "X Factor" and "Got Talent" franchises, his time on "American Idol" was especially controversial. His brutal criticism seemed harsher next to easygoing fellow original judges Paula Abdul and Randy Jackson, and much of the show's drama stemmed from contestants' reactions to the judge's sometimes personal feedback. Cowell even had to hire extra security after receiving death threats.
Contrary to popular belief, however, Cowell did reflect on his "American Idol" behavior from time to time. "There's many, many times where I've watched the show back and I'm absolutely appalled," Cowell revealed during a 2010 appearance on "Piers Morgan's Life Stories" (via Daily News). "[When] you do the show, you're not aware of what's happening in the room outside. You know, somebody just said, 'My dog Lassie died yesterday,' I'm in a bad mood and, you know, awful, and you see it in that context, it's very, very difficult to watch." 
And while "American Idol" made for must-watch TV throughout the 2000s, by the end of the decade Simon Cowell was ready to move on.
Cowell left to launch The X Factor US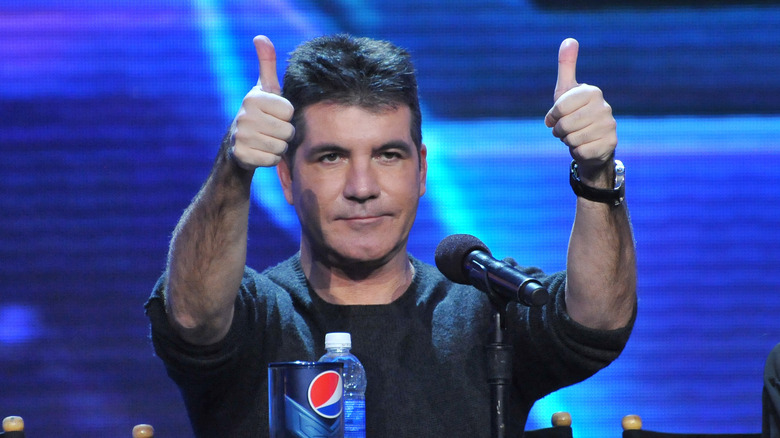 Featureflash Photo Agency/Shutterstock
Simon Cowell is most known to Americans for, well, "American Idol," but it's far from the only thing on his resume. He first appeared on "Pop Idol," the original British installment of the franchise, and also created "Britain's Got Talent" and "The X Factor UK." While "America's Got Talent" initially launched without Cowell judging, he wanted to be a part of "The X Factor" when it came to the United States, which meant that he had to make a choice. "[I] didn't think it was right to do two shows in America at the same time, so [I] decided to leave one and start another," Cowell confirmed at a Television Critics Association press tour in 2010, per CNN. "I wanted to do something different. I wanted a new challenge," he continued.
Since Simon Cowell's company Syco produced "The X Factor," the "Idol" alum ended up going, too. The British version had produced stars such as One Direction and Leona Lewis, and Cowell was setting out to find similar star power in America. He'd find it in acts like Fifth Harmony, but only at the expense of quitting his most well-known TV gig. While this was the main reason Cowell gave for his departure at the time, there was still a small bone he had to pick with "American Idol."
The show's age restriction was an issue for Cowell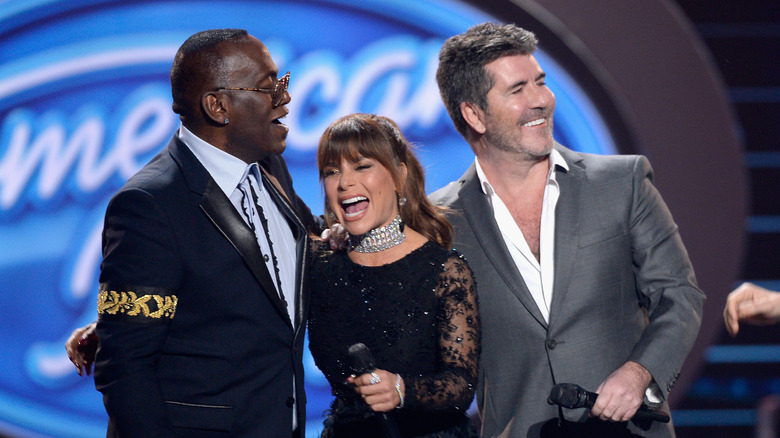 Kevork Djansezian/Getty Images
It's never too late to achieve your dreams, but the cutoff on "American Idol" is a measly 28. The age requirement was even stricter in the first three seasons, with all contestants having to be between 16 and 24 years old. While Simon Cowell has crushed the dreams of many "Idol" hopefuls for their lack of vocal ability, he believes that age shouldn't factor into the equation. When he created the "Got Talent" franchise in 2007, he wanted to take the focus off of youth and onto talent. "How can you say, 'You can't be a star [because of your age],'" Cowell told HollywoodLife in 2019. "And why isn't a 35-year-old as great as an 18-year-old? It just got to the point where this is not real, which is why I moved on." 
Cowell had already been judging "The X Factor UK," which documented the rise of Susan Boyle, who was 47 when she first auditioned. Perhaps seeing older contestants on the other shows he judged caused Cowell to see how much talent "American Idol" was missing out on. 
That said, he's maintained that he's enjoyed his time on the show that made him a household name in America: "I was lucky, because I went through ['American Idol'] with the artists that I am still friends with now," he reflected. "And we have remained amazingly good friends, we speak, hang out, and talk. So I had the good years!"