The Tragic Story Of Jane Fonda's Mother's Death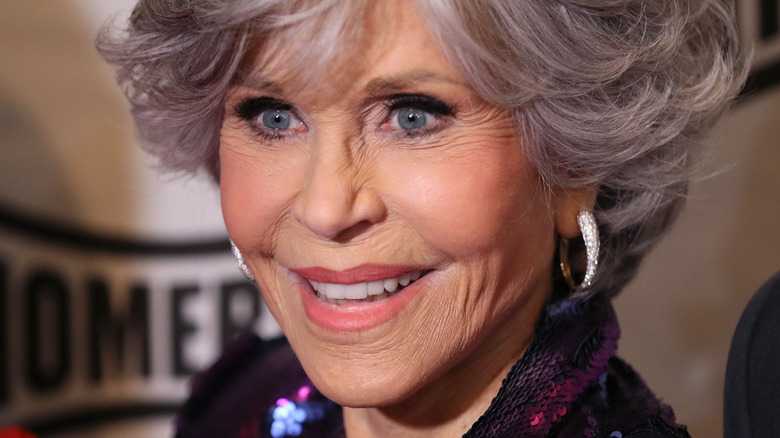 David Livingston/Getty Images
The following article includes allegations of domestic abuse and sexual assault.
Although Jane Fonda is one of America's most celebrated film actors, she also comes from a notable dynastic family. For one, she has been married (and divorced) thrice — first to celebrated French director and screenwriter Roger Vadim, from 1965-1973, then to famous political and social activist and California State Senator Tom Hayden, from 1973-1990, and finally to noted media proprietor and billionaire Ted Turner, from 1991-2001. 
Fonda is also mother to "Soldier's Girl" star and Golden Globe nominee Troy Garity, as well as social activist and author Mary Williams (whom she and Hayden informally adopted in her teenage years); sister of the late actor and Oscar nominee Peter Fonda, and daughter of the legendary Henry Fonda — staple of Hollywood's Golden Age, and also an Academy Award-winner. 
However, despite Jane's powerful lineage, many may not know the tragic story of the life and death of her mother, Frances Ford Seymour.
Frances Ford Seymour took her own life at age 42
Shortly after meeting famed actor Henry Fonda on the set of his 1937 movie, "Wings of the Morning" (via Country Living), he and Canadian-born socialite Frances Ford Seymour wed and had two children — soon-to-be celebrated actors Jane and Peter Fonda, in 1937 and 1940, respectively. They appeared to be living an almost ideal, picturesque life. However, the reality behind the scenes was far more tragic. 
In 2005, The Washington Post reported that Jane learned through medical records that Seymour, who had bipolar disorder, had been molested numerous times in her youth. In addition, her mental illness led to her being institutionalized more than once, after which she would come home and be given the cold shoulder by a young Jane, who felt angry at her for not being there. "Was I so angry with her for not being there for us?" Jane wrote in her 2005 autobiography, "My Life So Far." "Was it I'll-show-you-I-don't-need-you-either?"
Seymour ended up taking her own life by cutting her throat in a mental institution April 1950, when Jane was only 12 and Peter was 10. Seymour's husband, meanwhile, had fallen in love with another woman and was about to ask her for a divorce, per The New York Times. Henry had told the children that their mother died of natural causes; it wasn't until a year later, per HuffPost, that Jane discovered the truth by reading about it in a movie magazine. 
Jane Fonda's mother's suicide had a profound effect on her life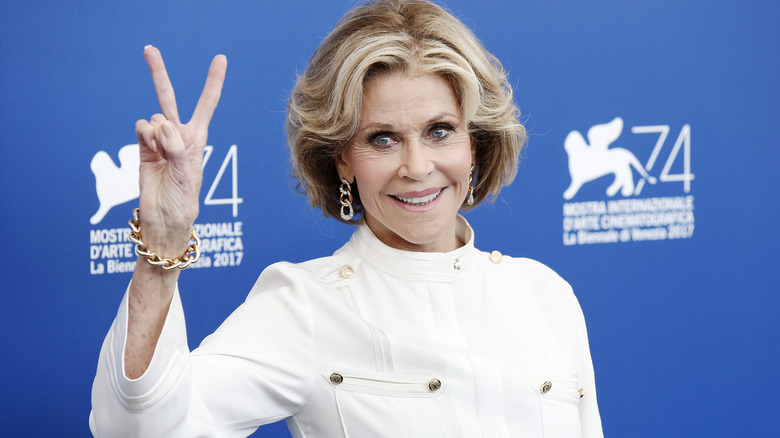 Andrea Raffin/Shutterstock
Naturally, given how Jane Fonda was only 12 years old when her mother took her own life, it had intense and life-altering effects on her. It wasn't until she was an adult that she opened up about the consequences she suffered not only in the wake of her mother's death, but also her tragic life. 
As Fonda put it in a 2018 HBO documentary, "Jane Fonda in Five Acts," she "never knew" her mother on account of her bipolar disorder. "If you have a parent who is not capable of showing up, not capable of reflecting you back through eyes of love, it has a big impact on your sense of self," she told People in 2018. 
It wasn't until years later, as an adult, that Fonda forgave herself for her mother's depression and subsequent suicide, realizing that it wasn't her fault. "The minute that I read that," Fonda said in 2014, referring to her discovery of the sexual abuse her mother experienced, "everything fell into place. I [understood] the promiscuity, the endless plastic surgery, the guilt, the inability to love or be intimate, and I was able to forgive her and forgive myself."
If you or anyone you know has been a victim of sexual assault, help is available. Visit the Rape, Abuse & Incest National Network website or contact RAINN's National Helpline at 1-800-656-HOPE (4673).