Anne Hathaway And James Franco's Awkward Oscars Hosting Stint Explained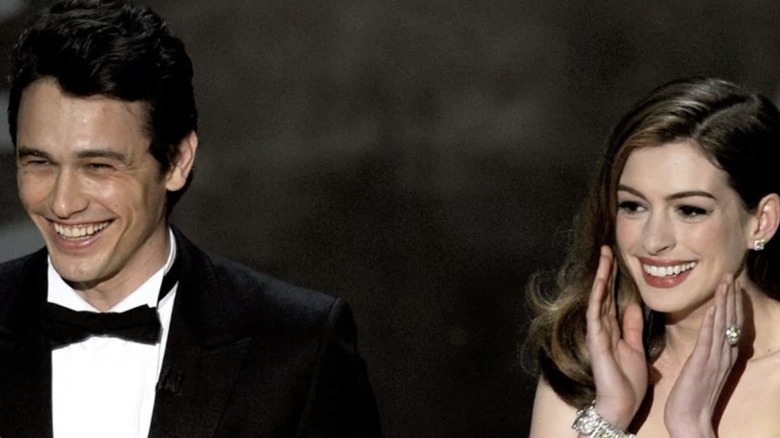 Kevin Winter/Getty Images
Fresh off the 2022 Emmys Awards celebration, where host Kenan Thompson made an epic joke at Leonardo DiCaprio's expense, Jimmy Kimmel totally upstaged Quinta Brunson's deserved and historic win, and the ratings fell to yet another new low, per IndieWire, it's interesting to look back at another epic awards show blunder.
There have been plenty of award show gaffes over the years. Even just limiting it to the Emmys and the Oscars, there have been plenty of awkward, cringe-worthy moments and questionable hosting choices. In 2008, the Emmys had not one or two, but five hosts, to boost their new outstanding reality show host category, and it became one of the worst Emmys ceremonies in history. The 2019 ceremony had no host at all, and it's extremely rare for either show to be hosted by a solo woman. Only three women have ever hosted either event solo, and they did terrific jobs — Jane Lynch, Ellen DeGeneres, and Angela Lansbury, per Us Weekly, while Angie Dickenson(!), Whoopi Goldberg, and DeGeneres again, were tapped to host the Oscars, per SheKnows.
But the award for biggest disaster in Oscars ceremony history certainly goes to the 2011 Academy Awards, according to Rotten Tomatoes. That was the year they hired co-hosts Anne Hathaway and James Franco to oversee the proceedings, and it was a mess.
James Franco and Anne Hathaway had different dynamics, on and off stage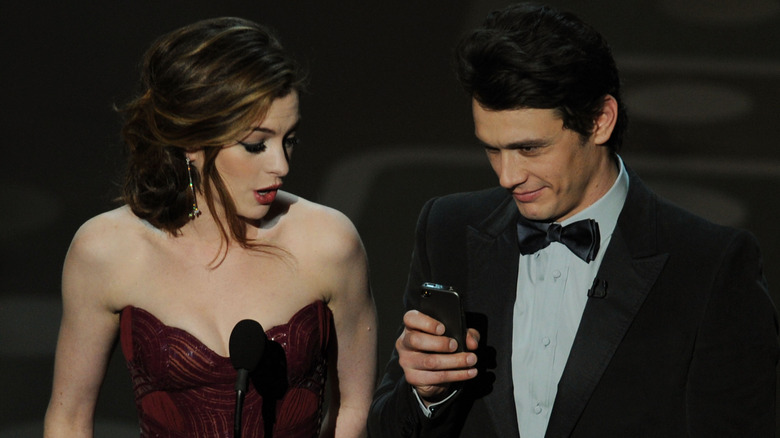 Kevin Winter/Getty Images
In hopes of increasing ratings by reaching a younger demographic, the 2011 Oscars hired up-and-coming actors Anne Hathaway and James Franco (she was 27, he 31) to host. They also brought in younger writers, like Judd Apatow-protégé Jordan Rubin and eventual "The Good Place" co-producer Megan Amram. But simply putting young people together doesn't automatically equal cohesion. "We wrote all these jokes, but I don't think we ever landed on a tone or a cohesive feeling of what the show would be," Amram told The Ringer.
The two stars approached the event in very different ways, with Hathaway committed and giving her all — Rubin called her "a great collaborator" — while Franco seemed distracted by his academic aspirations (he immediately flew to Yale for class the morning after, per New York Times). "It was very hard for me to get a hold of him," Rubin says. "That was a red flag." Writer David Wild also recalled a tense moment between the stars, where Franco shot down Hathaway's collaboration attempt. "Again, this is a memory," Wild said, "but [she] was like 'Maybe you should try that,' and he was like 'Don't tell me how to be funny.'"
On stage, he barely acknowledged Hathaway — carrying his phone during their opening monologue. "What you want is people like Steve Martin and Martin Short reacting to each other," Rubin said. "But when you get your phone out, you're doing your own thing."
Ironically, James Franco convinced Anne Hathaway to accept the gig
Kevin Winter/Getty Images
Despite James Franco's hopes for the Oscars gig, which according to writer Justin Rubin was "a buddy-cop movie with two opposite characters" dynamic, per The Ringer, writer David Wild said it ended up "like the world's most uncomfortable blind date between the cool rocker stoner kid and the adorable theater camp cheerleader." Critics felt Anne Hathaway worked hard (perhaps too hard?), while Franco was lethargic — though writer Jordan Rubin insists that Franco was not stoned during the event, as many thought at the time.
"He didn't give me anything," Hathaway told People's Jess Cagle, which viewers could see instantly from their painfully awkward opening monologue. While Hathaway felt like she was playing it too broadly, the producers told her not to tone it down, as if tacitly acknowledging her need to make up for Franco's lackluster performance.
But despite their lack of chemistry and rapport onstage, Hathaway ironically took the job at Franco's urging. "Can I dish some tea?" Hathaway asked Cagle. "I turned that gig down and James is the one that convinced me to do it." She cited many reasons for saying no, including the complexity of the job, her lack of training, saying she's "only funny in character," and calling it "a no-win situation." But she certainly learned one important lesson from the experience: "Your first instinct is usually the right one, and all the reasons why I turned it down came true."