Rosario Dawson, Eva Longoria Encourage Fans To Wear Black During Golden Globes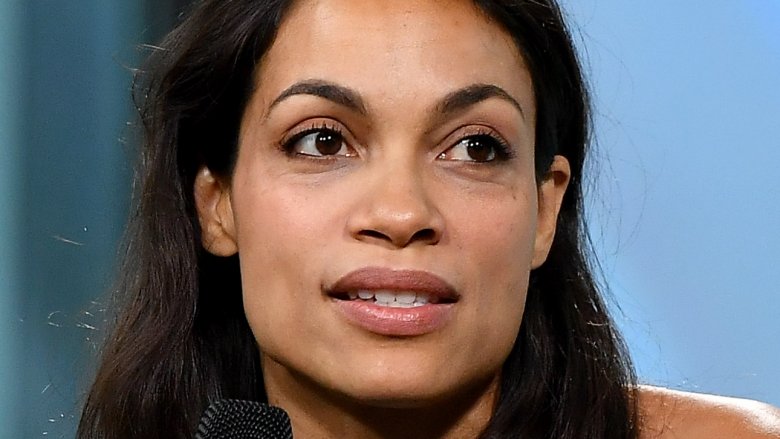 Getty Images
The famous actresses are speaking out.
Rosario Dawson took to Twitter on Saturday, Jan. 6, 2018, to encourage fans to join the Time's Up movement, an action plan fighting back against sexual harassment, sexual assault, and inequality in the workplace, by wearing black during the Golden Globes—even if you're not attending.
"We wear black to symbolize solidarity," the 38-year-old said in a video message. "That the death knell has struck on abuse of power, and that it's time to celebrate each other, not just the nominees on our film and television screens, but our story tellers who have bravely come forward and courageously shared their personal stories, which have liberated so many of us," she explained, adding, "Me too," in reference to the popular social media movement.
Dawson went on to thank a number of actors and actresses who have spoken out against rampant sexual harassment and sexual assault in the entertainment industry in recent months by breaking their silence on their own experiences, including Rose McGowan, Salma Hayek, Ashley Judd, Terry Crews, Anthony Rapp, and more. 
"Thank you for courageously telling your stories and signaling this moment. Time's up," the Rent star continued. "Please join us on blacking out Sunday. Post your videos and pictures of yourself in all black whether you watch or don't watch, go or don't do. Sign our solidarity letter and donate to the fund."
Eva Longoria, 42, later retweeted Dawson's message. "Yaaas @rosariodawson! This is why we wear black!" the former Desperate Housewives star wrote. "Everyone can join in tomorrow and post a pic of yourself in Black standing in solidarity with women everywhere trying to fight the imbalance of power! #TIMESUP on abuses of power! Today is a new day!"
This silent blackout protest was sparked by the multiple sexual misconduct scandals that have shaken Hollywood ever since disgraced movie producer Harvey Weinstein was accused of sexual harassment, sexual assault, and rape in October 2017.
The 2018 Golden Globes will be hosted by late-night host Seth Meyers, and will air live on Sunday, Jan. 7, 2018, at 8 p.m. EST on NBC. While we wait to tune in to the awards show, read up on the craziest moments from last year's ceremony.