How Dolly Parton Stole The Spotlight At Reba McEntire's Grand Ole Opry Debut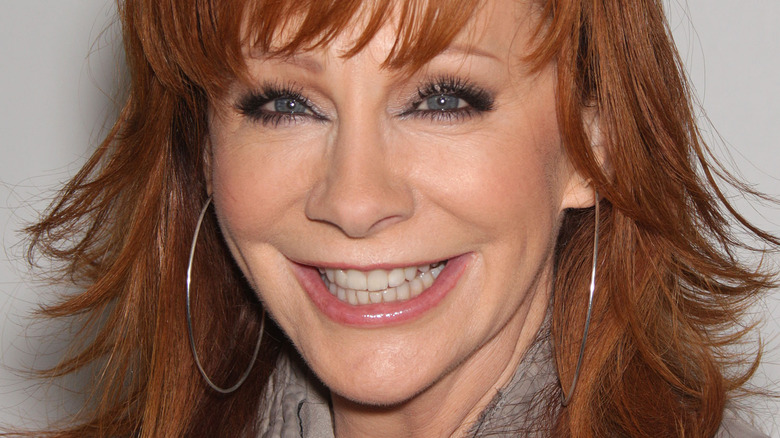 DFree/Shutterstock
Reba McEntire has been performing at the Grand Ole Opry for well over four decades now, but that's not to say her first performance at the famed country music showcase went according to plan. Don't believe us? Just ask Dolly Parton!
For country singers, no spotlights shine brighter than those at the Grand Ole Opry. However, McEntire's love for the concert began long before she became a professional musician. According to the Opry website, she saw her first concert when she was just 7 years old. From there, she was hooked, and as she revealed on an episode of "Late Night with Seth Meyers," the rest of the family was, too. "Matter of fact, that's about the only vacation we took, was to Nashville to see the Grand Ole Opry at the Rymann Auditorium," she shared. 
Given her longstanding love of the concert, it only makes sense that, for McEntire, the opportunity to be part of it was a dream come true not only for her, but for her parents and siblings, as well. However, having her first "in" didn't mean her debut went seamlessly. Enter a pint-sized spanner in the works by the name of Dolly Parton. 
Reba McEntire forfeited a song to Dolly Parton — but she was all for it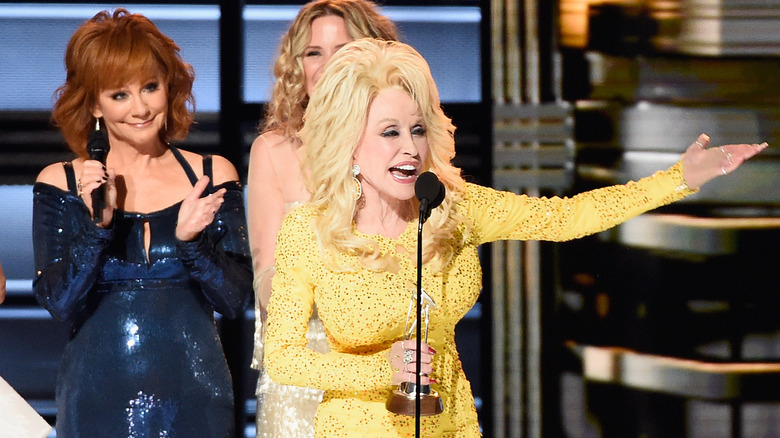 Gustavo Caballero/Getty Images
Reba McEntire and Dolly Parton may be on pretty equal footing as country music icons today, but in 1977, the latter was already an established star. As such, it makes sense that when Parton showed up to the Grand Ole Opry unexpectedly, organizers scrambled to accommodate her. 
Speaking on "Late Night with Seth Meyers," McEntire recounted the conversation she had backstage. "They came up to me and said, 'Reba, we're gonna have to take one of your songs tonight.' I said, 'I only get to do one ... why?' They said, 'Well, Dolly Parton just pulled in the parking lot and we're gonna give her one of your songs,'" she shared. However, McEntire's response was far from a "Jolene"-esque situation that saw her begging Parton not to take her set "just because you can." Au contraire, she joked, "I said, 'Shoot, she can have both of 'em — can I meet her?'" 
Unfortunately, that request was denied. Laughing about the situation on Southern Living's "Biscuits & Jam" podcast, McEntire revealed that as Parton made her entrance, security instructed everyone to "back up." However, she still remembers everything about that moment. "I don't even think her feet touched the floor in this black, chiffon pantsuit with rhinestone butterflies ... she had that big, beautiful hair. Most beautiful woman I ever saw in my life," she gushed. She followed instructions, though: "I didn't say hi, I just backed up!"
Reba and Dolly have since become great friends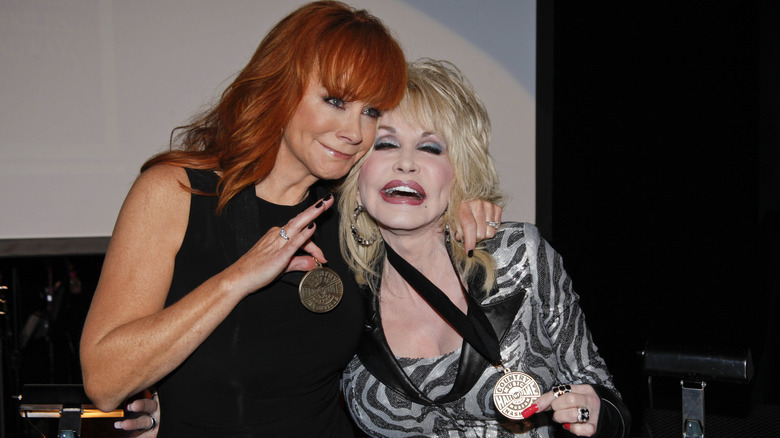 Ed Rode/Getty Images
Despite backing up and away from Dolly Parton when they first met, today, Reba McEntire counts the "9 to 5" singer as one of her friends — and they have even gone on to work together on several occasions.
In addition to 2021's remix of McEntire's iconic duet with Linda Davis, "Does He Love You?," Parton was also invited to appear on a 2005 episode McEntire's TV show, "Reba" (via IMDb). And, just in case anyone was wondering if anyone needed to "back up" this time around, the opposite was true. In fact, McEntire gushed about Parton's humility on "Biscuits & Jam," revealing, "She came in and treated everyone equal. From catering, to the producers, to the cameramen, the actors — everybody was equal to her." 
That said, even if these two are friends and colleagues now, they have not forgotten where they started. Far from it, as Parton used the 40-year anniversary of McEntire's Grand Ole Opry debut to poke fun at their first encounter. In a surprise appearance, Parton joked that she was there to return to the spot she had taken from McEntire decades earlier. "I'm not even gonna take a spot, I just wanted to come out and say hello and say congratulations and how much I love you." Talk about a full circle moment!