Prince Harry's Favorite Movie Might Not Be What You Think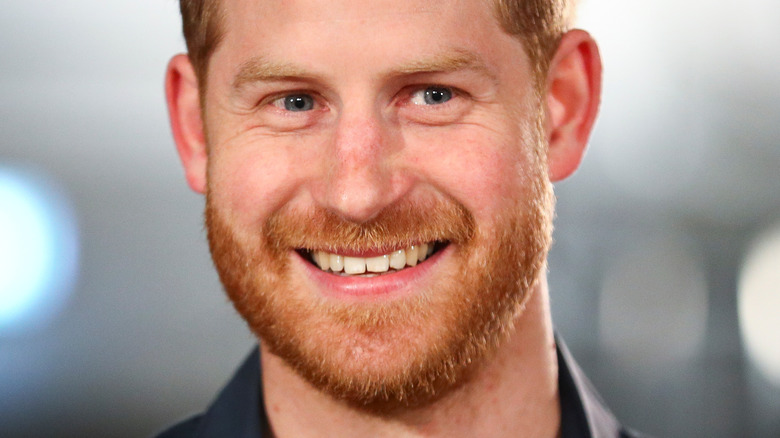 Wpa Pool/Getty Images
A few years ago, Prince Harry revealed that a certain Disney classic had his heart. However, when it comes to his favorite movie, there's only one film that takes the cake. So ... what is it? 
As a refresher, back in 2019, while still working senior royals, Prince Harry and Meghan Markle attended the premiere for the live-action remake of "The Lion King." As noted by Harper's Bazaar at the time, the prince made no secret of his love for the film. In fact, after Meghan let it slip that he was a super fan, the Duke of Sussex clarified that it went deeper than that. "Actually I know everything by heart," he joked. We're not shocked that the prince known for his playful antics in his younger days felt a connection to the story. However, he seemed to think there was something cringey about his obsession, pointing out that his intricate knowledge of the script made it "even sadder." TBH, now that we know Harry can recite "Hakuna Matata" on cue, we've never related to the prince more. 
That said, even with his unabashed appreciation of "The Lion King," that's not to say Prince Harry would call the beloved classic his favorite of all time. Au contraire, per Hello, there's just one movie he's admitted to watching "every single year before Christmas time." So, what's at the top of his watchlist? 
Zulu will forever be Prince Harry's favorite film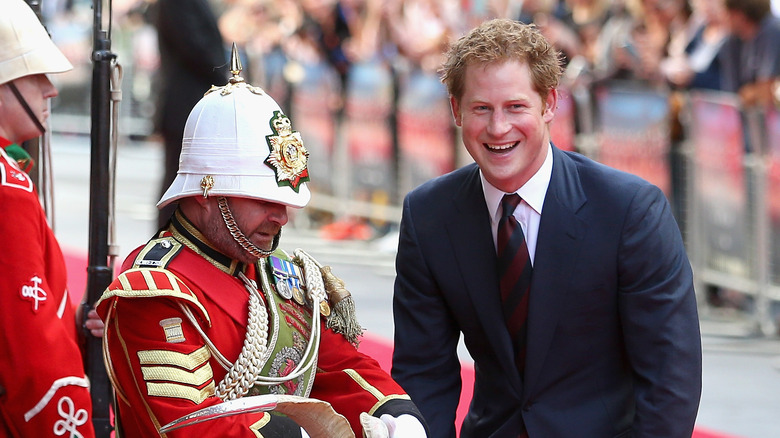 Chris Jackson/Getty Images
"The Lion King" might not be Prince Harry's top pick, but it turns out his favorite film of all time — the 1964 epic, "Zulu" — is also set on the African continent. However, unlike "The Lion King," "Zulu" is based on the true story of the 1879 Battle of Rorke's Drift in what is now South Africa. 
Given Prince Harry's military background, his interest in the war film shouldn't come as much of a surprise — and he's never made a secret of his love for Africa, either. Speaking at the United Nations earlier this year, the Duke of Sussex pointed out that, "For most of my life, [the continent] has been my lifeline." It's also well-documented that he spent part of his gap year in Lesotho, which ultimately prompted the founding of his longest-running charity to date, Sentebale. Per Royal.uk, Harry co-founded the charity alongside Prince Seeiso of Lesotho, with the goal of supporting children affected by HIV/AIDS and poverty. 
In a gesture that linked both his favorite film and Sentebale, in 2014, part of the proceeds from a 50-year anniversary gala screening of "Zulu" went to the charity (via The Telegraph). And, not one to miss out on an opportunity to see his favorite film on the big screen, Prince Harry was a guest of honor. In fact, it was at the screening that he admitted to watching the film "maybe once, maybe twice," every Christmas (via Hello). 
Prince Harry also has a royal connection to the film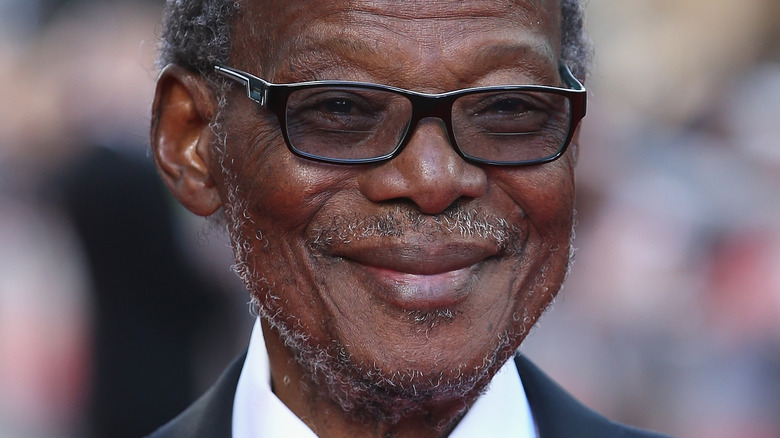 Chris Jackson/Getty Images
Another reason Prince Harry feels connected to "Zulu"? He has a relationship with one of the film's actors — who happens to be a prince, himself. 
Per The Telegraph, in "Zulu," King Cetshwayo was played by none other than his great-grandson, Prince Mangosuthu Buthelezi. The royal connection didn't go unnoticed by either prince. In fact, in an open letter published on Politics Web, Buthelezi revealed that they watched the film side-by-side. "My greatest pleasure ... was reserved for Prince Harry, whom I was seated next to at the screening," wrote the royal. Moreover, he added they had relished a chance to chat, one-on-one, while other guests took their seats. "Over drinks, we had the opportunity to discuss our families and the long friendship I have enjoyed with HRH Prince Charles," he penned. If having a family friend in a movie doesn't place it in one's top picks, we don't know what would! 
Mere months before the anniversary screening took place, Wales Online revealed that Welsh director Gareth Evans had expressed interest in doing a remake of "Zulu." However, at least at the time of this writing, a remake has yet to be confirmed. That said, something tells us the youngest child of King Charles III isn't hanging on the edge of his seat for a reboot. After all, he already has his hands full watching the original on repeat.