The Reason Eva Longoria Had Her Tattoos Removed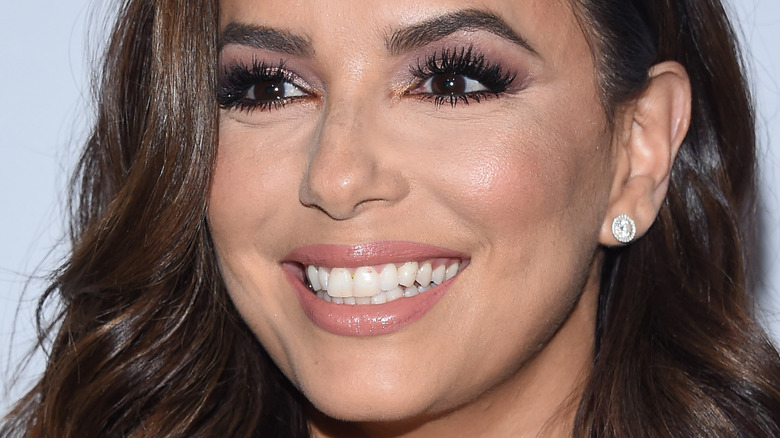 DFree/Shutterstock
Eva Longoria may not be the first person you think of when you imagine a celebrity with plenty of tattoos. But, while she's not exactly Travis Barker, it turns out the former "Desperate Housewives" star has got a few inkings in her time.
As for what she adorned her body with? On her lower back, Steal Her Style reported she had a crucifix which fans sometimes got a peak off when she wore backless dresses, while TV Guide claimed she also had a rose on her back, which she got when she was 17 years old. In addition to those, she rocked a star shape on her left wrist, as well as quite a few permanent reminders of her second marriage to basketball star Tony Parker. Longoria had the word "nine," his jersey number, written across the back of her neck, while her right wrist was adorned with the Roman numerals of their wedding date. It was also reported that the two got wedding ring tattoos on those special fingers, and Longoria teased that she had a secret tattoo of Parker's initials, telling SF Gate in 2005 (via ohnotheydidnt), "I'm not saying where it is — but let's just say he gets to view it on a very regular basis!"
But it sounds like Longoria wasn't the biggest fan of her body art, and her body is now sans many of those signature inkings. But why did she get them removed?
Eva Longoria removed tattoos reminding her of her cheating husband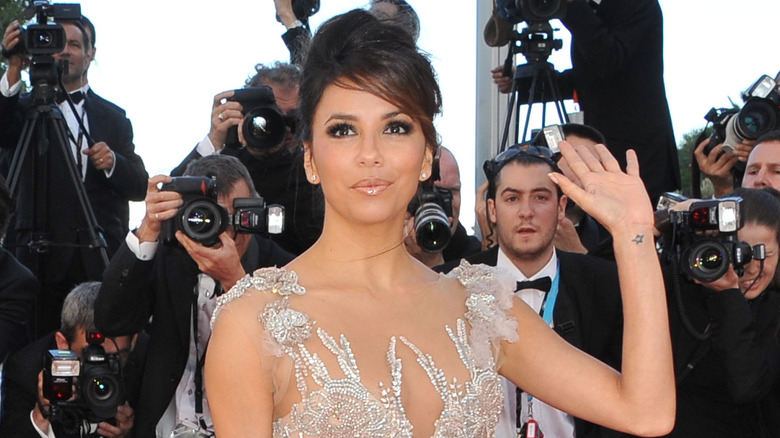 Jaguar PS/Shutterstock
It seems like Eva Longoria's first tattoo removal came following her split with Tony Parker, when TMZ claimed she attempted to obscure her wedding date Roman numerals on her wrist. The outlet reported it seemed like she'd had it lasered, though Longoria denied that. "Just so everyone knows i still have all my tattoos! Nothing is being removed, although i am always up for more tattoos!" she tweeted in January 2011, suggesting she may have been using concealer to cover it. Why did she want it covered? Longoria filed for divorce in November 2020, after Parker was unfaithful. Longoria confirmed his adultery in 2012, saying on "The Conversation with Amanda de Cadenet," "It wasn't about who he chose. I mean, I had moments of, 'Am I not sexy enough? Am I not pretty enough? Am I not smart enough?' But in so many of those questions, I immediately stopped and said, 'No, don't start doing that.' Because you can get stuck in that cycle."
But while Longoria denied removing her tattoos that time, it wasn't too long until she decided it was time to rid her body of her ex. In January 2021, E! News claimed Longoria started the process of lazering off her inkings related to her former husband. Then, in November 2012, TMZ shared candid photos of the star which showed a red patch on the back of her neck where her "Nine" tattoo used to be.
Eva Longoria appeared to get all her tattoos removed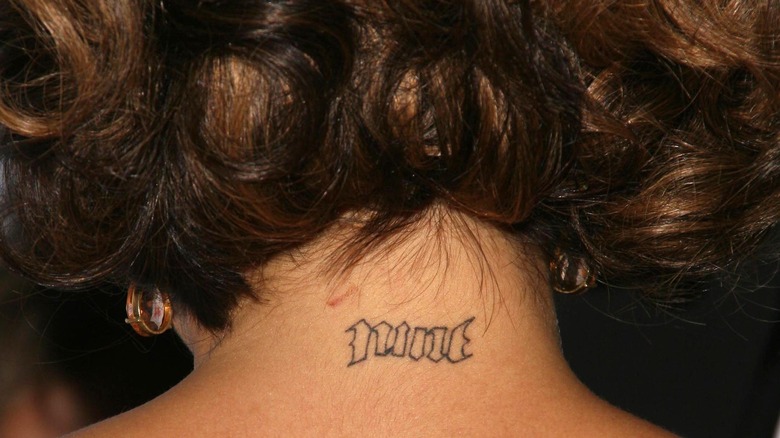 s_bukley/Shutterstock
It didn't seem like it was just her memories of Tony Parker that Eva Longoria had removed from her body. A few years later in 2011, Longoria brought her fans a long for the journey when she got a few more inkings removed, filming the whole thing in a slew of videos shared to Snapchat, per Entertainment Tonight. The star was also quick to warn the world of the dangers of getting inked as she joked about the pain. "This is a tale for all young kids. It hurts to get a tattoo, but it's 10 times worse getting it off!" she joked as she squeezed a stress ball. "Oh my god. Why is there such delayed pain? It comes in like a wave, a wave of pain," she added. Throughout the process, the "Over Her Dead Body" star showed off how well the process worked, flashing her almost bare wrists which were wrapped in saran wrap.
She didn't reveal why she thought it was time to remove her other tattoos that were not related to Tony Parker, though it's pretty understandable why she wanted those gone so quickly. Longoria is now happily married again, as she tied the knot with José Bastón in 2016 and the two welcomed their first child, a son named Santiago Enrique Bastón, together into the world in 2018.