WWE Hall-Of-Famer Kevin Nash Is Mourning A Tragic Loss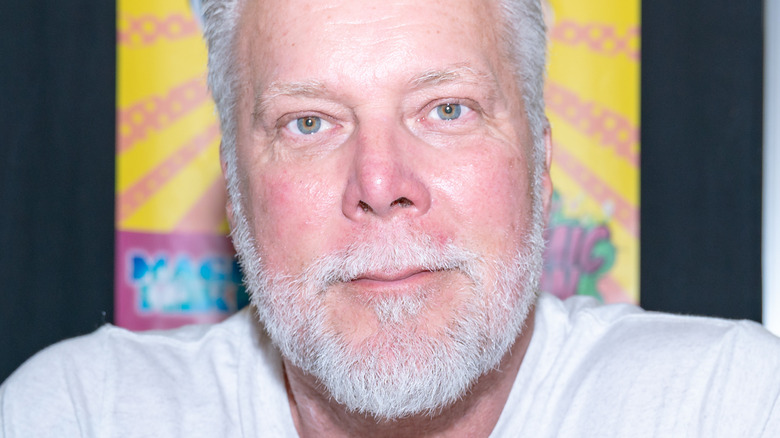 Markus Wissmann/Shutterstock
Fans of WWE, and one of their biggest Hall of Fame superstars, are facing some tragic news today. Well-known as one of the three founders of WWE's "New World Order," along with wrestling behemoths Hulk Hogan and Scott Hall, Kevin Nash is arguably one of the organization's legends. Nash debuted back in 1990 as the orange mohawked "Steel," one half of the "Master Blasters" alongside "Master Blaster Iron" (real name Cory Pendarvis). 
Although he performed for nearly 30 years in the WWE, he announced he had officially decided to retire in 2020, two years after his final performance, and five years after his induction into the WWE Hall of Fame. In announcing his retirement, Nash simply wrote on Twitter, "Father Time. I'm retired." 
Away from the WWE, Nash was a husband and father to one child: Tristen Nash, who was born during his career in 1996. However, in light of some tragic news regarding Tristen, Nash is surely now in mourning as a father.
Kevin Nash's son has died at age 26
On October 20, WWE reporter Sean Ross Sapp announced on Twitter that Tristen Nash, the only child of wrestling legend Kevin Nash and his wife Tamara, tragically died at the age of 26. "Tristen recently started working on Kevin's new podcast and the two enjoyed their time together," Sapp wrote. "The Nash family asks if you could please respect their privacy during this time." No cause of death was reported by Sapp. 
Tristen's death comes only seven months after the sudden and unexpected death of Scott Hall, Kevin's close friend and former WWE partner (interestingly, Hall's 64th birthday would have been October 20). 
Tristen evidently veered toward the more creative side, and did not aspire to become a wrestler like his father. According to Heavy, Tristen had been an aspiring musician, and was posting videos to his YouTube channel since at least 2011, when he was 14. As well as being a songwriter, Tristen also wrote poetry and short stories.