Paulina Gretzky Has A Long History With Kid Rock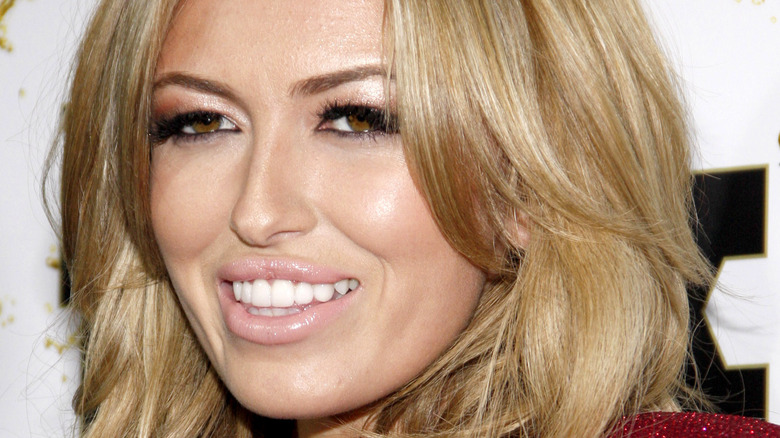 Tinseltown/Shutterstock
On a midnight train to Memphis Blackberry Farm.
After an almost ten-year-long engagement and the birth of not one, but two children, model Paulina Gretzky and top golfer Dustin Johnson finally tied the knot during an over-the-top wedding at the ultra-luxe BlackBerry Farm hotel and resort in Tennessee. In a wedding video later shared by Paulina, even father of the bride and former pro ice hockey player, Wayne Gretzky, was caught gushing about the star-studded nuptials. "This has just been the most incredible three days that I've ever had, and I've had a lot of fun," he confessed during his speech.
Perhaps, however, the most fun occurred when guests took to the dance floor and watched as singer-songwriter Kid Rock serenaded the newlyweds with a cover of John Fogerty's "Joy of My Life." Yes, you read that right. Kid. Rock. But what was he doing at the couple's wedding? And how did Paulina and Johnson persuade him to perform at their reception? As it turns out, Gretzky and the "Cowboy" crooner go way, way back. 
Kid Rock is a family friend
It should probably come as no surprise that as the eldest daughter of Wayne Gretzky, Paulina Gretzky, has grown up around her fair share of celebrities. Case in point: rock and roll star Kid Rock.
"My mom and dad have been friends with Kid for a long time," Gretzky revealed to Golf Digest in 2014. Eventually, however, Kid Rock became a close friend of Paulina and her now-husband, Dustin Johnson, as well. "My dad finally introduced Dustin to Kid because Kid said he didn't have anyone to hang out with in Jupiter. Finally he and Dustin got to play golf together, and now Kid's totally on this golf train," she explained. "He's just adoring golf," Gretzky said of the "Bawitdaba" singer's newfound pastime.
But golf's not the only way the famous pals have bonded. Paulina and Johnson also like to attend Kid Rock's concerts. "Great night watching our friend Kid @ Sunfest with my babe @paulinagretzky" Johnson penned on Instagram in 2014 along with a photo of the loved-up couple while Kid Rock performed in the background.
Wayne Gretzky says Kid Rock is 'really personable'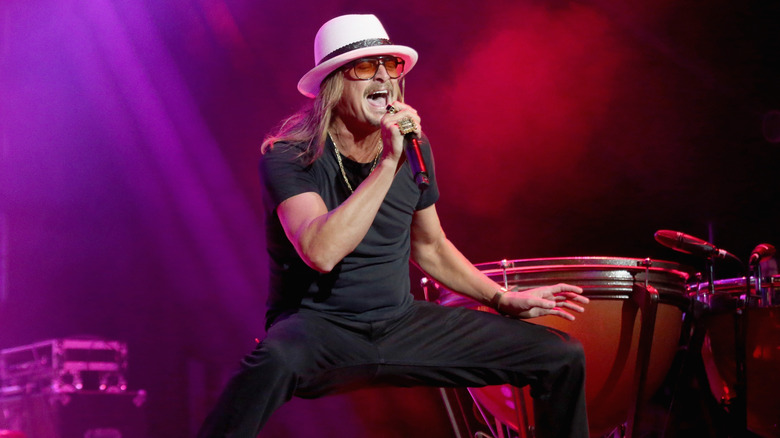 Gary Miller/Getty Images
Paulina Gretzky's father, Wayne Gretzky, is adamant that contrary to Kid Rock's controversial persona, he's actually a simple, down-to-earth guy."We had so much fun," Wayne once told the Santa Cruz Sentinel after enjoying a round of golf with the rock star. "He's a really nice young man," Wayne maintained. "Just a really personable person ... He's the exact opposite image of a rock 'n' roller." And according to Wayne, Kid Rock's golf game was getting better too. "He's just gotten serious the last six or eight months, ya know," Wayne explained. "He's playing well for a guy that just sort of gotten serious and taken lessons and gotten into it."
And perhaps, just like the Gretzkys have introduced Kid Rock to golf, Kid Rock has shown the Gretzky family a thing or two as well. In one clip from the rowdy Gretzky-Johnson reception, both the bride and father of the bride can be seen up on stage cutting a rug and singing while Kid Rock performs "All Summer Long" for their wedding guests. Do we smell a new musical collaboration starring Kid Rock and the Gretzky family in the works? TBD, we suppose.