The Generous Offer Madonna Once Made Meghan Markle And Prince Harry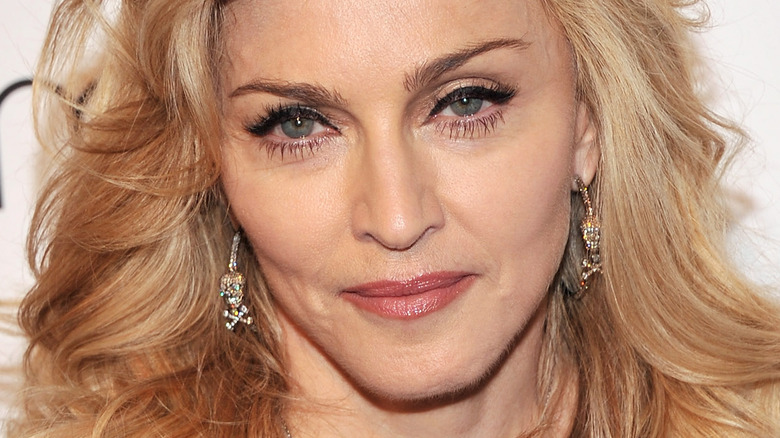 Stephen Lovekin/Getty Images
In early 2020, Prince Harry and his wife, Meghan Markle, also known as the Duke and Duchess of Sussex, made international headlines when they announced that they would become financially independent and step back from official royal family duties — a process widely known as Megxit. This announcement created ripples throughout the royal family, Great Britain, and the world as a whole, prompting divergent reactions ranging from praise and support, to harsh criticism. 
As many observers of the royal family will recall, Harry and Meghan also declared that they would be splitting their time between the US and the UK as part of this transition. Although they ended up settling in Meghan's native California, the announcement initially prompted much speculation as to where the couple might live. Among those speculators, evidently, was American entertainer Madonna — well-known for her many celebrity friendships, as well as her generosity — who actually made Meghan and Harry an awfully generous offer when they were first deciding where to move. 
Madonna offered the Duke and Duchess of Sussex her apartment
In early February 2020, about a month after Prince Harry and Meghan Markle announced they would be stepping back from the royal family, it was none other than Madonna who was among the first big names to make a very generous offer to the couple, especially in light of some of the backlash they were receiving in the UK. 
In an Instagram post, Madonna appeared to casually suggest, while getting ready for a performance backstage, that the Duke and Duchess of Sussex sublet and live in her Manhattan apartment. "Hey, Harry, don't run off to Canada. It's so boring there," Madonna said. "I'll let them sublet my apartment in Central Park West. It's a two bedroom, it's got the best view in Manhattan, incredible balcony." The singer added, "That's going to be a winner, that's gonna be a deal breaker. No, Buckingham Palace has got nothing on [Central Park West]."
At the time, it was widely reported that Harry and Meghan would be moving, at least in part, to Canada — specifically Vancouver Island off the coast of British Columbia — where Meghan owned a 10,000 square-foot mansion. Of course, the couple spent only about four months in Canada before permanently moving to California, where their daughter Lilibet was born in June 2021. In the end, it appears as though they didn't take Madonna up on her generous offer. 
Madonna and Prince Harry are connected in a surprising way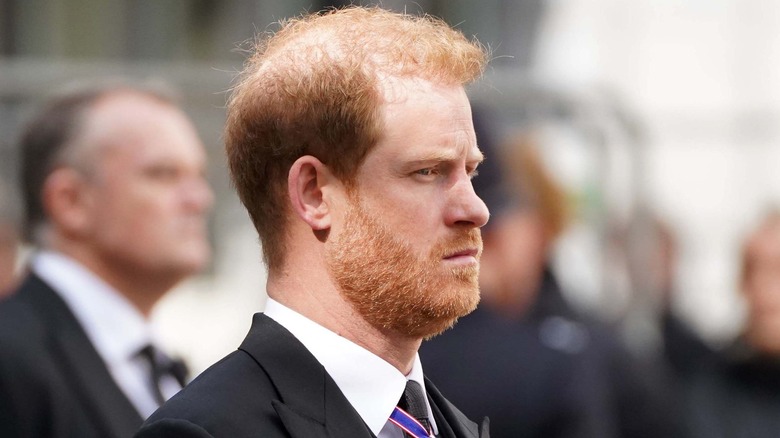 Wpa Pool/Getty Images
Although Madonna may be known for her many (sometimes fleeting) friendships with celebrities across the board, there hasn't been much word on whether she has a personal relationship with Prince Harry or Meghan Markle. Indeed, the offer made in 2020 was likely just a generous outreach, rather than something born out of a personal history. 
However, what many fans of both Madonna or the royals may not know is that the famous singer actually has a distant bloodline connection to the royal family. According to Hello!, Madonna is ninth cousins with Camilla Parker Bowles, Harry's stepmother and the current Queen Consort. Their roots trace back to Madeleine Ernard and Zacharie Cloutier, two figures of high society in 17th century Canada. According to the Irish Examiner, Madonna was "absolutely fascinated" by this tidbit of information when she found out in 2006, and even phoned Camilla to share the news. 
Although Camilla may not be of royal blood herself — instead marrying into it when she married King Charles III, then the Prince of Wales, in 2005 — she is certainly among the family's most prominent members today. However, given the distant connection, and the fact that it's been made quite clear that Camilla and Harry have their differences and are not on the best terms, it's safe to assume that this did not grant the singer access to the Duke of Sussex.