Who Is Heather Gay's Business Partner, Dre Robinson?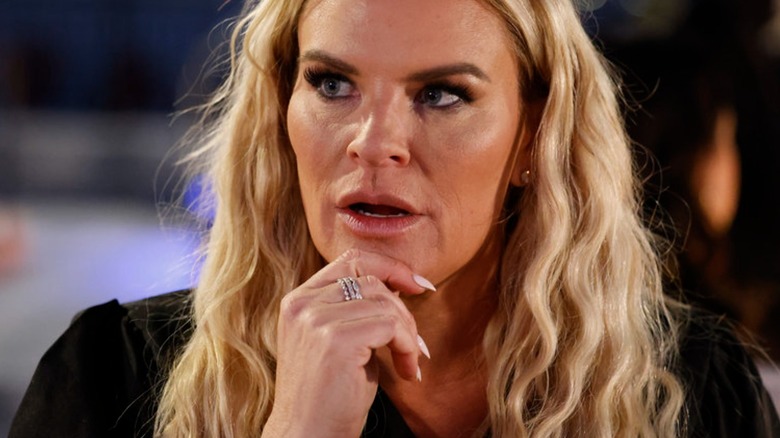 Bravo/NBCUniversal
"Real Housewives of Salt Lake City" fans are no doubt familiar with Heather Gay's med spa, Beauty Lab + Laser — but what do we know about her business partner, Dre Robinson?
Eagle-eyed viewers may recall that while not a cast member, Robinson has appeared on "RHOSLC" in the past. As noted by Bravo, in a Season 2 episode, Robinson and Gay spoke about their business' tremendous growth. She also appeared in the Season 1 finale, which featured the med spa's grand opening. After being featured on the show and seeing her business on such a major platform, Robinson took to Instagram to share that it was "A dream come true." She also added that "Never in a million years would I have thought I would see my face on TV!"
Further than that, Robinson hasn't hinted at any additional appearances on the show or spoken about being a cast member. That said, she certainly doesn't shy away from the limelight, either! In fact, Heather Gay's business partner can be spotted on a number of platforms outside of the reality series.
She co-hosts a podcast with her BFF, Heather
Dre Robinson may not be a cast member on "Real Housewives of Salt Lake City," but for those wanting to hear more from her, look no further than the podcast she co-hosts with Heather Gay. "Live Love Lab" is Beauty Lab + Laser's official podcast. With over 75 episodes published at the time of writing, it's fair to say that Robinson is a pretty seasoned content creator in her own right. Plus, as Gay let slip in the premiere episode, both women had tried their hand at podcasting, prior to starting a brand-specific one — so Robinson is certainly no novice in this department. 
Through the podcast, listeners get a chance to hear more about how Robinson and Gay started working together. Per Robinson, they had known each other, "Since our daughters were in kindergarten." However, it was only years later, when Gay purchased Beauty Lab + Laser, that they teamed up. Robinson was an easy choice as a business partner for Gay. After all, as she shared in the podcast, "I had worked in the aesthetics industry for years." 
Several years down the line, their med spa is thriving — and so is their friendship. Case in point: long before Lisa Barlow coined the nickname Gay's friendship with Whitney Rose "Bad Weather," these business partners were collectively known as "#Dreather." In January, Robinson revealed via Instagram that Gay had bought her a "Dream car.".
... And she was previously a stay-at-home-mom
Dre Robinson wasn't kidding when she took to Instagram to tell Heather Gay, "Being in your life has changed my life." 
Prior to partnering up with Heather, Robinson was a stay-at-home mom. And, though she made a point of noting that she's opposed to downplaying how intense that role was in "Live Love Lab," since going all in on Beauty Lab + Laser, she hasn't looked back. That's not to say she's any less of a hands-on mom, though. Far from it, her Instagram reads a little like a love letter to her three children. Each of her kids has their own dedicated Instagram Story Highlights.
What's more, in honor of her eldest daughter, Elsha Lapointe's birthday back in 2020, she shared a photo dump which included two pictures of Heather's daughter shared with her ex-husband, Ashley Gay — AKA, honoring the friendship that started it all. It's not the first time Heather and Robinson have issued a nod to the daughters that brought them together, either. In fact, with both girls working for Beauty Lab + Co as medical assistants, Lapointe's bio on the med spa's website promises, "Don't worry we won't ever forget to give her and Ashley credit for bringing #Dreather together." Both girls have also been featured on the "Live Love Lab" podcast, and given their thoughts on their friendship, and seeing their moms' partnership. 
Podcaster, business partner, bestie, mom: it's safe to say Dre Robinson has a lot going on.