Billie Eilish Fans Aren't Happy About Her Cheeky Nod To New Age Gap Relationship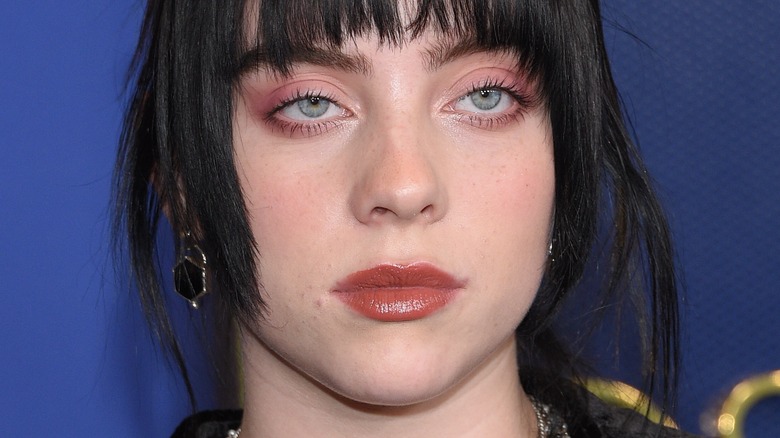 DFree/Shutterstock
Singer Billie Eilish's fans are protective of the young star, and it looks like they do not approve of the new guy she's seeing romantically.
In her 2021 documentary "Billie Eilish: The World's A Little Blurry," Eilish introduced the world to her first public boyfriend, Brandon "Q" Quention Adams, and the film also captured their subsequent breakup. Not only was there an age difference — Q was 22 and the "Bad Guy" singer was between 16 and 17 when they began dating — but Eilish described the relationship as toxic partly because of Q's "self-destructive" behavior. After learning these details from the documentary, many fans online expressed concern over the nature of the relationship. Since then, the Grammy winner began publicly dating actor Matthew Tyler Vorce sometime in 2021, but the two split back in May.
Eilish has seemingly confirmed who's her new beau, but he has certainly not earned an unanimous stamp of approval from her loyal fanbase, especially after they appeared to address their controversial relationship on Halloween.
Fans criticize Billie and Jesse Rutherford's Halloween costumes
In October, Billie Eilish and The Neighbourhood frontman Jesse Rutherford were suspected to be dating after being spotted in public acting romantic. The "Ocean Eyes" singer made their relationship Instagram official when she posted her and Rutherford's Halloween costume on November 1. But fans are raising their eyebrows at the couple's choice of costume. 
In the photo, Eilish is made-up as a baby and Rutherford aged himself up into an elderly man with a bald cap. Given that the young singer is 20 and Rutherford is 31, this getup didn't sit well with fans. "Writes a song about age and power dynamics, makes fun of it with a halloween costume" wrote one user, referencing her song "Your Power." "Girl do yourself a favor and delete the last photo," another commented.
"Besides their completely inappropriate age gap," one user pointed out on Twitter. "The fact that they met when she was 15 but also the power dynamic of her being a fan since she was a teen can't be right?" Elle did report that the two were photographed together in 2017 when Eilish was either 15 or 16. Plus, Complex wrote in 2018 that The Neighbourhood was her first-ever concert. As evident by her new Instagram post, it looks like Eilish may be aware of how her relationship is perceived.