Selena Gomez Doesn't Think She'll Ever 'Overcome' Depression, Anxiety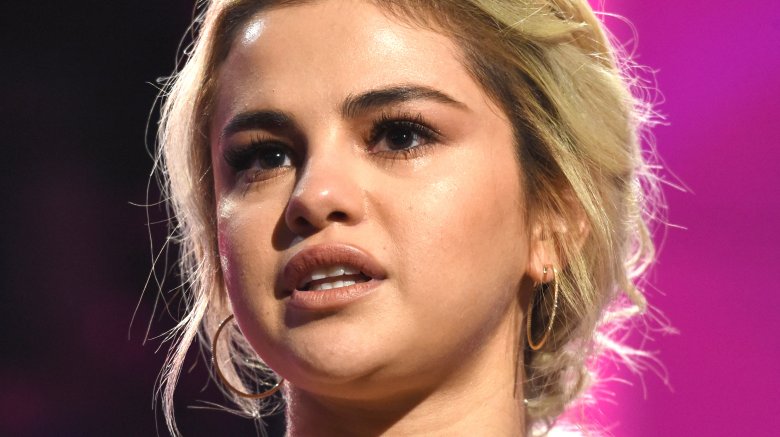 Getty Images
The "Kill Em With Kindness" singer just opened up about her mental health.
In an interview with Thirteen Reasons Why star Katherine Langford for Harper's Bazaar, published on Wednesday, Feb. 7, 2018, Selena Gomez reflected on her experience dealing with both anxiety and depression. And, she revealed, she believes she'll always have to deal with those feelings, no matter what.
"I've had a lot of issues with depression and anxiety, and I've been very vocal about it, but it's not something I feel I'll ever overcome," the former Disney Channel actress said. "There won't be a day when I'm like, 'Here I am in a pretty dress—I won!'"
She added, "I think it's a battle I'm gonna have to face for the rest of my life, and I'm okay with that because I know that I'm choosing myself over anything else." Answering a question about the year ahead, Gomez, who had a kidney transplant over the summer, stated, "I want to make sure I'm healthy. If that's good, everything else will fall into place."
Touching on her future in music, Gomez noted, "I don't really set goals 'cause I don't want to be disappointed if I don't reach them, but I do want to work on my music too. My next album has been forever in the making. When people ask me why, I'm honest about it: It's because I haven't been ready. I mean, point-blank, I don't feel confident enough in where my music is yet. If that takes 10 years, then it takes 10 years. I don't care. Right now I just want to be super intentional with all of the things I'm doing."
As Nicki Swift previously reported, Gomez received treatment for anxiety and depression in January 2018, completing a two-week program in New York City. During that time, she reportedly "focused on therapy, eating healthy meals cooked by an on-site chef, pilates, and meditation."
Prior to news of her treatment, Gomez was allegedly feuding with her mother over rumored boyfriend Justin Bieber, who Gomez's family reportedly does not like.
Gomez was previously admitted to a rehabilitation facility in September 2016, after reportedly suffering from both anxiety attacks and depression as a result of her lupus. In a speech at the American Music Awards that year, following her treatment, she told fans, "It's safe to say that most of you know my life whether I liked it or not. And I had to stop because I had everything and I was absolutely broken inside."
She went on, "And I kept it all together, enough to where I never let you down. But I kept it too much together to where I let myself down."