The True Story Of How Lisa Rinna Really Met Harry Hamlin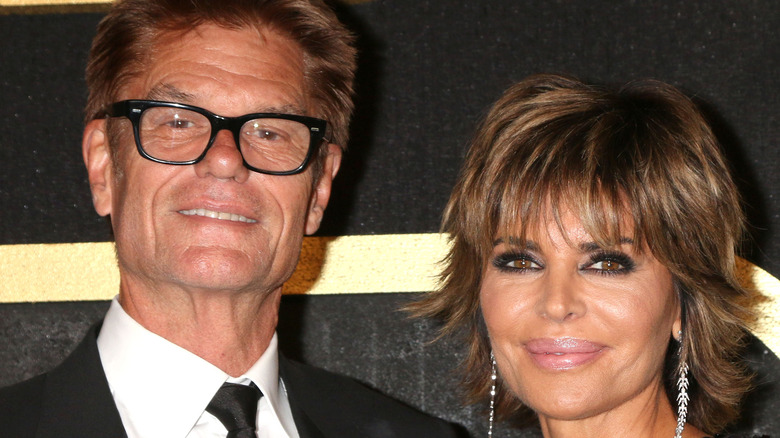 Kathy Hutchins/Shutterstock
Lisa Rinna made it clear during the Season 5 "Real Housewives of Beverly Hills" cast trip to Amsterdam that we are not to talk about her husband without her approval ... but can we talk about how she met the husband? 
As "RHOBH" fans are well aware, Rinna and her actor husband, Harry Hamlin, have been together for years. In fact, back in August, she took to Instagram to share that they had been married for 25 years. And, while she may not want us to delve into Hamlin's life more than necessary, over the past two and a half decades, she's been more than happy to share glimpses into their relationship. In addition to their presence on "RHOBH," back in 2010, Rinna and Hamlin actually had their very own reality show, "Harry Loves Lisa." But wait! There's (still) more. Rinna has also perfected the art of featuring her hubby in her Instagram dancing videos, even if he isn't dancing himself. Cue Rinna dancing while he reads, tends to the garden ... and even recycles. Oh — and who can forget her hyping up his famous bolognese sauce?
It's pretty clear that Lisa Rinna is beyond besotted with Harry Hamlin, but we're still dying to know: Where did these two lovebirds meet?
Lisa Rinna and Harry Hamlin met in a restaurant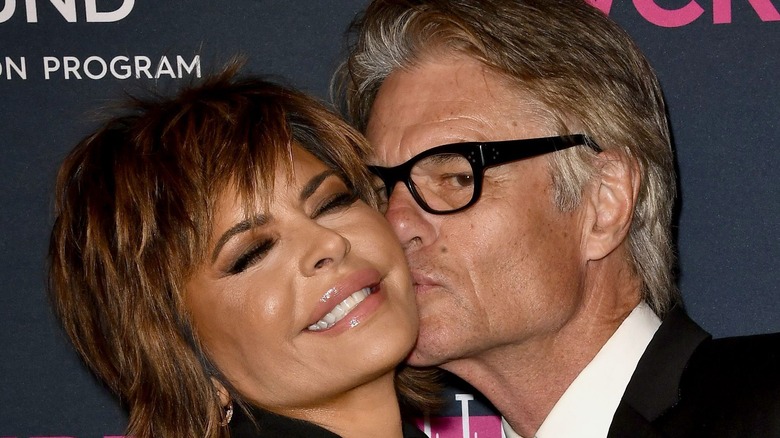 Frazer Harrison/Getty Images
The first time Harry Hamlin laid eyes on Lisa Rinna, he was in a restaurant with his then-wife, Nicolette Sheridan. As he told People of that first meeting, he was immediately blown away by Rinna's looks when she came over to say hello, though that was the extent of it. "I was married," Hamlin explained. A few months later, though, he wasn't. 
Once again, Rinna entered a restaurant the newly-single Hamlin was in, but this time, he was dining with her boss, which gave them an opportunity to chat. In an interview on SiriusXM's "The Jess Cagle Show," Hamlin shared that it was a conversation about the "sexiness" of the circus sealed the deal. What Hamlin didn't realize, at the time, was that Rinna was referring to Cirque du Soleil; he thought she was referring to "the elephants, right, and the clowns, and all that." "I thought, if this girl can be turned on by elephant dung ... I'm good with her," he joked. 
As for Rinna's thoughts on her now-husband when they first met, she joked to People that, when she first greeted him, she had been "starstruck." And, decades later, she's still Hamlin's biggest fan. In fact, speaking with the Daily Beast, Hamlin joked that his wife's penchant for calling him by his full name was a reflection of that. "I think she is trying to keep my career alive when she does that," he mused. 
...but Lisa Rinna 'just was hard to get' at first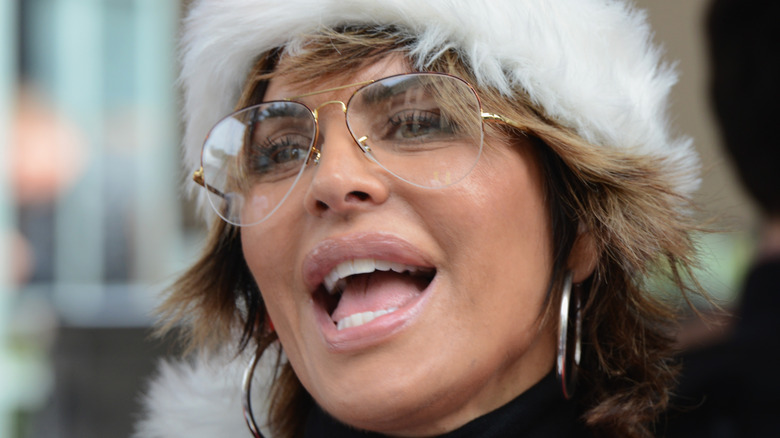 Albert L. Ortega/Getty Images
Given just how smitten Lisa Rinna is with Harry Hamlin, it may come as a surprise to many that when he first showed interest, she wasn't exactly on the same page. However, in an interview with People, she insisted, "Some people actually 'play' hard to get — I just was hard to get." 
Exhibit A: Months after sharing their thoughts on the circus, Hamlin tried to have Rinna join him for an Aspen trip over the holidays. Unfortunately for the "Mad Men" actor, though, Rinna already had plans with her parents — and she wasn't going to change them. "I said, 'No, I'm not going, I'm not doing it'" she reminisced. Luckily for this couple, Hamlin wasn't deterred, and Rinna revealed when he called her every day of the would-be trip, she got to know him better. Eventually, Hamlin asked Rinna on their first date, and he maintains that their experience at the Italian restaurant they went to was nothing short of "magical." In fact, both Hamlin and Rinna spoke to People of the waiter who kept telling them they were, "soulmates." Talk about a wingman! 
These days, Rinna has used a number of avenues to show her love for her husband — from gushing over him on reality TV, to social media posts reminding her followers that she's married to "Harry F***ing Hamlin." It's safe to say that however these two met, they couldn't be happier that they did.