Who Is Abigail Anderson, Taylor Swift's Best Friend From Childhood?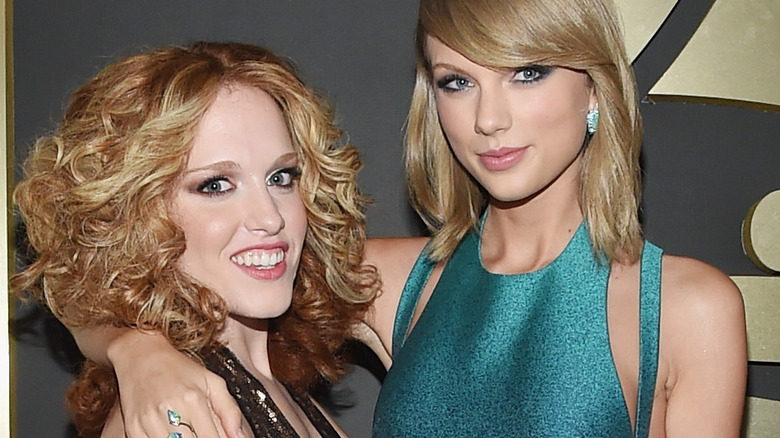 Larry Busacca/Getty Images
In her song "Fifteen," from her 2008 album "Fearless," singer-songwriter and superstar Taylor Swift sings about becoming best friends with "a redhead named Abigail." The Abigail she's singing about isn't just a character who was made up because the name fits the lyrics. Swift was singing about her real-life best friend, Abigail Anderson. Abigail has also appeared in a number of Swift's earlier music videos and, as per Elite Daily. she really did become friends when they were in high school.
Swift's iconic "squad" of famous friends, including supermodel Karlie Kloss and "Euphoria" actress Zendaya, hasn't always stayed tight over the years but Swift and her bestie Anderson appear to have remained close despite the many challenges of fame and growing up. Swift even brought Anderson along as her date to the 2015 Grammys (via Billboard) and surprised her with a star-studded birthday party that same year, reports Us Weekly. 
Taylor Swift really met Abigail Anderson in their first year of high school
As the lyrics of "Fifteen" (via Billboard) suggest, Taylor Swift met Abigail Anderson when the two were both freshmen in the same English class at Hendersonville High School in Hendersonville, Tennessee. Swift later revealed in a 2009 interview with Oprah Winfrey that Anderson had gone to the University of Kansas to swim competitively, saying, "First day of school freshman year we sat next to each other in English. She wanted to be a swimmer and go off on a college scholarship for swimming and I wanted to be a singer. Now she's off at Kansas on a swimming scholarship and I'm singing."
A media factbook for the 2011-2012 Swimming & Diving team at the University of Kansas, of which Anderson was a member, states that Anderson majored in journalism during her undergraduate degree as available on Issuu. It was also mentioned that Anderson swam all four years of high school and that she won awards for journalism and drama there.
Abigail Anderson has been married twice
Abigail Anderson has been married twice, and high school best friend Taylor Swift has served as one of her bridesmaids in at least her first wedding. As reported on by People, Anderson married Matt Lucier on Martha's Vineyard in 2017, where Swift was pictured dressed as a bridesmaid. Anderson later divorced Lucier at some point, as fans suspected based on her social media accounts, via Distractify.
E! News reports that Anderson has since remarried, marrying his second husband Charles Berard in late September 2022. Anderson, whose name on Instagram is now given as "Abigail Anderson Berard," posted photographs of herself smiling and kissing her new husband beneath her wedding veil. The post's location is tagged as being in Nashville, Tennessee, suggesting that the two got married there. Additional posts from Anderson's Instagram account of the couple on a vacation to a resort in Fiji suggest that the island in the South Pacific was their honeymoon destination.