What Christopher Lloyd And Michael J. Fox's Relationship Is Like Today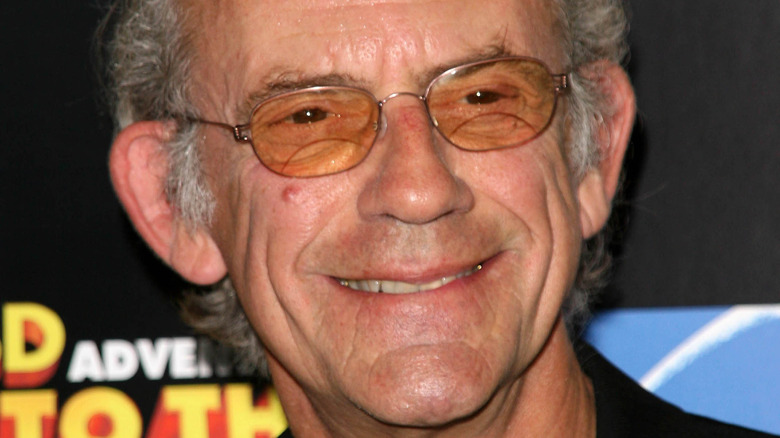 s_bukley/Shutterstock
DeLoreans, gigawatts, and 88 miles per hour all took on a new meaning once "Back to the Future" premiered in 1985. The movie blended a great mix of a teenage coming-of-age film, comedy, and science fiction rolled into one iconic film. After three movies and a few decades, "Back to the Future" still remains a beloved franchise and one that brought Michael J. Fox and Christopher Lloyd together brilliantly.
"Back to the Future"'s legacy is still strong today. Lloyd told Looper in 2021 that there was a lot of blind faith that went into filming the first movie, so its continued popularity is great to see. "You work on [a movie] and you hope that at least it gets put together, and opens, and has a decent opening, and a little bit of a run," he said. "But [Back to the Future] has gone way beyond that. It just kept rolling along, and I had no anticipation of that." 
Fox shared the same sentiment when he was on CBS Sunday Morning in 2021. His family caught him watching "Back to the Future" when it was on TV one day and they asked why. "It's really good! I'm really good in this," Fox told them. "I hadn't realized that. All that crazy stuff was good. It was just what I was doing to survive the moment." Luckily for fans of Marty and Doc, these two have always had each other's back, on and off-screen.
'Back to the Future' created lasting bonds between Christopher Lloyd and Michael J. Fox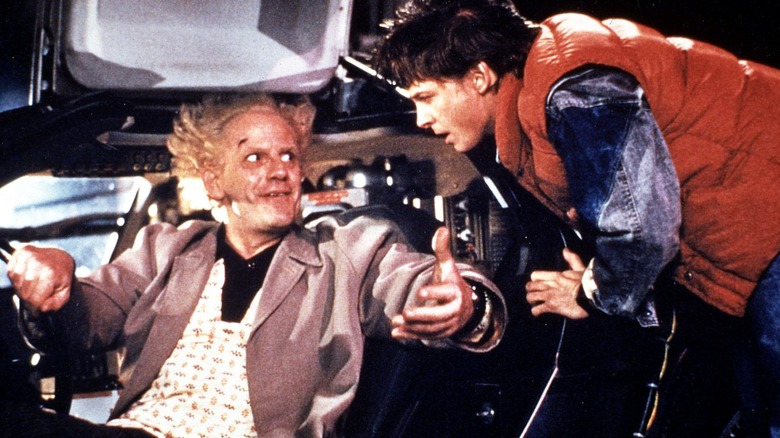 United Archives/Getty Images
Obviously, the nature of Marty McFly and Doc Brown's characters meant that the two lead actors in "Back to the Future" not only had to be quite a bit apart in age but they also had to have a great bond on the screen. Michael J. Fox was not the first pick for Marty; actor Eric Stoltz was cast first. But this recasting made movie history. While on a panel at the New York Comic Con (NYCC) in October 2022, Lloyd said they had "immediate chemistry," via The A.V. Club. With Lloyd turning 84 and Fox now in his 60s, they're still close over 30 years later. The New York Post reported that during 2022's NYCC, Fox told the audience that "the best part of the movie was working with Chris."
Decades later, in 2021, Lloyd told Looper that every time he sees Fox is a gift. "It's a thrill whenever we get together. He has just such a loving, wonderful sense of himself in his situation in time," Lloyd said. "Really, he just has a perspective, and a sense of humor about it, and a kind of joy. He loves being who is and being able to [show] it. For me, to be involved in this made all of us feel good about what we were doing, and why we were doing it."
Christopher Lloyd continues to support his friend, Michael J. Fox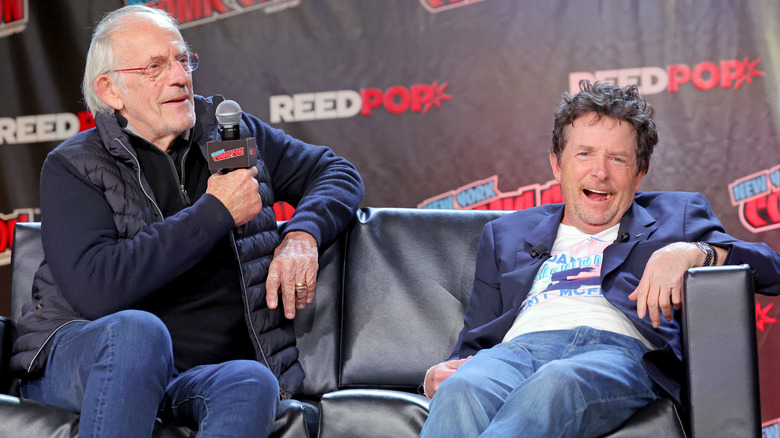 Mike Coppola/Getty Images
Michael J. Fox was diagnosed with Parkinson's disease in 1991, at the height of his career. But Fox hasn't let that stop him, even when he developed noticeable symptoms that forced him to leave the series "Spin City" in 2000, per the Washington Post. The A.V. Club reported that Fox told the crowd at NYCC 2022, "Parkinson's is the gift that keeps on taking—but it's a gift, and I wouldn't change it for anything." He also said that co-star Christopher Lloyd is a continual help. "People like Chris have been there a lot for me, and so many of you have. It's not about what I have, it's about what I've been given—the voice to get this done, and help people out." Not long after that panel in October, a video from their time at NYCC together went viral.
Of course, that convention isn't the first time they've reunited in recent years. Lloyd joined Fox for a charity poker night that the "Family Ties" actor hosted to benefit his Michael J. Fox Foundation for Parkinson's Research in 2020, via USAToday. And the two of them donned their "Back to the Future" characters for a "Jimmy Kimmel Live!" sketch on the exact date Marty McFly travels to the future: October 21, 2015. While there might not be roads where they're going, these two co-stars have an obvious bond that's great for any "Back to the Future" fan to see.