Inside Jane Goodall's Relationship With Prince Harry And Meghan Markle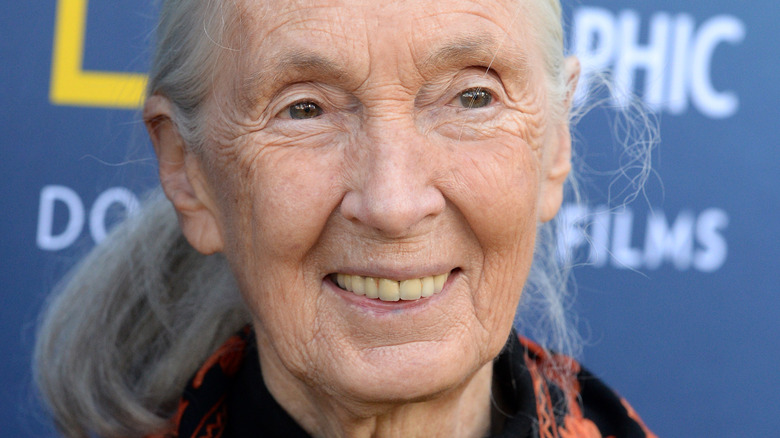 Vivien Killilea/Getty Images
Although she may be best known as a pioneer in the world of chimpanzees, many may not know that famed anthropologist Jane Goodall actually has a well-documented history with the royal family. Many may remember that she was bestowed the title of Dame (equivalent to knighthood) by Queen Elizabeth II in 2003, and even released a long statement expressing her sadness upon the death of her queen in September 2022, calling her a "a truly remarkable human being," and noted their shared love of animals. Indeed, she even wrote an introduction to Paul Hanley's arboreal book "Man of the Trees," alongside a foreward by King Charles III — then the Prince of Wales — in 2018. 
Furthermore, as some followers of Goodall (or the royal family) may remember, much ado was made about the supposed "friendship" between Goodall and the queen's grandson, Prince Harry, in 2020. However, Goodall has gone on the record, clarifying the truth about her relationship with the prince and his wife, Meghan Markle. 
Jane Goodall and Prince Harry have a shared passion for the environment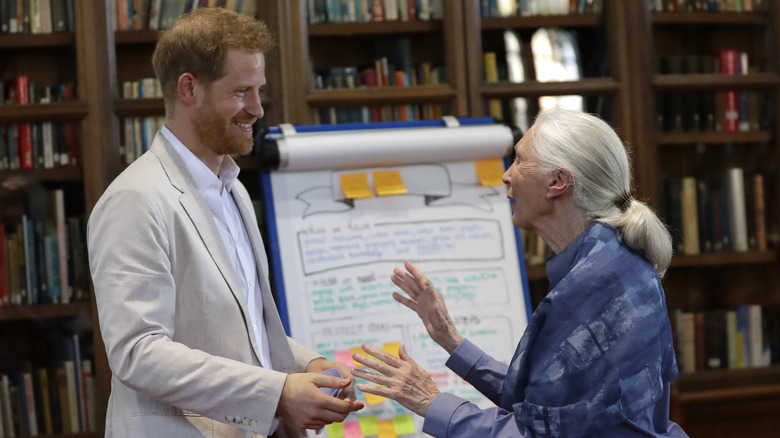 Wpa Pool/Getty Images
Prince Harry, Duke of Sussex, and anthropologist Jane Goodall first met away from the cameras at Kensington Palace in December 2018, according to People, in order to discuss the environment — a highly important issue for both of them. 
The two met in private to chat once more at Frogmore Cottage, near Windsor, in June 2019, before meeting in front of the cameras for the first time a month later for Goodall's Roots & Shoots Global Leadership Meeting. At this event, which took place at Windsor Castle and was widely covered by the media, Harry famously reenacted the chimpanzee greeting she had taught him six months earlier, and the two even shared a dance together. At the time, Harry had fond words for his longtime idol. "She is a woman of kindness, warmth, immense knowledge and a softness that's needed by mankind just as much as it is chimpkind," he said, per People. "I've been admiring her work since I was a kid, and it was so wonderful to find that she was even more amazing in person."
Around this time, Harry also interviewed Goodall for the September 2019 issue of British Vogue, which was guest edited by Harry's wife, Meghan Markle. In the interview, the two discussed prominent social issues such as racism and the importance of sustaining the environment. Harry would make headlines with his (truthful) proclamation that he and Meghan would only have "maximum" two children.
Jane Goodall clarifies she's not best friends with Prince Harry or Meghan Markle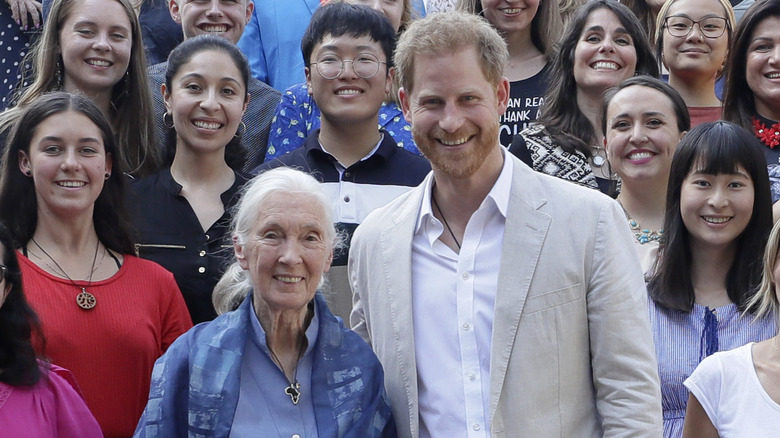 Wpa Pool/Getty Images
Although the two may have made some fond memories together, Jane Goodall was sure to clarify that she and Prince Harry were far from best friends. "We're not best friends," she said in an April 2020 interview with People, adding that the notion that they were was "absolutely stupid." "I've only met them three times," she said. "It's so silly." However, she did say that she does have warm feelings for the Duke and Duchess of Sussex nonetheless. "Prince Harry is great," she said. "Really great. And Meghan too."
Goodall was also there to comment on the phenomenon known as Megxit, right around the time Harry and Meghan Markle decided to — somewhat controversially — step back from royal family duties and live permanently in Meghan's native California. In April 2020, Goodall told the Radio Times (via The Guardian), that she had "been in touch" with the Duke of Sussex, even revealing that he had "hinted" at his desire to leave his royal family duties long before they had announced it publicly. 
In a Daily Mail interview around the same time, Goodall also spoke about her interactions with Meghan, revealing that, during one of her conversations with Harry, his wife had come in with their young son and spent a bit of time with them, as well. "He was very tiny and very sleepy," Goodall said of young Archie. "Not too pleased to be passed from his mummy."