What We Know About Brittney Griner's Wife, Cherelle Griner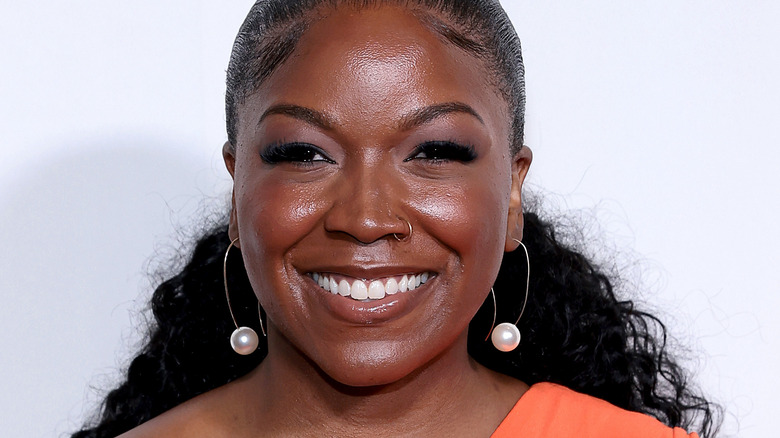 Dimitrios Kambouris/Getty Images
WNBA star Brittney Griner's life changed in February when she was arrested by Russian authorities for illegal drug possession. Griner played basketball for UMMC Ekaterinburg, a Russian women's basketball team while also being a member of the WNBA team, the Phoenix Mercury. As The New York Times reported, Americans play in the Russian league — specifically for UMMC Ekaterinburg — because the pay is better than in American leagues. Griner was reportedly making $1 million from the Russia-based team, more than the maximum base salary of around $230,000 for the WNBA. Those contracts with American athletes are potentially a thing of the past, though, due to the Russian invasion of Ukraine along with Griner's detainment and treatment.
Griner was sentenced to nine years in prison for the drug charge, a ruling that many deem as unfair and unequal to the crime of carrying cartridges of hash oil. According to some experts, this can give Russia more leverage in any negotiations to release the athlete. While President Joe Biden has stated he's working on a solution according to Reuters, Brittney's wife, Cherelle Griner, is her biggest fighter.
Brittney and Cherelle Griner are college sweethearts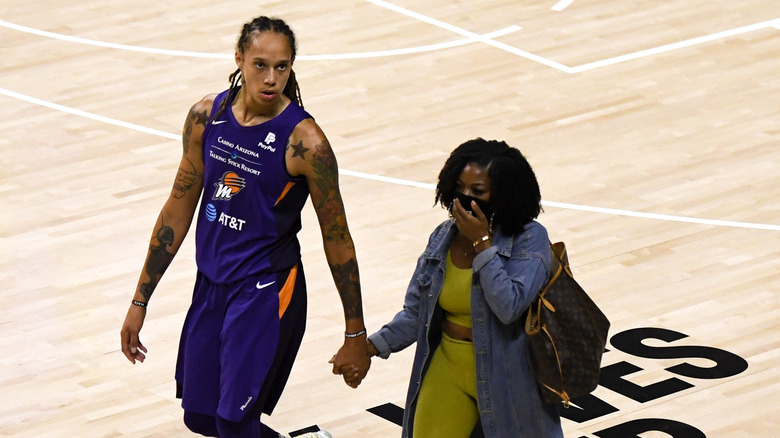 Douglas P. Defelice/Getty Images
Backing it up a little, how did Brittney and Cherelle Griner meet? They both attended Baylor University for undergrad. Brittney graduated in 2013 and Cherelle Watson, her name at the time, graduated in 2014 according to The Sun. Even though they didn't start dating until around 2017, Brittney posted about their wedding in June 2020 and wrote that it was love at first sight. "I will never forget the day I met you at Baylor in the sub area," the WNBA star wrote. "You tapped me on my shoulder and told me I took your milkshake (still up for debate lol) and I was immediately blown away at your beauty! You had no idea but I knew you were the one for me baby."
The Sun reported that the two got engaged in 2018. "You stuck by my side at the lowest and at the highest!" Brittney continued in her heartfelt post, which also celebrated their third anniversary. "Your love never wavered with me at any point if anything it grew and you have showed me how to love and how to be loved!" Cherelle majored in political science and government as an undegrad, and late continued her education. In May 2022, during Brittney's detainment, Cherelle graduated from the North Carolina Central University of Law in May 2022. "It's graduation day. Name just got a little longer: CHERELLE T. GRINER, J.D., " she posted to Instagram.
Cherelle Griner is right by Brittney Griner's side through her Russian detainment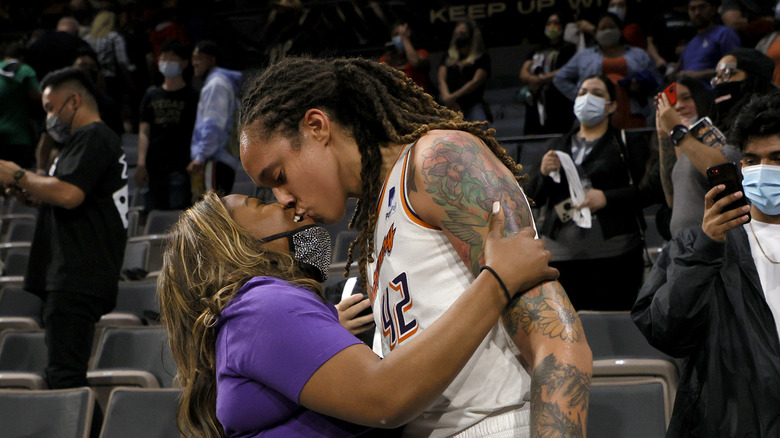 Ethan Miller/Getty Images
During Brittney Griner's legal struggle in Russia, Cherelle Griner has stood by her wife's side through the whole ordeal. While speaking with CBS News in early October, Griner said that the first time she talked to her wife in Russian detainment, she was relieved to speak to her. "It was just so delightful just to hear her voice," Cherelle said, assuring her wife they "could survive this." However, on her second call, Cherelle said the mood was a 180-degree shift. "You could hear that she was not okay," she said. "If you think about just a person's suffering and when they have suffered to a max ... She was at the max that day." Cherelle called it "the most disturbing phone call I'd ever experienced."
Cherelle made a moving speech about her wife at the Glamour Women of the Year Awards in November. "I've spent the last eight months riding waves of grief and to be honest, just total disbelief," she said. "I can't believe that I'm standing in front of you guys today, living without my favorite person, my greatest love, biggest support, and just sanctuary." Her final message to her wife was meaningful. "You are definitely not forgotten. So keep your head up, champ. This too shall pass. I love you and I cannot wait for the day that I get to embrace you."