What Languages Can Prince Harry Speak?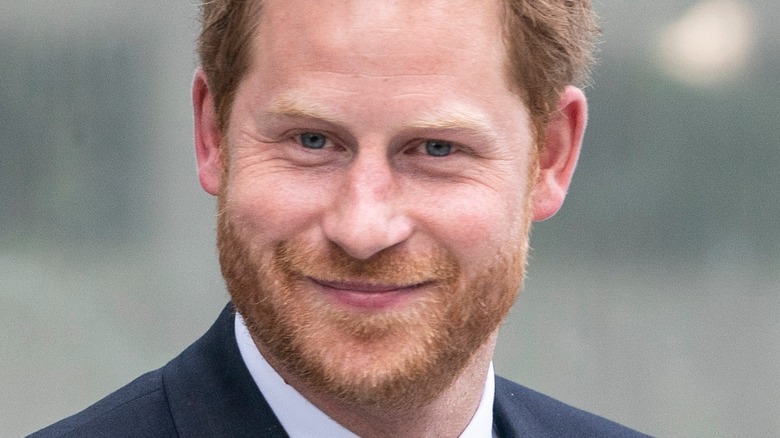 lev radin/Shutterstock
The royal family attends the most elite schools in the country. William, the Prince of Wales, and Harry, the Duke of Sussex, attended the exclusive (read: extremely expensive) Eton College. Hello! reports Prince William (who is multi-lingual) worked his socks off and graduated with two As in Geography and History of Art and a C in biology. Prince Harry didn't fare quite so well; he left with a B in Art and a D in Geography. Academia definitely wasn't a priority for the tabloid-titled "party Prince."
The Observer notes that Harry "was a peak high-school bro" at Eton. His interests at that time were clear. Photos from his dorm room show walls plastered with posters of girls in bikinis and a cut-out image of Halle Berry clad in a red dress. In fairness, there were also photos of his late mom and the beautiful "Mario Testino coffee table book" of Princess Diana portraits he took for Vanity Fair.
Perhaps because Harry's geography skills were lacking, he took a gap year before attending military college. As Prince Harry developed his love of traveling you'd think he might have learned to habla un poco de español o un po' Italiano. Or not, as the case may be. Per BBC, Harry sheered sheep down under and worked with African Aids orphans. Still, languages would undoubtedly be a big plus, given the royal duties of meeting with foreign dignitaries and representing Britain in far-flung climes. So, what languages can Prince Harry speak?
Prince Harry's limited in linguistics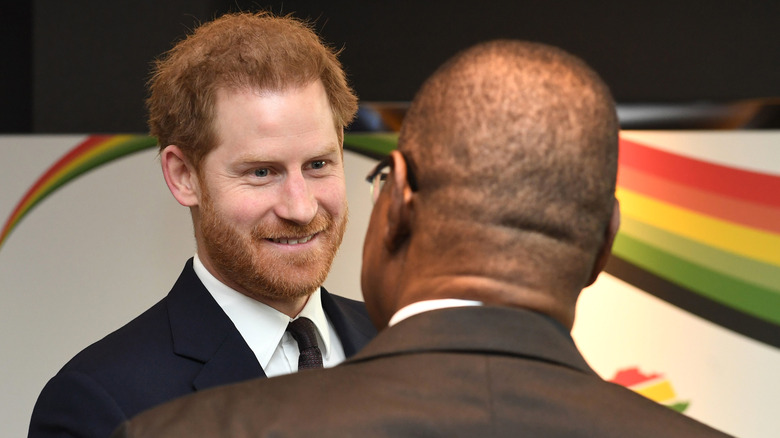 Wpa Pool/Getty Images
According to Education.gov, Benjamin Franklin said, "an investment in knowledge pays the best interest." Well, a lot was invested in Harry, the Duke of Sussex's education. Eton's fees are £46,296 annually (approximately $53,426). Times that by five and Harry's B and D results cost well over a quarter of a million dollars. So, what interest was earned from the investment? Certainly nothing linguistic-related. Harry can speak a total of one language — English.
However, Tatler reports that he was the "House Captain of Games and represented the school at rugby, cricket, and polo." Plus, Harry bravely served his country, enlisting in the military for ten years and serving two active tours of Afghanistan (per Royal). Harry's time in the armed forces spurred him to launch The Invictus Games. The annual sporting event aims to "inspire recovery, support rehabilitation, and generate a wider understanding and respect" for wounded vets.
"I learned French at school, but I've forgotten most of it. I wish I could speak German," Harry confessed during a tour of New Zealand (via OK!). Harry showed off his woeful language skills during a recent promotion for the upcoming 2023 games and he isn't big on speaking in different tongues. "Hello, Düsseldorf. We, Meghan and I, are very happy to be here today," he told the adoring audience in broken German (via Woman and Home). Harry then switched to English to inform the crowd he was eager to sample their world-famous beer.
Meghan Markle has Prince Harry beat in the language stakes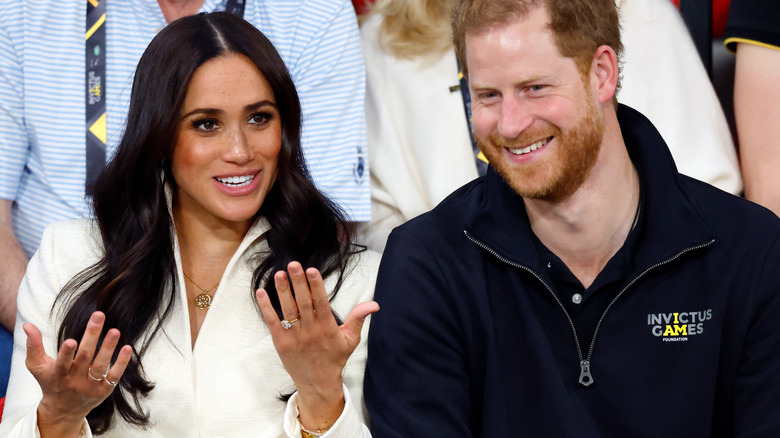 Max Mumby/indigo/Getty Images
Meghan Markle, the Duchess of Sussex's education, was cheaper and more fruitful than her husband's. Tatler reports Meghan attended the Immaculate Heart school, smashed her SATIIs, and earned a double major in "Theatre and International Relations at Northwestern University in Evanston, Illinois." So what languages can Meghan speak? Per People, she speaks fluent española et bien français.
Harry, the Duke of Sussex, sadly never inherited his late grandfather's linguistic talents. Prince Philip was fluent in English, French, and German. However, The Royal UK claims that Harry once gave a speech in Arabic. Also, during his 2018 New Zealand tour, he valiantly tried to utilize six languages during one address. Harry's attempt at saying "hello" in Samoan, Tongan, Fijian, Niuean, Cook Islands Maori, and Maori was captured on video — and it's adorable. Harry also had everyone cracking up when he attempted Dutch in an Invictus video.
The Duke confessed in a video call with Meghan and Malala Yousafzai that he hadn't realized how fortunate he was to have been educated. "We do take [school] for granted, and it is a privilege," he said. "But every single person, every single child, every single young person needs an education." Harry also shared that he should have been more appreciative to have attended Eton College. "At the time, I certainly probably wasn't as grateful, but looking back at it now, I'm very, very blessed with having such an amazing opportunity," he admitted.