The Awkward Carrie Underwood Joke Peyton Manning Made At The CMA Awards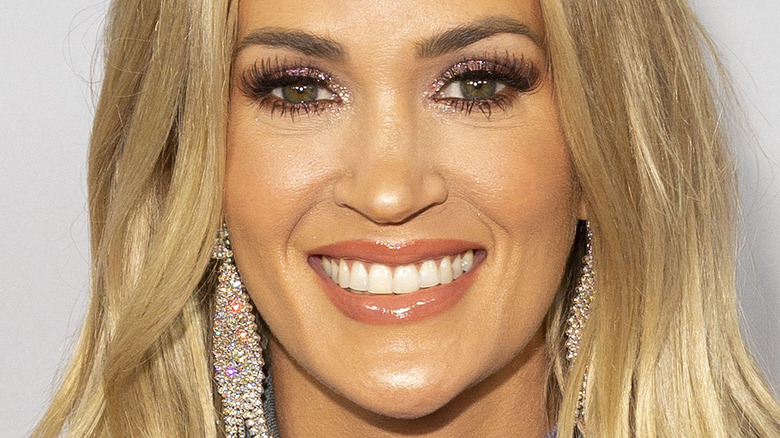 Barry Brecheisen/Getty Images
The 2022 CMA Awards maybe weren't exactly the best night ever for Carrie Underwood. There's no doubting the star looked absolutely stunning as she hit the red carpet with her husband, Mike Fisher, and wowed the nation when she hit the stage three times for a trio of stunning performances, but, unfortunately, things didn't exactly 100% go her way. We first saw the country superstar join forces with her bestie, Miranda Lambert, and Reba McEntire to perform "Coal Miner's Daughter" in memory of Loretta Lynn, before then taking on "Remember When" to celebrate Alan Jackson receiving the Willie Nelson Lifetime Achievement Award. But Underwood really got to shine when she showed off her own music, performing her brand new single, "Hate My Heart," live on the stage.
The bad news? While Underwood totally rocked the stage, she went home empty-handed. Shockingly, Underwood didn't win any of the three awards she was nominated for (the prestigious Entertainer of the Year gong went to Luke Combs, Lainey Wilson won Female Vocalist of the Year, and Carly Pearce and Ashley McBryde won Musical Event of the Year) which left plenty of fans fuming on social media.
But not only did she head home sans-award, Underwood also had a little fun poked at her on the stage when co-host Peyton Manning brought attention to an infamous moment that happened the year prior...
Peyton Manning poked fun at Carrie Underwood's side eye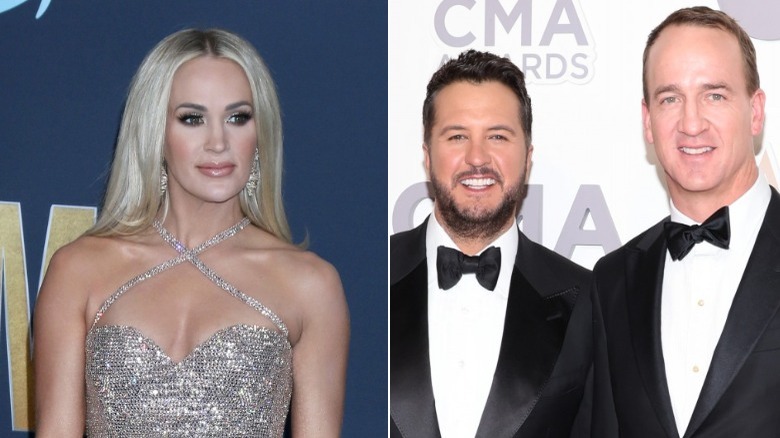 Shutterstock & Jason Kempin/Getty
Though Carrie Underwood co-hosted the CMA Awards alongside Brad Paisley for years, 2022 saw her watch the show from the audience — and be on the receiving end of a monologue joke for a change. It all went down when Peyton Manning (who co-hosted the awards with Luke Bryan) quipped (via New York Post), "Carrie Underwood and I have a lot in common. We both work with Brad Paisley, we've both been on 'Sunday Night Football' a lot and we're both very nervous about what Luke Bryan might say tonight." Bryan then responded, "Hell, even I'm nervous about what Luke Bryan might say tonight."
While it all seemed pretty innocent, many fans will know the football star was seemingly alluding to an awkward moment during the 2021 CMA Awards when many viewers claimed Underwood was giving Bryan (who hosted solo) a little side eye. That came after he appeared to call out the star as her husband, Mike Fisher, after he was vocal on Instagram with his support for Aaron Rodgers amid his stance on getting the COVID-19 vaccine. "We're following all the health protocols to keep everyone safe and it's so great to be here with all my fellow artists, tested and together. Or immunized? Who is it? Just playin'!" Bryan said during his 2021 monologue as he pointed into the crowd, before the camera cut to Underwood who didn't exactly seem impressed.