Dominic West Has A Real-Life Connection To Prince Harry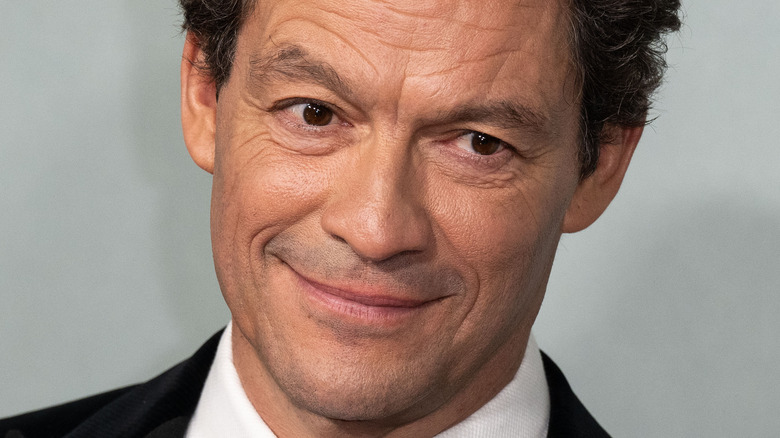 Jeff Spicer/Getty Images
Although he's probably best known for his role on HBO's "The Wire," actor Dominic West has re-entered the spotlight due to his lead appearance on the fifth season of Netflix's "The Crown." On the penultimate season of the hit Netflix show, West — a native of Sheffield, Yorkshire, England — portrays King Charles III (then known as the Prince of Wales) in the '90s, when the king was in his 40s.
Moreover, it was announced in late 2021 that West's real-life son, Senan West, would be portraying Charles' son Prince William, who was in his teenage years during the time period which the fifth season of the show depicts.
All that being said, "The Crown" isn't the only way through which West is connected to the royal family. As it turns out, the English actor actually has a history with his on-screen son's real life counterpart that extends all the way back to 2013. 
Dominic West and Prince Harry explored the Arctic together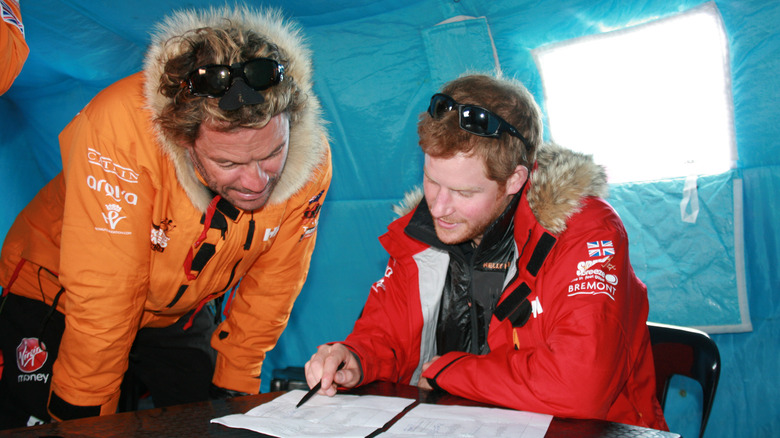 Handout/Getty Images
What fans of the royals — or "The Crown" — may not know is that Season 5 star Dominic West actually goes way back with at least one member of the royal family: Prince Harry. 
West and Harry first met back in 2013 when the two participated in a charity race called Walking With the Wounded, an event that raises money for wounded soldiers across the world (via E! News). Harry led the U.K. team in the "trek across Antarctica" while West led a team of Canadians and Australians who made up the Commonwealth team. (Alexander Skarsgård helmed the U.S. team.) In a 2014 press conference for Walking With the Wounded, West spoke fondly of his time with Harry, saying (via US Weekly), "It was cool having Harry there because he was very much part of the team. He seemed to specialize in building the latrines and he built these incredibly elaborate ones."
Despite forming a connection, it seems the two have fallen out of touch. On November 8, 2022, the day before the release of Season 5 of "The Crown," West told Entertainment Tonight, "I haven't spoken to [Harry] for many years." He also noted that he "didn't think it was appropriate to call him up and ask him for tips" when it came to preparing for the show. Nonetheless, the amount of time the actor spent with Harry may have indeed helped to inform his portrayal of Harry's father, King Charles III.
Dominic West has poked fun at Prince Harry before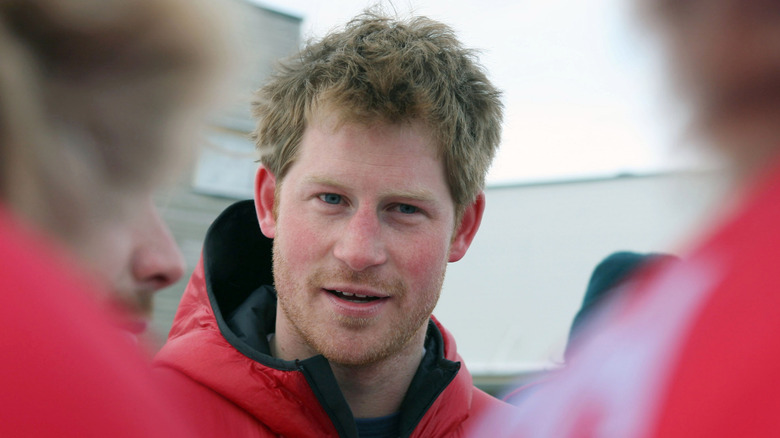 Wpa Pool/Getty Images
Although he may not have spoken to Prince Harry "for many years," actor Dominic West seemingly got to know him pretty well while they were together, and even took to poking fun at him. "Harry has a terrible selection on his iPod," West joked to the Daily Mail in 2014. "It is the sort of thing soldiers listen to — hardcore thrash metal."
Nonetheless, West has also praised Harry for his innovation while in the arctic wilderness, saying that when it came to constructing makeshift bathrooms, Harry excelled at it. "He built these incredible, intricate designs," West said during a 2014 press conference for Walking With the Wounded (via US Weekly). He added that the wilderness really gave him an opportunity to witness Harry's artistic skills flourish, joking, "He did one with castellated sides and a flag pole, a loo roll holder, and you're sitting there thinking, 'This is a real royal flush.'"
All jokes aside, it seems West really did enjoy the time he spent with Harry, even going so far as to call him "very kind" (via US Weekly)."When I was having trouble with the skis, he helped me out, and I thought, 'What a nice guy.'"