Call Me By Your Name Director Doesn't Hesitate On Topic Of Working With Armie Hammer Again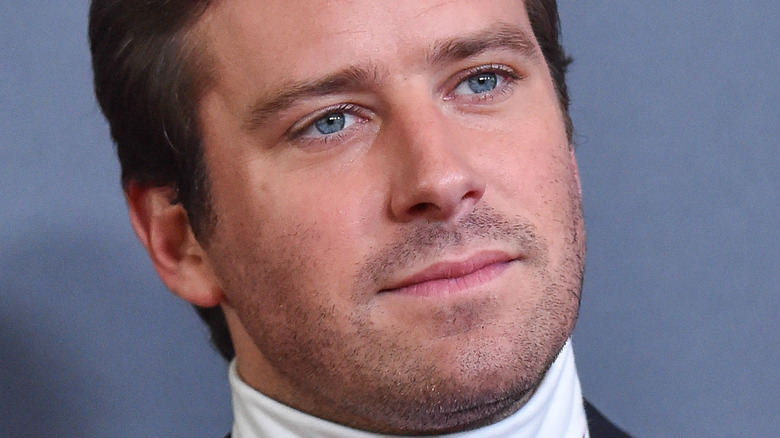 DFree/Shutterstock
The following article includes allegations of domestic abuse and sexual assault.
"Call Me By Your Name" director Luca Guadagnino doesn't seem to have any qualms about working with Armie Hammer again despite all the controversies surrounding the actor. In January 2021, multiple women accused Hammer of sexual abuse. Courtney Vucekovich was among the first to make the allegations, telling Page Six that she had dated the actor for a few months in 2020, and that their relationship was "mentally, physically, emotionally, financially" consuming. She said that when they broke up, she had to enter a hospitalization program for PTSD and trauma. 
Shortly thereafter, Paige Lorenze spoke to the same outlet, saying that she also had a brief, yet abusive, relationship with Hammer. She had allegedly been coerced to participate in knife play, where he would mark her body as if he was "branding" her. Then, in March 2021, a woman named Effie came forward with her own set of allegations, revealing that the star had "abused [her] mentally, emotionally, and sexually," and recalling an instance where he "repeatedly slammed [her] head against a wall, bruising my [her]" (via USA Today). What's more, Hammer had been accused of cannibalism as well, with the accusers alleging that he expressed interest in devouring their body parts.
The disgraced actor denied all these claims and moved to the Cayman Islands, where he is reportedly working as a timeshare salesman. And while he's now a Hollywood pariah, Guadagnino seemingly still wants to work with him.
Luca Guadagnino wants Armie Hammer to be part of a potential sequel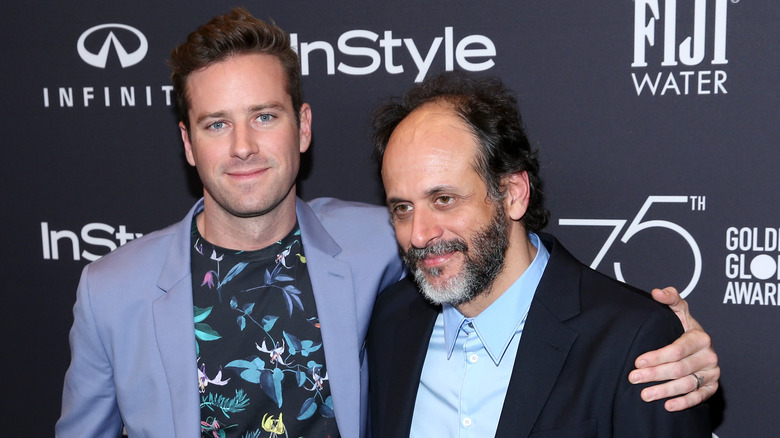 Phillip Faraone/Getty Images
While, as of this writing, there's no reported "Call Me By Your Name" sequel in the works, director Luca Guadagnino said that he's happy to work with Armie Hammer again. In a November 2022 interview with Variety, the filmmaker, who has reunited with "CMBYN" star Timothee Chalamet, for another film, didn't appear to be turned off by the idea of collaborating with Hammer. "I would love to make a second and third and fourth chapter of all my movies," he said of the cult favorite. "Why? Because I truly love the actors I work with, I want to repeat the joy of doing what we did together." 
And when asked if the possible sequel would include Hammer's Oliver character, Guadagnino didn't hesitate with his response. "Yeah, of course," he mused, but made sure to highlight that it's not in development at this time, or anytime in the near future. "There is no hypothesis, so there is no movie," he clarified. "It's a wish and a desire, and I have not made up my mind about what would be the story."
Interestingly, his new movie starring Chalamet, "Bones And All," involves cannibalistic characters. However, Guadagnino slammed critics who think that it has anything to do with Hammer. "Any correlation with this kind of innuendo and silliness is preposterous," Guadagnino said at the Zurich Film Festival in October (via AV Club). "When it came to the topic of cannibalism, we took it very matter-of-factly."
If you or anyone you know has been a victim of sexual assault, help is available. Visit the Rape, Abuse & Incest National Network website or contact RAINN's National Helpline at 1-800-656-HOPE (4673).