The Little-Known Way Meghan Markle's Dad Assisted Her In Her Career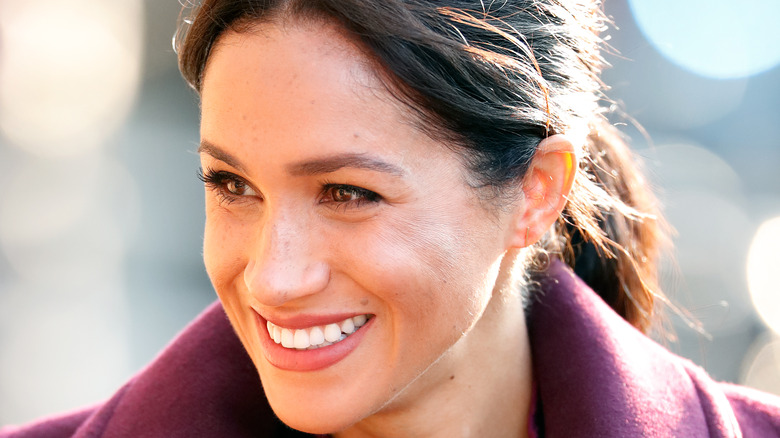 Max Mumby/indigo/Getty Images
Meghan Markle — known formally as the Duchess of Sussex — is largely in the headlines nowadays due to her marriage to Prince Harry and their subsequent distancing from the royal family, but many will recall that before she and her husband tied the knot, she was a well-known Hollywood actor. As devoted fans of hers likely know, when it came to her career path, she didn't stray too far from her family roots. 
Meghan was born in Los Angeles in 1981, the daughter of Doria Ragland, a social worker, and Thomas Markle Sr., who worked in the television industry. However, Meghan is now estranged from her father — like her husband, Meghan has seen a major family feud develop between herself and her father and elder half-siblings in recent years. Many people may not know, though, that she received some highly valuable support from her father early in her career while she was still getting familiar with the television industry. 
Thomas Markle would call Meghan to make sure her lighting was on point
In a 2018 Esquire interview, Meghan Markle revealed that she spent a lot of time on the set of "Married... with Children" with her father when she was a young girl, which helped her feel comfortable working as an actor herself when she grew up. Meghan said that the crews with which Thomas Markle was associated were the "world[s] that I'm comfortable with, especially the director of photography. I will always find my light. No question."
Meghan also revealed that if the lighting was ever off, her father would call her to give her advice. "You need to have him bring another 2K in," he would tell her, as she recalled to the outlet. He would say to her, "Why aren't you using this sort of lighting gel?" Additionally, as she told Good Housekeeping in 2017, one of her favorite past-times is calligraphy, with which she also has a little-known connection with her father. Her handwriting is evidently so good that she even used to get paid for it, as she worked as a calligrapher for weddings and other events. "I think handwritten notes are a lost art form," she said. "When I booked my first pilot, my dad wrote me a letter that I still have. The idea of someone taking the time to put pen to paper is really special."
Meghan Markle was close with her father as a child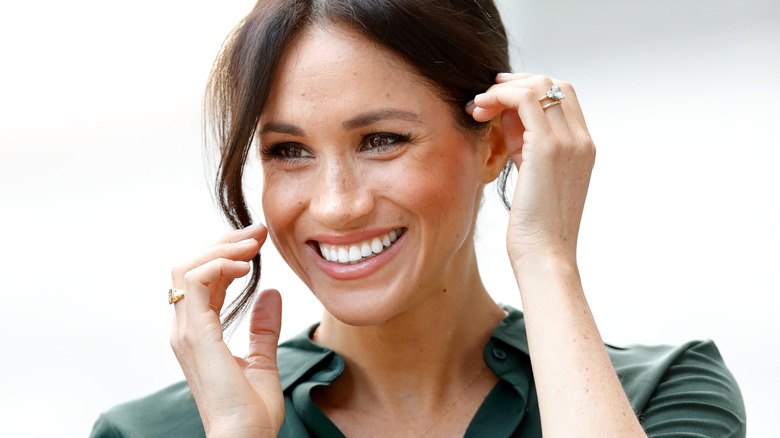 Max Mumby/indigo/Getty Images
Apparently, the assistance Thomas Markle gave his daughter on set is not all that he has helped her with over the years. In a 2016 interview with Elle, Meghan Markle recalled how her father helped her emotionally, especially given some of the racism she had to endure as a child. She recounted a story from when she was around 7 years old, in which she recalled seeing two separate packs of Barbie dolls — one each of a white and Black family. However, she didn't see any which aligned with her own, mixed-race family. When her father learned of this, he made his own customized Barbie family for her, one with a white father and a Black mother, and gifted it to her for Christmas. 
Although they may have been close when she was a child, the father-daughter pair evidently became estranged sometime during her adulthood. Things appeared to rupture even further between Meghan and her father around the time of her 2018 wedding to Prince Harry, but their estrangement reportedly goes back further than that. "They've had problems for some time, from before she met Prince Harry," a source close to Meghan told The Daily Mail in August 2018. They added that "a reconciliation is completely off the table at the moment ... he's been a complete embarrassment." Of course, as followers of Meghan and Harry know, if there's any chance of a reconciliation, it may be far off.