Pete Davidson Appears To Have A History With Emily Ratajkowski's Ex-Husband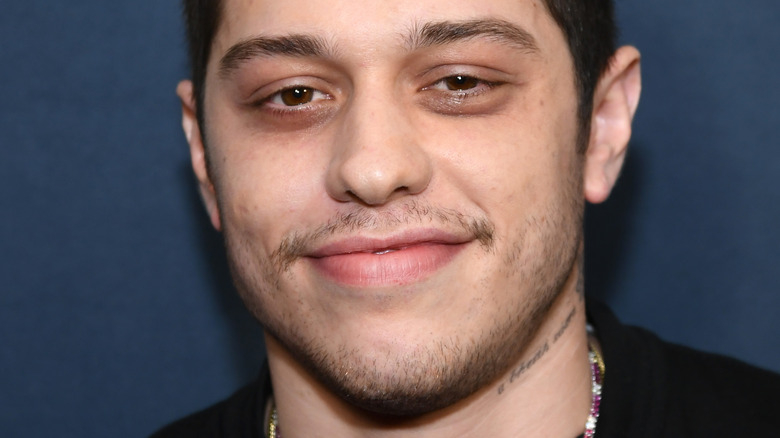 Dimitrios Kambouris/Getty Images
Pete Davidson is notorious for dating some of the most beautiful women in the entertainment industry, including Ariana Grande and Kaia Gerber. And according to US Weekly, it looks like the comedian has found a new beau in supermodel, Emily Ratajkowski.
The Daily Mail reported the couple first being spotted together in a celebration for Davidson's 29th birthday. Apparently, the supermodel even gave Davidson a gift as he escorted her back to her apartment once the night ended. The comedian gave Ratajkowski a sweet embrace before going his separate ways, and rumors quickly began to circulate about the two. US Weekly confirmed the couple's relationship after a source revealed the two had been dating for several months. The source said it's "in the very early stages, but both really like each other."
Both Davidson and Ratajkowski have gone through recent breakups. The comedian split from Kim Kardashian in August 2022. Ratajkowski had to deal with her own heartache after she divorced Sebastian Bear-McClard. The supermodel and McClard were together for almost four years and had a child together, but split after rumors of an affair. While things are already seeming complicated for the couple, it is about to get even more difficult, because Davidson and McClard used to hang out with one another.
Pete Davidson and Sebastian Bear-McClard were friends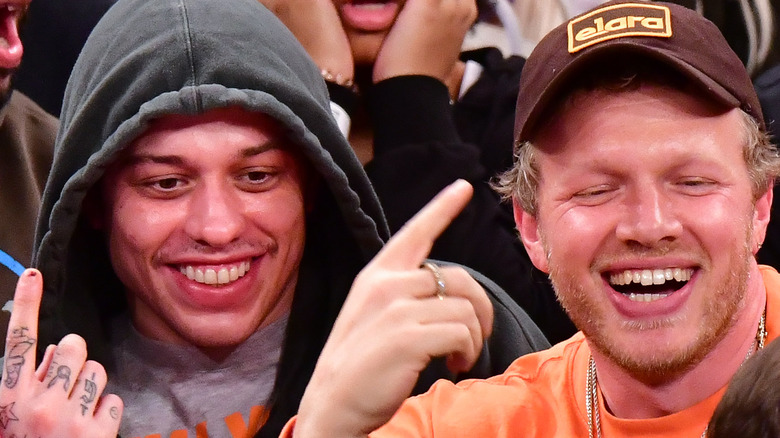 James Devaney/Getty Images
Emily Ratajkowski might not have to worry about Pete Davidson and her ex, Sebastian Bear-McClard, getting along. In a normal breakup, your ex and current partner would never have to see one another. However, in Ratajkowski's case, there is a child involved, and she is bound to run into her ex. On very rare occasions, exes and current partners can get along and have mutual respect for one another. While we don't know if that's the case for Davidson and McClard just yet, we do know the two used to hang out in each other's close circle of friends.
In fact, in 2020 the comedian and producer decided to take their friendship out on the town to watch a basketball game at Madison Square Garden, per TMZ. The two were captured in a photo smiling and cheering on their favorite team. The International News reports that Davidson and McClard were chatting it up at the game alongside actor Josh Safdie. Even though this hangout was a couple of years ago, the two reconnected for a film.
The Daily Mail reported McClard executive-produced the film, "Bodies, Bodies, Bodies" that starred the Saturday Night Live comedian. It's unclear how close Davidson and McClard got on the set of the film but were sure to cross paths at one point or another. Clearly, both McClard and Davidson are familiar with one another, whether this is good news or bad news for Ratajkowski's new relationship.