What Languages Does King Charles Speak?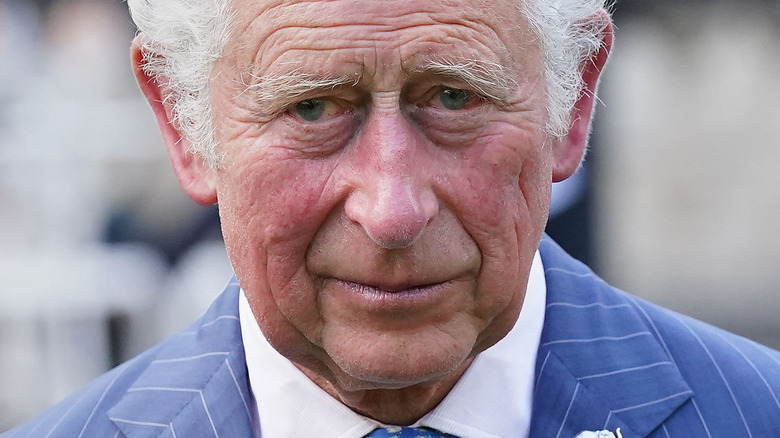 Jonathan Brady - WPA Pool/Getty Images
When King Charles III inherited the throne in September 2022, he became the head of state to the United Kingdom and the Commonwealth Realms ... but just how good is he at communicating with the people in them?
It's fairly well-known that the king's parents were able to speak more than their native tongue. According to Woman & Home, the late Queen Elizabeth II was fluent in French. And, after her death, Euronews Travel reported that she was also fluent in Doric, a Scots dialect native to Balmoral's surrounds. As far as language mastery goes, however, Prince Philip was undoubtedly the star in that department. Per Woman & Home, he could communicate in no less than five languages. He could speak English, German, and French, fluently — and also had a working knowledge of both Danish and Greek. The late monarch and her husband's grandchildren, though, are not quite as comfortable in other languages. Speaking in Düsseldorf ahead of the Invictus Games in September, Prince Harry poked fun at his limited German, playfully wiping his forehead and laughing, "That's about where it stops" (via Daily Mail). Likewise, back in 2016, Prince William delivered a speech in shaky French while on his Canadian tour, much to the amusement of his wife. "It's a little rusty, work with me," he joked (via ET Canada). 
Do the king's kids' limited linguistic skills say anything about the monarch's abilities, though?
King Charles can speak a number of languages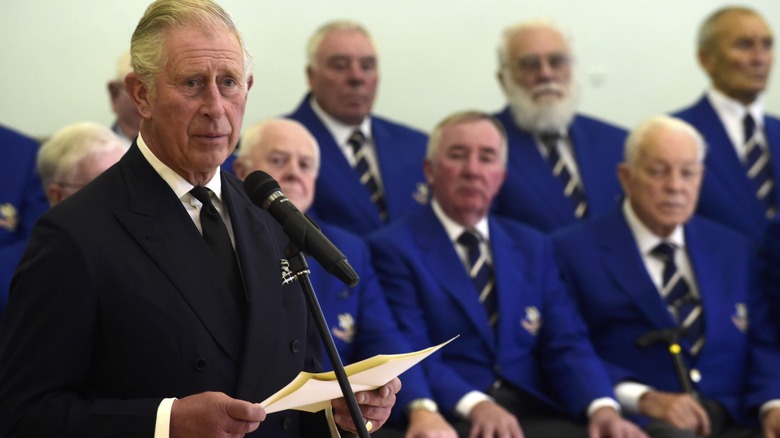 Rebecca Naden - WPA Pool/Getty Images
Prince William and Prince Harry might not be super confident conversing in other languages, but when it comes to their father, the opposite is true. In fact, King Charles III followed in his father's footsteps, and is fluent in not just English, but French and German as well.
Long before becoming King, Charles III gave a number of speeches in both French and German. Case in point: back in 2017, he greeted crowds at a Canada Day event in French — and it's safe to say, Francophone royalists were impressed. Taking to the comments section of a video shared by The Royal Family Channel, one French-speaking viewer wrote, "Pas mal. Pas mal du tout!" — which translates to, "Not bad. Not bad at all!" Another penned, "As a french [speaker] i could hear and understand everything — good job Charles." As for German, he's also addressed several audiences in the language — both at the British embassy in Berlin in 2019 (via the Daily Mail), and the German parliament in 2020. 
While not fluent, the new monarch also famously has a decent grasp of Welsh, having taken lessons in the language ahead of his investiture as Prince of Wales in 1969. "The Crown" fans will remember that in Season 3, the now-king attended lessons with a staunchly anti-royal activist. Per Town & Country, that was completely true — and as noted by BBC, in September 2022, he gave one of his first speeches as king in the language. 
... and he's tried his hand at several others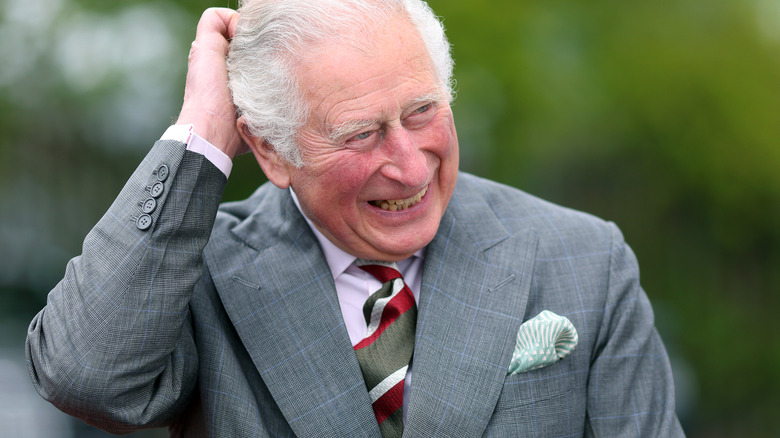 Chris Jackson - WPA Pool/Getty Images
King Charles III may be most adept at German, French and a little Welsh, but that's not to say he shies away from trying his hand at other languages. In fact, according to The Times, he's long been a fan of Gaelic — and even learned some of the language to read his children's book, "The Old Man of Lochnagar," on a Scottish TV channel. Per The New York Times, doing so was important to the Prince — with a Buckingham Palace official noting that he, "Has made no bones about the fact that he is in support of the native languages of Scotland and Wales." The Times also notes that the monarch has had all his annual reports since 2005 translated into Gaelic — though he's probably not handling the translation, himself. 
All that said, the king has also poked fun at some of his linguistic mishaps, and he's the first to admit that some languages simply don't click for him. Despite long having ties to the Arab world, when it comes to the Arabic language, he's a lost cause. Per Independent, while at the Qatar-UK Alumni Network's launch, the then-prince joked, "It goes in one ear and out the other."
It's worth noting, however, that the outlet also confirmed that, per an aide, the King had begun taking lessons in the language once again. As a linguist of note, we're not surprised.