What Happened To Teresa Giudice's Fabellini?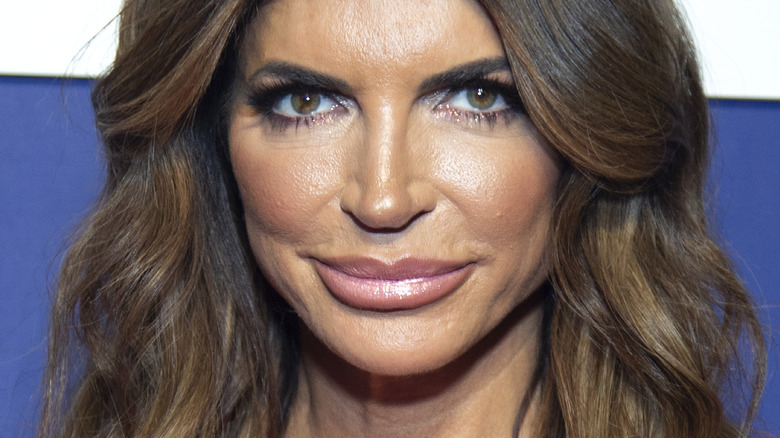 Santiago Felipe/Getty Images
Teresa Giudice is our gal when it comes to non-stop news. She married Luis Ruelas and rocked the biggest hairdo we've ever seen for her wedding day. Seriously, it was massive. Ruelas quickly became a central figure in not only her life, but in that of her daughters'. One sweet detail we learned is that Ruelas reaches out to her ex, Joe Giudice, for the sake of her girls. She's also shared that she and Ruelas keep each other very satisfied sexually, so things are looking solid for the newly weds.
Where things aren't so solid is amongst her extended family. Things have been really rocky between Giudice and her brother, Joe Gorga, and his wife Melissa Gorga. Things blew up during the finale of Season 13 of "The Real Housewives of New Jersey," according to People, that was so bad that both Melissa and Joe refused to attend Giudice's wedding to Ruelas. In fact, Melissa said at BravoCon: "I got off the roller coaster ... I don't want to be on it anymore. We'll see what happens." But Giudice doesn't seem too fazed by the family drama. Or does she? We'll have to see what happens. Giudice had to deal with another rift, but this one was a financial enterprise rather than familial. Giudice had to cut ties with Wine Wave, her partners in creating Fabellini, and that source of income dried up, so to speak.
Teresa Giudice's time in prison messed with Fabellini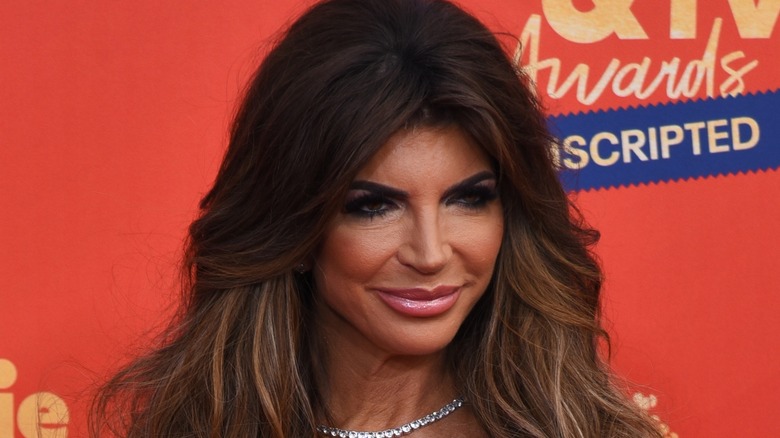 Michael Mattes/Shutterstock
Teresa Giudice launched Fabellini, a line of flavored prosecco, with Wine Wave and, regrettably, the business was severely impacted by events in her own life. Giudice was busy with promoting her line of Prosecco on Twitter in 2012, offering fans the chance for a tasting and autograph in the tri-state area. She was one busy gal, showing up at liquor stores and events so that fans could come get a taste.
This all came to a halt when Giudice was sentenced to prison for fraud, and began her term in early 2014, per People. The negative publicity took a huge toll on Giudice's growing brand. She spoke on "Watch What Happens Live with Andy Cohen" after she was out of prison. Cohen asked if her enterprises were hurt by her sentence. "Oh, it did," she said. "Pretty much all my businesses went to s**t with this whole legal thing. They did." At the time though, Giudice was optimistic that things could turn around for Fabellini. "So I have to rebuild now," she told Cohen. "Listen, we all fall down, and we've just got to pick ourselves back up." But this didn't end up being the case.
Andy Cohen roasts Teresa Giudice's Fabellini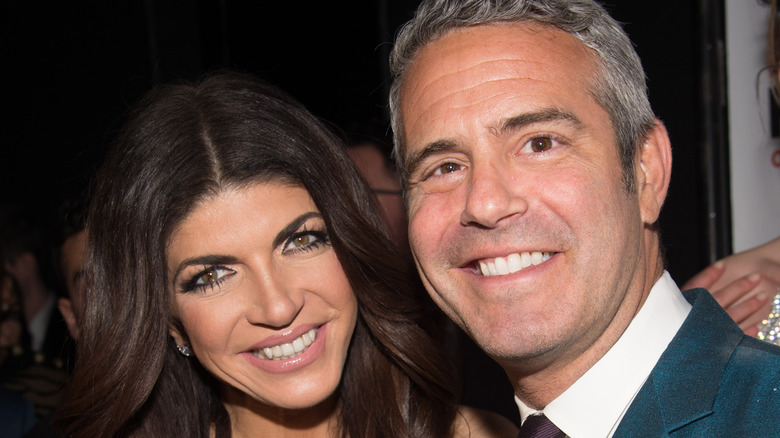 Dave Kotinsky/Getty Images
Teresa Giudice's Twitter account for Fabellini phased out in early 2014 and the last post is dated on February 12, 2014. The final post is an advertisement to meet Giudice on Staten Island, but there's minimal fan interaction and what is there is all about her prison sentence and that of her ex-husband's, Joe Giudice. "How long will Teresa and Juicy Joe be going to jail for? [W]ill they be able to share the same cell?" someone asked, a little off topic from flavored Prosecco. Another person got a little sassier. "How's it having the face of [a] convicted felon on your advertising? Tip: DUMP THE THIEF," they wrote. Tell us how you really feel, Twitter!
But it wasn't just cyberspace that had thoughts about the end of Giudice's side hustle with Fabellini. Andy Cohen joked about her failed venture with People when asked about the "most absurd" enterprises seen in the "Real Housewives" franchise. Giudice's failed Fabellini came to Cohen's mind pretty quickly. "Somewhere, there is a warehouse full of vats of Fabellini," he said. "I'm not even kidding. Like, it's there, fermenting." Dang! Can't they host the next BravoCon in that warehouse and polish it all off?