How The Real Housewives Of Beverly Hills Took A Toll On Yolanda Hadid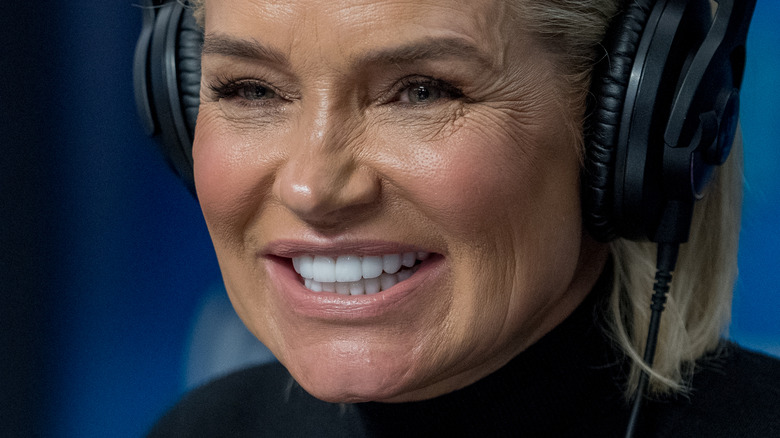 Roy Rochlin/Getty Images
Yolanda Hadid went through a lot during her four-season run on "Real Housewives of Beverly Hills" — so it's hardly surprising that she's recently admitted that the experience had a devastating effect on her overall wellbeing. 
As longtime "RHOBH" fans will know, Hadid was a diamond holder from Seasons 3 to 6. During that time, she dealt with a number of personal challenges, from health issues to her divorce from David Foster, which was announced right at the end of her tenure. All that would be tough enough for someone to deal with at the best of times — but Hadid had an added hurdle to navigate. That would be Bravo's cameras, and a global audience. What's more, Hadid told ET in October 2022 that because of her Lyme disease, coping with everything going on was even more straining than it might have been had she been in peak health. As she explained to the outlet, she was diagnosed with the disease while filming her first season, and as a result, she didn't have "a full set of brains on the show." That paved the way for bigger reactions from the former model ... and while that certainly made for great TV, it wasn't necessarily great for her. 
So, just how did being on the show affect Hadid — and now that she's told People that her Lyme disease is "in remission," would she be open to a do-over? 
Questions about her health became too much to bear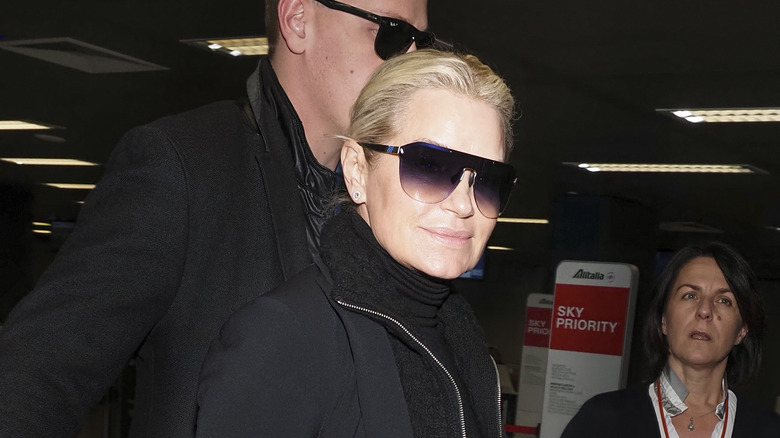 Arnold Jerocki/Getty Images
After four seasons on "The Real Housewives of Beverly Hills," Yolanda Hadid quit the show in 2016 — and she certainly went out with a bang.
Season 6 saw the start of Hadid's epic feud with Lisa Rinna, after the latter shared a rumor that Hadid was lying about her experience with Lyme disease and really had Munchausen syndrome. That ultimately led to a major argument between the two, with Hadid calling Rinna out for "labeling me with something that is just such [an] insult to my integrity as a woman." Tensions erupted once again at the season's reunion. This time, Hadid found herself in the crossfire of Rinna and Lisa Vanderpump. Rinna accused Vanderpump of wanting to use the Munchausen rumor as a storyline, claiming that when Rinna's husband Harry Hamlin expressed unconditional support for Hadid, the restaurateur huffed, "There goes our f***ing storyline" (via People). Understandably, Hadid was devastated by the comment and walked off set.
Years later, Hadid has told ET that the entire conversation surrounding her health became too much for her to bear — and it had a major impact on her loved ones, too. "They knew I was fighting for my life. So, from that perspective, it wasn't a good experience for me," she said. It can't have helped that two of her children, Anwar and Bella Hadid, have been diagnosed with Lyme disease, too. "That was the taste I left with," she lamented. 
... and it's put her off any attempt at a do-over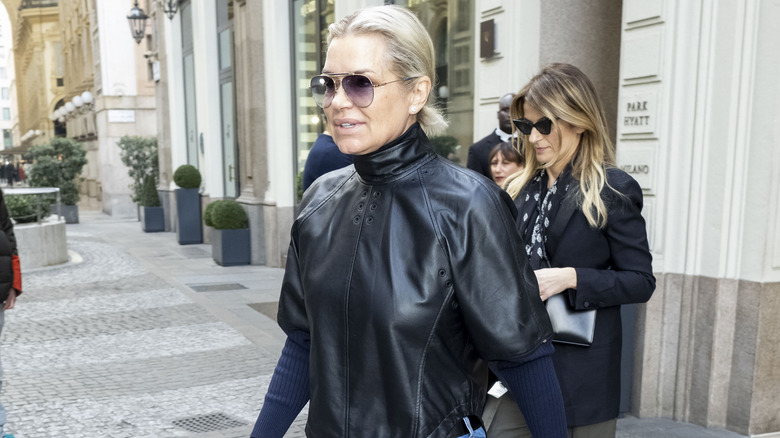 Arnold Jerocki/Getty Images
In light of Yolanda Hadid's comments that her final season left a not-so-great taste in her mouth, one would be forgiven for thinking she'd be open to a do-over, especially now that she's in better health. Sure enough, in the statement she posted to Instagram to announce that she was leaving "The Real Housewives of Beverly Hills," she wrote, "I would have loved a more graceful exit then [sic] 'Season 6' but sometimes we don't get to control the ending of the chapters in our life." That said, don't bank on seeing Hadid return to the show.
Speaking to ET of her experience on the show, the mother of three made it perfectly clear that she had no intentions of getting back in the ring. "At this point in my life, I couldn't. I'm too sensitive. I couldn't deal with that back and forth between women ... It's not my communication style or something that's good for my life," she explained. Hadid added that she could no longer relate to drama for drama's sake. "I don't understand that somebody would wake up and want to hurt somebody with words or behavior," she said. 
Ultimately, Yolanda Hadid made the decision based on what's best for herself and her family — and while we would love to see her back on our screens, we're happy for her.