This Is How George And Amal Clooney Met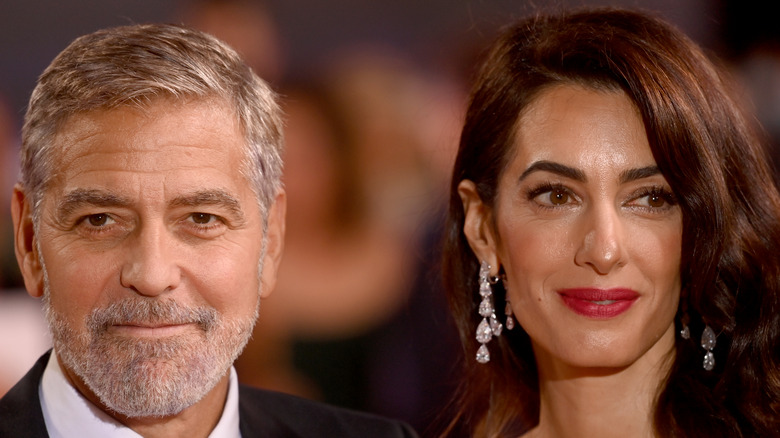 Dave J Hogan/Getty Images
Although there have been countless celebrity supercouples dominating the headlines recently — from Brad Pitt and Angelina Jolie's divorce and subsequent legal battle, to the rekindling of Ben Affleck and Jennifer Lopez's relationship resulting in their 2022 wedding — there may be one that stands above all the rest. Despite his widespread appeal and common status as a sex symbol, famed actor George Clooney was a longtime bachelor. It was widely presumed that he would likely never get married, especially since the star himself claimed he would never walk down the aisle (per Today). 
However, all that changed when he wed Lebanese-British lawyer Amal Alamuddin in 2014, at the age of 53, to much fanfare and publicity (via The Guardian). Eight years later, the couple is still going strong. Before having fraternal twins in 2017, the pair founded the Clooney Foundation for Justice, a nonprofit dedicated to combating injustice against journalists, women, minorities, and the LGBTQ+ community around the world. 
After hearing about their epic love story, many fans might wonder how the all-star couple met in the first place. As it turns out, George and Amal Clooney have pretty conventional — though fast-paced — origins. 
George and Amal Clooney met in 2013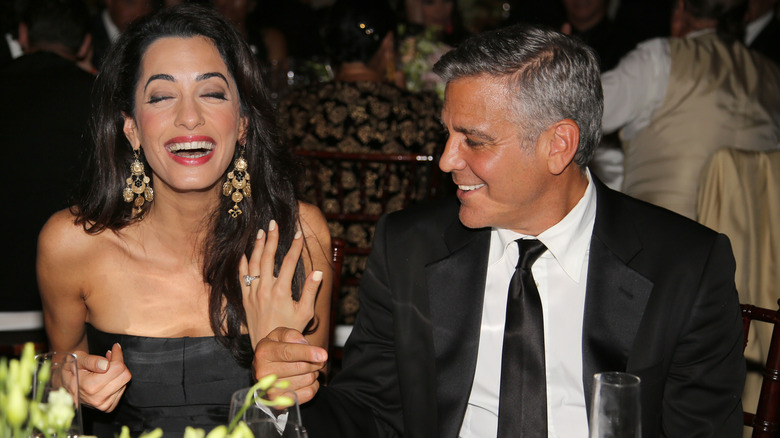 Rachel Murray/Getty Images
In a 2018 episode of David Letterman's Netflix series, "My Next Guest Needs No Introduction," actor George Clooney opened up about how he first met his wife, Amal Clooney, née Alamuddin. As it turns out, he "didn't [even have to] leave the house." 
In July 2013, George was living near Lake Como in Italy when a mutual friend of his and Amal's asked if he could bring someone over to George's place, per People. The "ER" star added that his agent even told him beforehand, "I met this woman who's coming to your house, who you're going to marry." The 61-year-old's parents were also there at Lake Como, meaning that they met his future wife at the same time he did. At dinner that night, George and Amal immediately hit it off. "We stayed up all night talking," he recalled. The chemistry was undeniable. 
Four years later, in 2017, George's father Nick recalled that night in an interview with People. "Nina [George's mother] and I were actually the ones who answered the door when Amal came in ... She was obviously very charming, gorgeous and so clearly accomplished, but by the time we had supper that night, it was clear there was a kindness to her and an inclusiveness." He added that by the end of the evening, he already noted the chemistry between his son and Amal. "Look ouuuut, this could be trouble for this young man!" Nick recalled telling his wife, Nina. 
George and Amal Clooney's first date was at a historic landmark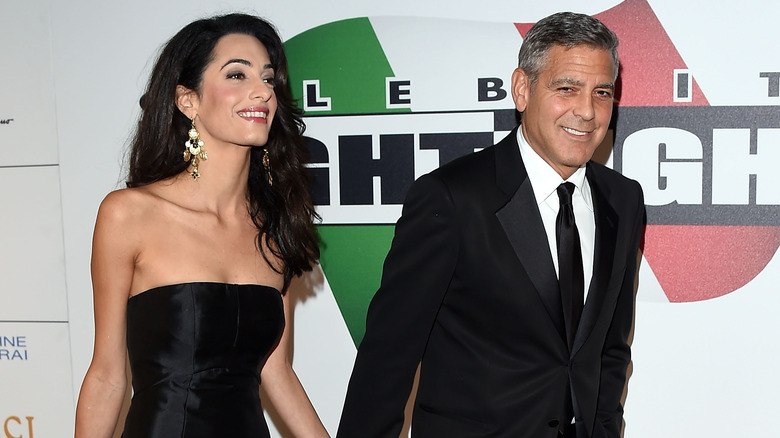 Daniele Venturelli/Getty Images
Although George and Amal Clooney first met in July 2013, their first date didn't take place until October of that year. As he recalled in a 2017 interview with The Hollywood Reporter, the two of them spent months conversing via email after they first met. Three months after their first (platonic) night together, George finally invited Amal to join him on a visit to London's famous Abbey Road Studios. At the time, he was supervising the score for the film "The Monuments Men," of which he was a co-writer, co-producer, star, and director. 
"That was a good first date," he recalled. "Then we went for dinner. She said, 'Let's go to this place.' It was one of those places that was incredibly hip and chic. And when we came out, there were 50 paparazzi there. But she handled it like a champ. And pretty quickly, things escalated once I was in London." It wasn't long after that the Kentucky native took the next step. In April 2014, only six months after their first date, he proposed to Amal at his home after making them dinner, which she of course accepted, resulting in their wedding in Venice five months later.