The Jewelry That Kate Middleton Inherited From Princess Diana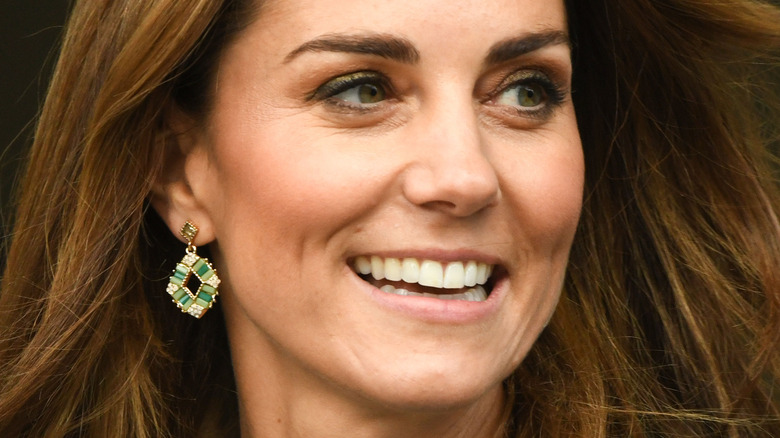 LINGTREN.COM/Shutterstock
Anyone old enough to remember Diana, Princess of Wales should vividly recall the way she could captivate audiences around the world, and the dominance of her public image unrivaled by almost anyone else on the planet. Of course, Diana had a natural beauty to her, and she was also the wife to King Charles III — then the Prince of Wales and first in line to the throne — and mother of two princes, one of whom, Prince William, Prince of Wales, will most likely ascend to the throne one day as king himself. 
Ever since Diana's death in 1997, few have been able to recapture the sway she held over her royal subjects as well as her stunning style. However, one may come close: the successor to her "Princess of Wales" title, and another likely future queen, Catherine, Princess of Wales, also known as Kate Middleton (William and Kate were known as the Duke and Duchess of Cambridge until the death of Queen Elizabeth II in September 2022). That may be in no small part due to the many pieces of beautiful and invaluable jewelry she inherited from Princess Diana upon her marriage to William. 
Princess Diana bequeathed all her jewelry to her daughters-in-law upon her death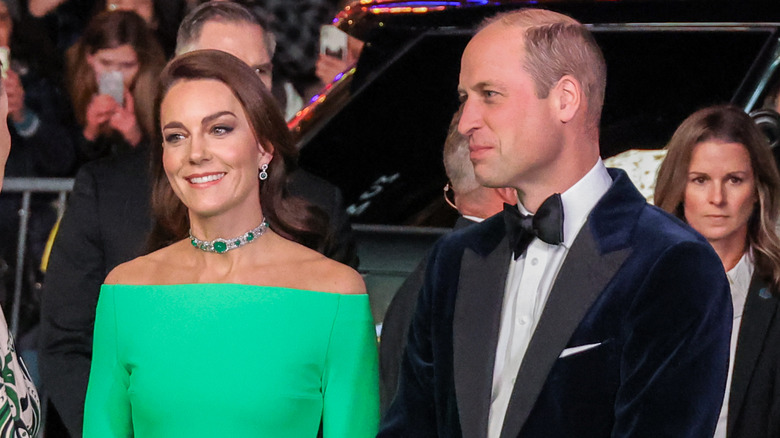 Mike Coppola/Getty Images
As Marie Claire reported in 2021, there were two women who primarily got to inherit the jewelry of Diana, Princess of Wales, after her 1997 death: her two daughters-in-law (both of whom became so after her death). That turned out to be Kate Middleton, the wife of Prince William, and Meghan Markle, the wife of Prince Harry. As she stated in her will, "I would like you to allocate all my jewelry to the share to be held by my sons, so that their wives may, in due course, have it or use it. I leave the exact division of the jewelry to your discretion." Among these notable items of jewelry that made Diana so stunning include earrings, bracelets, and chic headdresses.
Since inheriting the jewelry, Kate hasn't been afraid to show off the best of the jewels. In 2019, for instance, she was spotted wearing Diana's diamond and pearl earrings at the BAFTA Awards. A few years before, during a royal tour in Germany in 2017, Kate was seen sporting one of Diana's favorite pearl bracelets, per Good Housekeeping. Perhaps most notably, she was seen wearing Diana's iconic "Cambridge Lover's Knot Tiara" in public for the first time in 2015 at a reception at Buckingham Palace. The queen loaned the tiara to Diana in 1981 as a pre-wedding gift upon Diana's engagement to Charles. 
Kate Middleton also has Diana's diamond engagement ring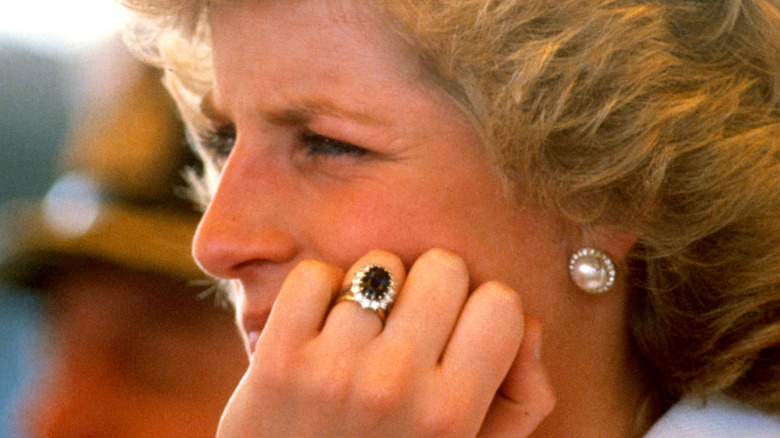 Anwar Hussein/Getty Images
Despite much of the fanfare surrounding all of Princess Diana's jewelry, there is arguably one piece that Kate Middleton inherited that stands above all the rest: Diana's one and only engagement ring. 
According to Vogue, Diana handpicked the ring herself from Garrard & Co. (well-known for their association with the royal family) after King Charles III — then the Prince of Wales — proposed to her in 1981. The ring features a 12-carat Ceylon sapphire in the middle and is encircled by diamonds set in 18-carat white gold. 
Per The Daily Mirror, upon his engagement to Kate, Prince William said of the special ring, "It's my mother's engagement ring, so of course, it's very special to me, and Kate is very special to me now as well. It is only right the two are put together." He added that gifting the ring to Kate and keeping it in the family was his way of "making sure my mother didn't miss out" on their engagement.