The Sad Reason Piers Morgan's Mother Changed His Name When He Was A Child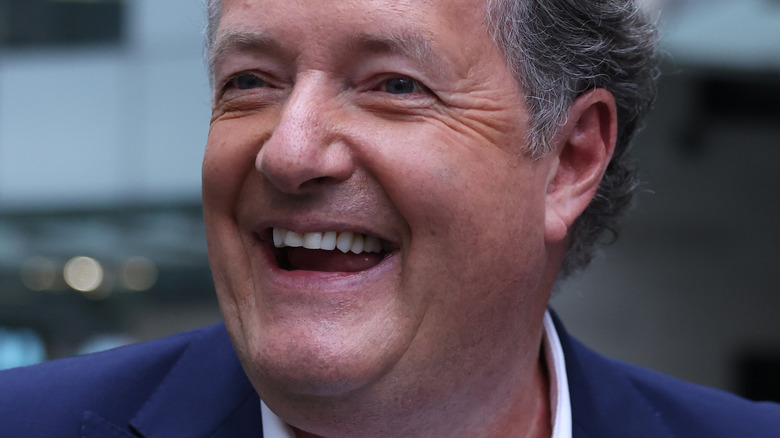 Hollie Adams/Getty Images
Piers Morgan's name can certainly stir up a ton of emotion among people — whether they're avid fans, or equally avid critics. What many might not know, though, is that Piers Morgan wasn't actually the original name on his birth certificate. 
Morgan has been a journalist since the late 1980s, and according to The Sun, he climbed the ranks pretty quickly. In fact, Time notes that at only 28 years old, he became the youngest editor to date of the now-defunct News of the World. From there, he famously went into TV broadcasting, and today, he's known for his controversial celebrity interviews, reviled by some and revered by others. While he himself is a journalist, in recent years, he's made headlines all his own: from his messy relationship-turned-feud with Meghan Markle and Prince Harry, to his bombshell sit-down interview with Cristiano Ronaldo that, per The Sun, ultimately saw the soccer legend part ways with his team, Manchester United. 
Love him or hate him, there's no denying that the name Piers Morgan is inextricably linked to pop culture. However, once upon a time, Morgan was known by another moniker entirely. So, what was his birth name — and what was behind the decision to change that?
A devastating accident played a role in Piers Morgan's name change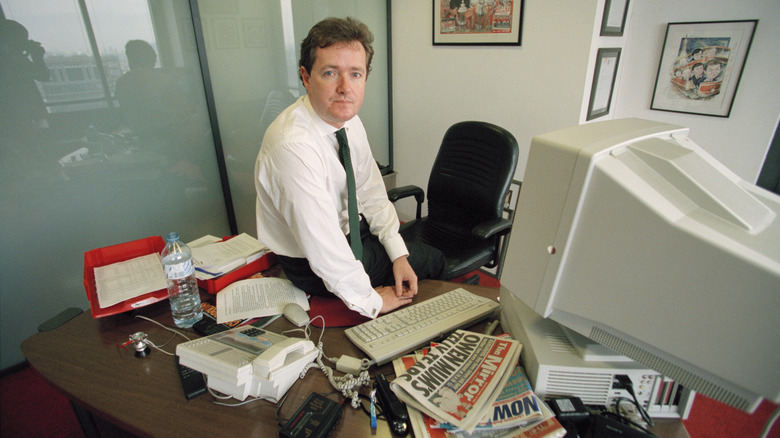 Peter Macdiarmid/Getty Images
According to Express, while we know him as Piers Morgan today, the journalist was actually named Piers Stefan O'Meara at birth, born to parents Gabrielle Georgina Sybille and Vincent Eamonn O'Meara. So, where did the name Morgan come from? 
Sadly for the family, before they could celebrate Morgan's first birthday, O'Meara died. In his book, "The Hot Seat: Love, War, and Cable News," Morgan revealed that his cause of death was an "Ulcer-related condition." Even more devastating, his mother was pregnant with his younger brother at the time. Despite the heartbreak, however, Sybille managed to find love again a few years after the loss of her first husband. Enter Glynne Pughe-Morgan: Morgan's stepfather, and the only man he can remember calling "Dad." 
Though Morgan hasn't shared exactly how old he was when he took his stepfather's surname, in March 2021 — after making his not-so-complimentary thoughts on Prince Harry and Meghan Markle's Oprah Winfrey interview known — Morgan revealed that he'd been a child at the time. In response to a Markle fan, who questioned why he brought up her relationship with her father, while he didn't use his own father's surname (via Express), Morgan tweeted, "My father died when I was one. I then took my Dad's name when he married my mother."
Piers Morgan shortened his name when his career began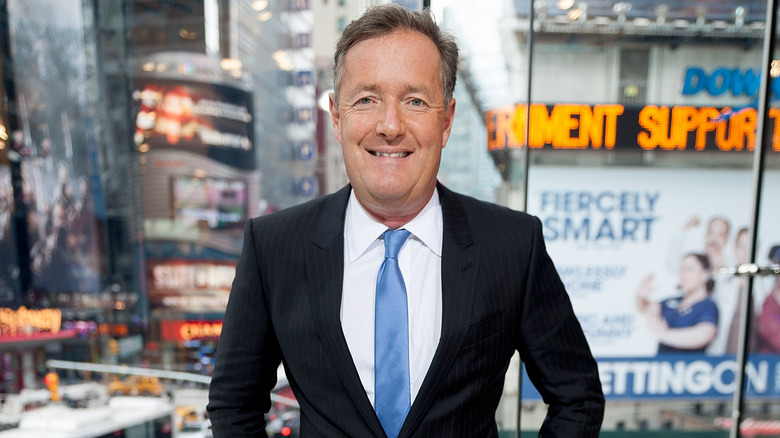 D Dipasupil/Getty Images
Piers Morgan may have taken his stepfather's surname when his mother remarried, but he's never been professionally known as Piers Pughe-Morgan — and there's a reason for that. 
According to The Guardian, when Morgan began working at The Sun, he opted to forego his full last name, adapting it instead. Just like that, Piers Morgan became a public figure, and decades later, he's still known by his pen name. Though Morgan hasn't addressed why he chose not to use his double-barrel surname, it's likely that he simply wanted it to be more easily remembered. Whatever his reasons, it's certainly not indicative of any ill will toward his stepfather. Far from it, Morgan has made no secret of just how close they are. Back in 2020, he issued Glynne Pughe-Morgan a sweet birthday message via Instagram, gushing, "Happy Birthday to my Dad, who looks younger than me every year." And, that was just one of many kind things he's had to say over the years. 
In "The Hot Seat: Love, War, and Cable News," Morgan also made a point of applauding Pughe-Morgan for welcoming him and his brother into his life when he started seeing their mother. "The magnitude of what he took on back then has grown with me ever since I've had my own children. He's always been Dad to me," he wrote. Morgan's initial name change may have stemmed from a sad situation, but this story certainly has a happy ending.