Piers Morgan Is Fuming Over Meghan And Harry. Here's Why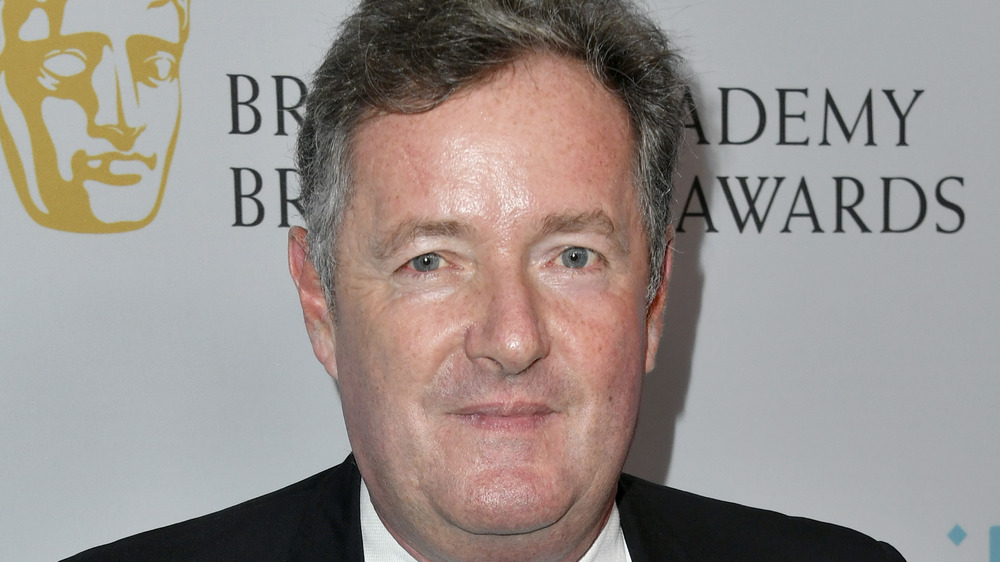 Frazer Harrison/Getty Images
Piers Morgan is not happy with Prince Harry and Meghan Markle, and he's not afraid to make his feelings known. The British TV personality has been very outspoken about his feelings toward the couple in the past, and made it very clear once again that he's not their biggest fan after their bombshell interview with Oprah Winfrey aired on CBS on March 7, 2021.
Meghan and Harry dropped some serious allegations and secrets about their time as senior members of the British royal family in the special, including Meghan alleging she wasn't allowed to get help for her suicidal thoughts, at least one member of Harry's family discussing their son Archie's skin color before his birth, and the fact they actually got married in secret three days before their lavish ceremony.
Unsurprisingly, the tell-all didn't sit well with Morgan. The former America's Got Talent judge has a rocky past with Meghan and has publicly slammed her on multiple occasions. In a January 2020 interview with Australia's Sunrise, he accused her of being "pretty ruthless" and branded her a "social climber who has spent her life using people, and moving on and ditching them," adding, "it's an unpleasant trait."
But why is Morgan unhappy with Meghan and Harry again, and why is he calling them "disgraceful"? Keep reading to find out.
Piers Morgan called Prince Harry and Meghan Markle's interview a 'disgraceful betrayal of the Queen'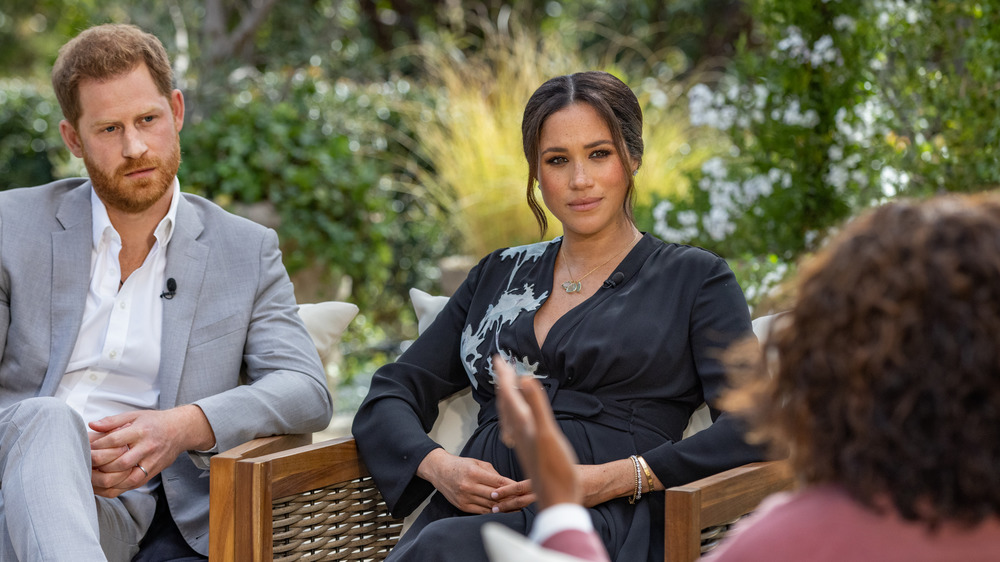 Handout/Getty Images
Taking to Twitter on March 7, 2021, Piers Morgan pointed out that Meghan Markle and Prince Harry's much-talked-about interview with Oprah Winfrey had caused the hashtag #AbolishTheMonarchy to trend on Twitter as a result of their shocking claims, which didn't sit too well with him. "So, #AbolishTheMonarchy is now trending, albeit below me. Congrats Meghan & Harry – your mission is complete," he sarcastically tweeted. But that certainly wasn't all.
In another tweet after the interview aired, Morgan launched a scathing attack on the couple. "This interview is an absolutely disgraceful betrayal of the Queen and the Royal Family. I expect all this vile destructive self-serving nonsense from Meghan Markle – but for Harry to let her take down his family and the Monarchy like this is shameful," he wrote. In a follow-up message, the outspoken TV star claimed that Harry "wants America and the rest of the world to hate his own family, hate the Monarchy and hate his country."
Morgan then called out the couple for the interview's timing, noting that when it aired, Harry's grandfather Prince Philip was still in the hospital following a heart operation. He claimed the couple had "spent two hours trashing everything the Queen stands for & has worked so hard to maintain, whilst pretending to support her" all "while her 99yr-old husband Philip is seriously ill in hospital." Morgan added, "It's contemptible."
Piers Morgan was 'sickened' by Prince Harry and Meghan Markle's interview
Jeff Spicer/Getty Images
Piers Morgan being Piers Morgan, his scathing attack on Prince Harry and Meghan Markle didn't end on social media. The star also took aim at the duo over their Oprah Winfrey interview on his U.K. morning show Good Morning Britain on March 8, 2021, where he said he was "sickened" by the tell-all.
"I am angry to the point of boiling over today. I am sickened by what I have just had to watch," Morgan told his co-host Susanna Reid. He then encouraged Harry to out the member of the royal family who spoke about Archie's skin color after the couple refused to name names to Winfrey. "They trash everybody. They basically make out the entire royal family are a bunch of white supremacists by dropping this race bombshell. They didn't name which one it was, they just throw it out there so it could be any member of the royal family and Harry says 'I'll never say who it was,' you better say it fast," Morgan said.
Morgan and Reid also spoke to Megyn Kelly on the morning show — who had some equally scathing things to say following the CBS special — while he also put his thoughts into words for a lengthy piece for the Daily Mail. It's safe to say Morgan is no Harry and Meghan supporter.