What Southern Charm's Taylor Ann Green Really Does For A Living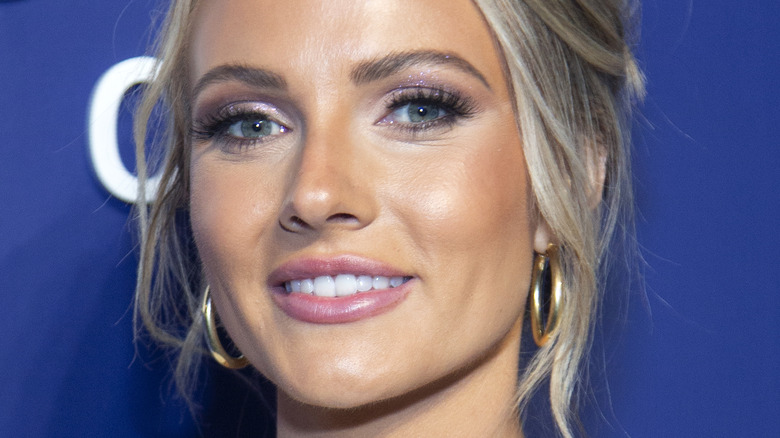 Santiago Felipe/Getty Images
During the "Southern Charm" Season 8 finale, viewers watched as OG cast member Shep Rose gave his girlfriend, Taylor Ann Green, a proposal. But instead of getting down on one knee with a bright blue box, he dangled an all-expenses paid trip abroad in front of her. There was only one catch: she had to quit her job first so they could go. To the shock (and horror) of many, Green said yes, and the two set off to travel the world together. Alas, what goes up usually comes down — especially on "Southern Charm" — and in July 2022, it was confirmed that the reality television couple had split. "It's over," a source revealed to Us Weekly.
As one can imagine, once the news broke, many fans couldn't help but wonder about the job Green had forfeited for love. Fortunately, Green relieved the masses when she revealed at BravoCon 2022 that she only took a "hiatus" from her job to travel with Rose, per BravoTV. According to Green, it wasn't until she returned from her sojourn that she realized she wanted to do something different. So what is it that Green does for a living now? The answer may or may not surprise you...
Taylor Ann Green works in marketing
Don't quit your day job — unless you can find something better, that is.
As reported by Bravo TV, Taylor Ann Green now works in sales and marketing for a company. "I was like, I need a more lenient job that, ya know... So, the sales and marketing [job] is perfect," she revealed during a panel at BravoCon 2022. But that's not all. It's safe to say Green also generates an income working as an influencer on Instagram. On November 2, the Southern Charmer posted a reel featuring a footwear company and an alcoholic beverage brand. 
Prior to that, however, it's reported that Green made a living as a clinical assistant for an orthodontist. Per Distractify, eagle-eyed "Southern Charm" viewers noticed Green sporting medical scrubs from time to time in a few scenes. And while Green seems perfectly content in her role, she admitted that she still has love for her old employer and co-workers and even runs into them from time to time in Charleston. 
Taylor Ann Green is also a proud puppy mama
Along with her new job, it appears as though Taylor Ann Green has a new lease on life following her high-profile split from Shep Rose. 
"Honestly, after watching back the reunion, I just really need to get back to, like, my roots and who I am and the person I know who I am," Green confessed during a "Southern Charm" panel at BravoCon 2022, as reported by BravoTV. "So, yeah, again, Shep, I apologize for jumping down your throat," she said. "There's a lot of love for the person that's sitting there today," she divulged. "I recognize the person sitting there today [more] than I did at the reunion."
But aside from working hard and playing even harder, how does Green fill her time these days? Taking care of her new puppy, of course! In August, Green introduced all of her Instagram followers to her new french bulldog, Penelope, per Bravo TV. And for the record, Rose did get the chance to meet little Penelope. "Meeting @tayloranngreen new pup Penelope for the first time," Shep penned on his Instagram Story along with a photo of the frenchie. Phew! Marketing professional by day and full-time dog Mama. It sounds like Green has her hands pretty full these days!