Inside Christina Hall's Relationship With Tarek El Moussa's Family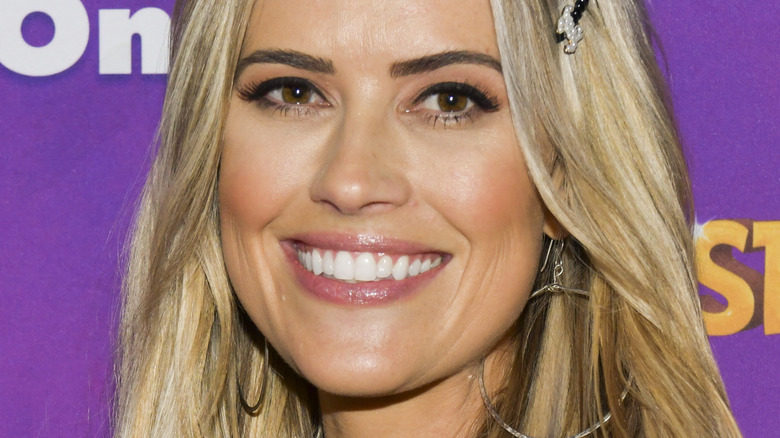 Rodin Eckenroth/Getty Images
Christina Hall and Tarek El Moussa came a long way from when we first met them on HGTV's "Flip or Flop" back in 2013. The two became reality TV stars and welcomed children Brayden and Taylor. However, the two divorced and experienced the maturing chance to work together as exes, since "Flip or Flop" was still such a hit. In fact, El Moussa admitted that the experience was kind of stressful.
They both went on to find love elsewhere. Christina married Ant Anstead and welcomed son Hudson London. However, they divorced and have faced a custody battle over their son. Christina then went on to marry realtor Joshua Hall. Meanwhile, El Moussa married "Selling Sunset's" Heather Rae Young and the two announced that they were expecting a boy on July 24, 2022. "Baby boy El Moussa," Young captioned the reveal. El Moussa and Christina's two kids said that they're super excited about having another sibling.
The blended families have, at least by what we can tell on social media and reality TV, created their worlds harmoniously. Even their extended families have been supportive and since Christina shares two kids with El Moussa, she's still close to his family.
Christina Hall hangs out with Tarek El Moussa's mom
Tarek El Moussa is really close with his family. "I'm half Middle-Eastern, so [my last name] comes from Middle-Eastern descent," El Moussa proudly told Country Living of his lineage. "My mom's from Belgium and my dad moved to Europe when he was in his late teens." El Moussa explained that he sees his parents several times a week and that he makes it a priority to spend time with them.
El Moussa isn't kidding when he says that family is everything. On Instagram for Mother's Day, he posted a tribute to his mother: "At the end of the day the only thing that matters is family," he wrote. "Life goes by so fast and we are all so busy sometimes we forget to stop, look around, and be in the exact moment. I hope all of you incredible mommies had an amazing day."
His ex-wife, Christina Hall, feels the same about El Moussa's mom. In February 2021, Hall posted pics on Instagram of herself with their children, Brayden and Taylor, and El Moussa's mother at Utah's Deer Valley Resort (via People). "Modern Family," Hall wrote in a since-deleted post. "Thank you Tarek for letting me borrow your mama!" Hall also tagged El Moussa's wife, Heather Rae Young, in the post. Meanwhile, El Moussa's mom, Dominique, also posted videos and pics of the cute snow day with Hall and wrote, "Enjoying time with the grandkids in Deer Valley." Clearly, there's a lot of family love there.
Christina Hall and Tarek El Moussa's sister, Angelique, were super close
Tarek El Moussa's sister, Angelique, is incredibly close to her younger brother. For his and wife Heather Rae Young's reveal party, Angelique shared several of the sweet photos from that day and she was right there next to the happy couple. While Angelique is close to Tarek and Heather, she was also close to Christina Hall when Hall was married to her brother.
Angelique still has several photos on her Instagram page of Hall with very cute captions. In July 2014, for Hall's birthday, Angelique wrote: "Happiest birthday to my amazing sissy in law ! Love you hope you have an amazing day and my bratty bro spoils the heck out of you." Angelique owns a hair salon and often used her pretty former sister-in-law to showcase her talent. In a sweet pic of Hall with her signature blonde, Angelique captioned the photo: "Hair color and cut by yours truly." Angelique noted that the special do was for the first day of filming Season 4 of "Flip or Flop."
One fan liked seeing photos of Hall still on Angelique's social media and wrote, "It's nice of you to keep the pictures of Christina." While things might not have worked out as sisters-in-law, it's clear there was and still may be a bond there.