Bam Margera Now On The Mend After Grueling Bout Of Pneumonia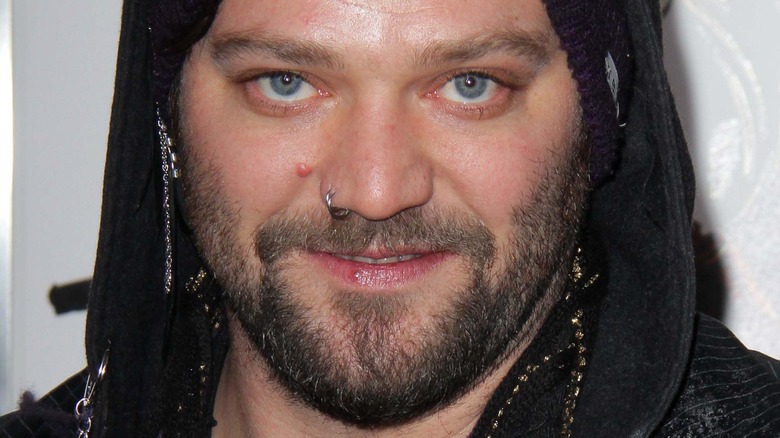 s_bukley/Shutterstock
"Jackass" star Bam Margera is on the road to recovery after his recent hospitalization.
On December 9, TMZ reported that Margera had been hospitalized in San Deigo with a severe case of pneumonia, made all the worse after he tested positive for COVID-19. His condition reportedly got so bad that the "Viva La Bam" star was transferred to the ICU, where he was put on a ventilator. While his condition appeared stable, fans took to social media to show their support for the MTV alum. "I hope that he pulls through and has a speedy recovery. Always rooting for Bam, always have," one fan tweeted. "Come on man, I know he's had his struggles, just any one of us...but not Bam, pull through and keep truckin on brother," wished another.
It's unclear how long Margera stayed in the medical facility, but only a few days after reports of his hospitalization, the professional prankster took to Instagram Live to cue in fans on the current status of his health.
Bam Margera is finally out of the hospital
Two days after his health scare was initially reported, Bam Margera appears to be back on his own two feet and progressing toward a clean bill of health. On December 11, the "CYK" star shared a photo on Instagram that showed him alongside his old friend and fellow skateboarder Johnny Schillereff. Margera was all smiles in the photo, although it's unclear if he has a clean bill of health just yet.
"I'm out!" he captioned the photo. "Thank you to my friends, family and you for the love, support and prayers." The comment section quickly filled up with well-wishers offering messages of support and relief. "Glad you're good, had us all scared!" wrote one fan. "So good to hear BamBam!! Take it easy my friend," musician Jussi 69 added.
This is hardly the first time Margera had everyone worrying about his well-being. In August, his family confirmed via social media that the prankster was receiving treatment for his struggles with addiction. "It's no secret that Bam has struggled with mental health and addiction. You've watched Bam grow up and supported him through his ups and downs," his family wrote in August. Of course, Margera's rehab journey was infamously cut short after the reality star escaped the facility, prompting a police search.