Janelle Monae: Facts About The Actor And Singer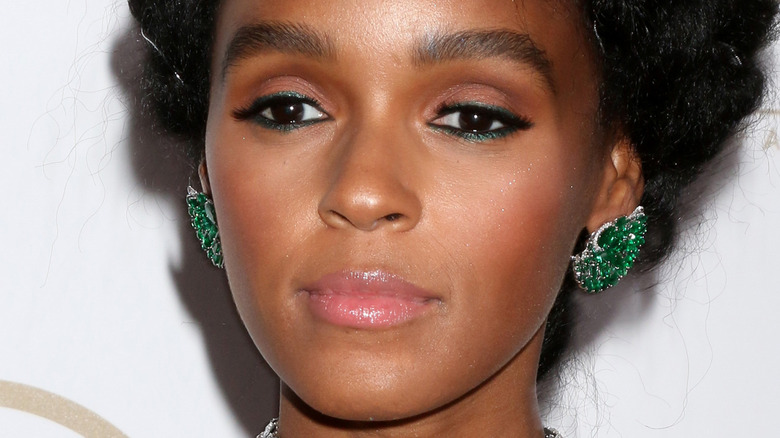 Kathy Hutchins/Shutterstock
Ever since she burst onto the scene with her first solo album, 2007's "Metropolis," Janelle Monáe's star has continued to rise and rise — and for good reason! The popular multi-hyphenate is as innovative as she is talented, and her choices have consistently kept us on our toes, awaiting her next move. For instance, we were just getting used to her strictly black-and-white wardrobe when Monáe decided to start using color. Everything she does tells a story, and there is a degree of purposefulness to every decision.
Monáe, who has released three studio albums and four EPs, first gained fame for her music. Despite only having three songs ever chart on the Billboard Hot 100, her innate talent and cool style have kept her audience on the climb. So, too, has her acting, which has actually come to surpass her music in terms of its profile. Monáe has appeared in multiple highly acclaimed films including "Moonlight," "Hidden Figures," and "Harriet." She has also done voice work in films such as "Uglydolls" and "Lady and the Tramp," and appeared on television in "Homecoming" and "Electric Dreams." Here are some facts about Monáe's life and career, with a heavy focus on her identity, activism, and creativity.
Note: Monáe uses both she/her and they/them pronouns. This article uses she/her throughout to remain consistent.
She grew up in a religious, working-class family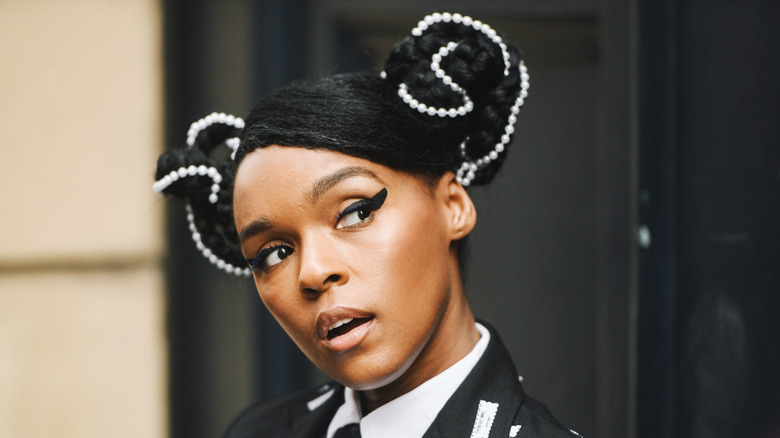 Creative Lab/Shutterstock
Every human is informed by how they grow up and, for Janelle Monáe (actual last name: Robinson), her upbringing not only impacted who she has become as a person but also as an artist. Monáe was born and raised in Kansas City, Kansas, where she grew up in what she has described as a working-class family. As she told Interview, Monáe's grandmother moved from Mississippi to Kansas when one of her brother's was at risk of being lynched for interracial sex. She then went on to work at the county jail, serving food. "So my mom's last occupation, she was a janitor, and my dad was a trash man," she told CNN.
Monáe has described her family as large, and has said that her extended relatives played a large role in her early life. According to an interview she did with the Evening Standard, Monáe's family was also extremely religious, which was tough because the Baptist teachings conflicted with her own identity and values. "I was always taught that if you were anything other than Christian, anything other than heterosexual, anything other than a woman being submissive, you were disobeying God," she explained in the article. As someone realizing they were not straight, this led Monáe to feel conflicted. "There was no one I could talk to about that. You do feel like an outsider," she told The Guardian.
Janelle Monáe's uniform was in honor of her parents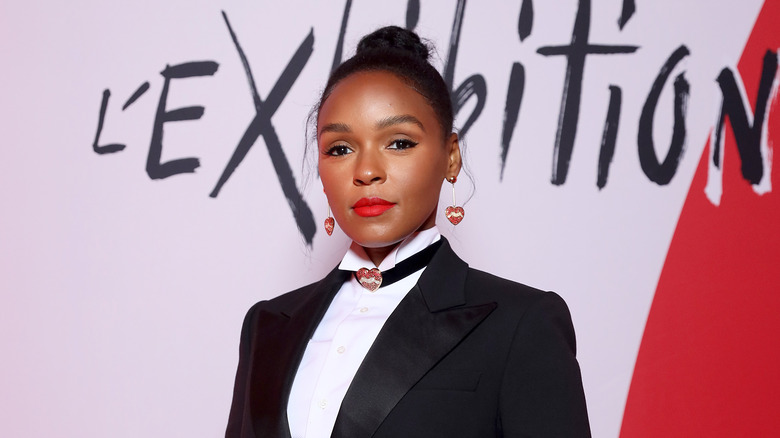 Victor Boyko/Getty Images
Fashion is an important part of Janelle Monáe's creative output, and she told Awardswatch that she sees fashion as just one more way to tell a story. In a Variety interview, Monáe said that she first got into clothing in high school, when she started working part-time jobs and had money of her own to spend. "I was very artsy. I was an international thespian, I would compete in monologue competitions. I was also in the acapella choir, was doing talent shows — this is in high school," she said. "So I was a busy arts student, expressing myself through art, and I started to really use fashion as a way to express that."
In fact, fashion is one way that Monáe's working-class roots impacted her storytelling. On numerous occasions, she has said that her early look was very much inspired by her parents' jobs. "For a long time, the story around me wearing just black and white was centered around my working-class family, my mom and my dad who put on uniforms," she told Awardswatch. "And I saw them wearing that thing over and over and over again. And when they had it on, you knew they were working. And so, when you saw me in my black and white, you knew I was working." Money was also a factor, as Monáe originally could not afford a new look for each appearance when she started out (via Interview). She has since started wearing color, as of 2018.
She moved to New York City to study musical theater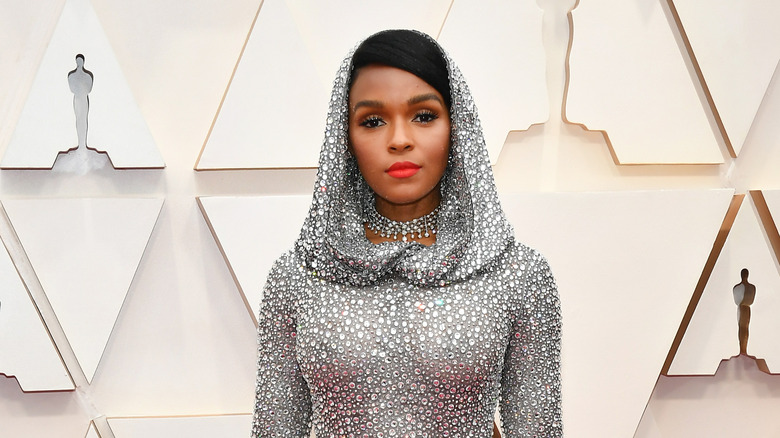 Amy Sussman/Getty Images
Janelle Monáe moved away from her Midwestern home so that she could attend college in New York City, where she enrolled in the American Musical and Dramatic Academy. "It was my dream to come to New York, and I'm so happy I did. I learned so much about reading music, and dance and technique, in terms of acting and my delivery as a performer," she told Complex. "It also let me know that I did not want to tell other people's stories. I had a story to tell." However, Monáe dropped out of AMDA before graduating.
After leaving AMDA, Monáe moved to Atlanta, where she lived with in a boarding house, per The New York Times. The paper also notes that Monáe enrolled in Georgia State University's Perimeter College, while at the same time working at Office Depot and peddling a CD she made, called "The Audition." "People said it was a bad choice to leave Broadway, but Atlanta is where I found my voice," she explained in a 2013 interview with O Magazine. "It wasn't long before I was selling my CDs for $5 on the steps of the library and college dorms." 
Atlanta is also where Monáe got signed to her first record deal. In 2008, Sean Combs (a.k.a. Puffy) signed her to Bad Boy Records after she received some visibility from work she did with Big Boi from Outkast, whom she met at an open-mic night.
She has always loved sci-fi and Afrofuturism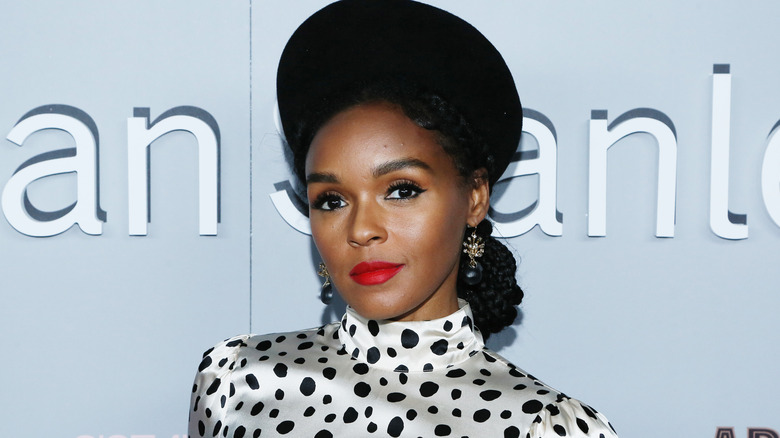 Gabriel Olsen/Getty Images
One doesn't need to be a genius to have figured out that Janelle Monáe likes sci-fi. After all, nearly all of her music has revolved around science fiction and futurism. Not only has Monáe written about machines, but she has also said she sees herself as partly one. "I'm an android. So I'm half human, half computer. That's literally how I feel in my body," she said in an interview for the CBC's "The Q Interview" podcast. Her interest in science fiction developed early as a child fascinated by "The Twilight Zone" and "Star Wars." She has also been heavily inspired by African American sci-fi writer Octavia Butler, as she proclaimed on "The Late Show With Stephen Colbert."
According to an interview Monáe did with Elle, the German film "Metropolis" inspired Monáe to begin writing science fiction — which then led to her first EP, "Metropolis: Suite I (The Chase)," released in 2007. Additionally, a colleague named Chuck Lightning introduced her to the idea of androids, which has also had a huge impact on her work. Monáe now sees sci-fi and Afro-futurism — futuristic content that incorporates African American themes and culture — as the backbone of her music. "If you grew up being rejected or teased for being a science-fiction nerd or geek and you were black, to me this is the time you would be celebrated," she once told Billboard.
Janelle Monáe started writing at a young age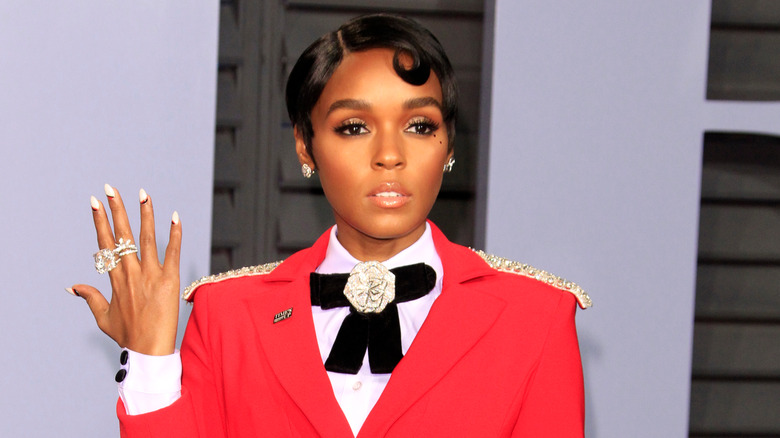 Kathy Hutchins/Shutterstock
Janelle Monáe is a talented performer, yes, but she is also the creative voice behind the music. Though she often collaborates with others, Monáe is always one of the key writers on her songs. This is true for tracks from all three of her studio albums — "The ArchAndroid," "The Electric Lady," and "Dirty Computer" — as well as most songs on her EPs. Writing is something Monáe became interested in at a very early age. "I was in honors English, and I did the Coterie Theatre in Kansas City's Young Playwrights Roundtable, where I would write short stories and have actors perform them," she explained in an interview with Elle.
In addition to her music, Monáe has also written a book (well, co-written, since a number of other authors are featured within). In April 2022, she released "The Memory Librarian: And Other Stories of Dirty Computer," which presents five fictional narratives expanding from the Afro-futuristic world explored in her album "Dirty Computer." The book has become a New York Times bestseller, and Amazon named it one of their editor's "Best Books of 2022." USA Today called it "a poignant commentary on the power of technology, the preservation of queer identity and the commodification of time," and said that "The Memory Librarian shows us the future can be an unnerving reflection of our unexamined vices, but we can also plant the seeds for a brighter tomorrow."
The idea of Dirty Computer came to her in a dream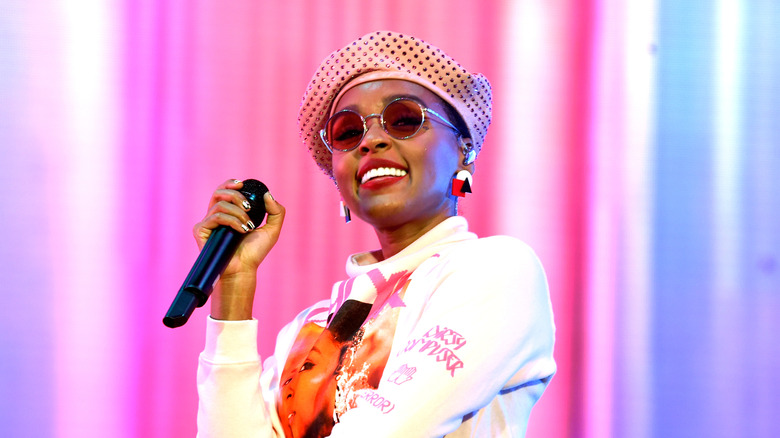 Kevin Winter/Getty Images
"Dirty Computer" is the name of Janelle Monáe's third studio album, which made its debut at number six on the Billboard charts. The album was well received by critics — and is home to one of Monáe's signature tracks, "Make Me Feel." For this work, Monáe received an Album of the Year nomination at the 61st Grammy Awards, as well as a nomination for Best Music Video for the song "PYNK" (Monáe has a total of eight Grammy nominations and no wins). 
"Dirty Computer" is set in a dystopia where those who are considered impure are cleansed by way of a lobotomy. Monáe told NPR that the album is structured as a three-part piece, with one focused on a "reckoning," one on "celebratory" sexuality and gender, and one on "reclamation." As Monáe told Wired, the whole concept came to her in a dream. Further, according to an interview she did with LGBTQ+ website them, Monáe actually had "Dirty Computer" in her head as a title even before releasing her first studio album, "The ArchAndroid." "There were just conversations that I had to have with myself and my family about my sexuality and the impact that speaking honestly and truthfully about it through my art would have," she said of why she waited to use the idea.
She is a proud member of the LGBTQ+ community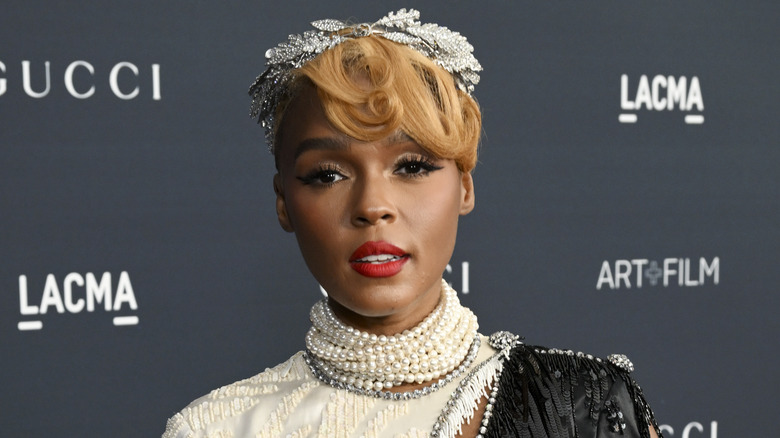 Michael Kovac/Getty Images
Janelle Monáe did not start her career as a visibly queer artist, but she has become a leading voice in the LGBTQ+ community as the years have progressed. She has had to come out twice — first in reference to her sexual orientation and then again in reference to her gender identity, both times doing so with grace and eloquence. For Monáe, the entire identity exploration process meant unlearning a lot of what she had been taught throughout her religious upbringing, as she told the Evening Standard. It was not until "Dirty Computer" that she decided to publicly discuss her sexuality. Her official coming out occurred in a 2018 Rolling Stone interview, in which she called herself a "queer Black woman in America" and identified as pansexual.
In 2022, Monáe came out a second time when she revealed to Jada Pinkett Smith and her "Red Table Talk" co-hosts that she identified as non-binary. She told Vanity Fair that she was only able to have that public discussion after having private ones with friends and family. "I'm growing in public. I have had to discover things about myself in the middle of being known, or famous," she told the publication. "One of the things that I always do is have conversations with the people I think should be told those [things] privately, not publicly ... And I think once that happened, it wasn't anything that I needed to hide. I don't seek validation from the entire world."
Her dad was not always present, which led to abandonment issues
DFree/Shutterstock
Like so many Americans, Janelle Monáe grew up in a family that dealt with addiction. Her father was an addict and was not always around, which created issues for a young Monáe. "One of the things that I dealt with growing up was [that] my father was in and out of my life, on drugs, in and out of prison, and he was really sick," she told NPR in a 2020 interview. However, nowadays, as she revealed to The Guardian, Monáe's father is sober and their relationship is on solid footing. Still, she has said that these early life experiences led to abandonment issues as an adult.
As an adult, Monáe has struggled with people leaving her life — even friends and collaborators. She told The Guardian that it is her childhood that guides these feelings and that sets her up to internalize the end of a relationship. "I go back and forth between being assertive and hiding, because I don't like the pain of being left behind," she said. Much of Monáe's fear over abandonment has manifested around her sexuality and gender, which conflicted with her family's Baptist religion. "As loving as my family was, I thought, 'What if they abandoned me?'," she admitted to NPR. "It turns out not everybody in my family understands what it means to be me and what it means to be a part of the LGBTQIA+ community. But I'm educating them, and they're finding out."
If you or anyone you know needs help with addiction issues, help is available. Visit the Substance Abuse and Mental Health Services Administration website or contact SAMHSA's National Helpline at 1-800-662-HELP (4357).
She has worked with two of her biggest inspirations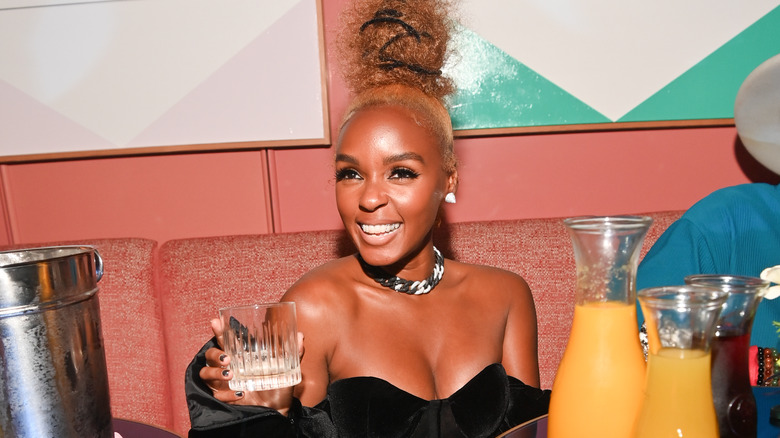 Prince Williams/Getty Images
Like every creative, Janelle Monáe has a slew of other artists who have inspired her — Stevie Wonder, David Bowie, Pharrell Williams, Blondie, even The Beach Boys. Two of Monáe's biggest inspirations are Prince and Grace Jones, both of whom she has had the honor of working with. "When I was growing up, I would always look to people who pushed those boundaries, like Grace Jones ... You got a sense that she did not care to be traditional," Monáe told Vanity Fair. "I got a sense of that when I looked at David Bowie and when I looked at Prince. I just loved artists like that who pushed those boundaries in their music and in the way they dressed and in their lifestyle."
According to an NPR interview, Prince was working with Monáe on "Dirty Computer" before his death in 2016 (which explains why "Make Me Feel" has drawn so much comparison to the legend). Monáe has also been able to connect with Jones, with whom she remains close. Per the AV Club, Monáe and Jones have performed together at The Hollywood Bowl, and the latter attended the London premiere of "Glass Onion: A Knives Out Mystery" to cheer on her friend. "I think that me and Grace recognize our similarities and also what makes us uniquely us," Monáe told AV Club. "And I spend real time with her, like real time where I can ask her questions, her ask me questions."
She looks for acting roles that feel important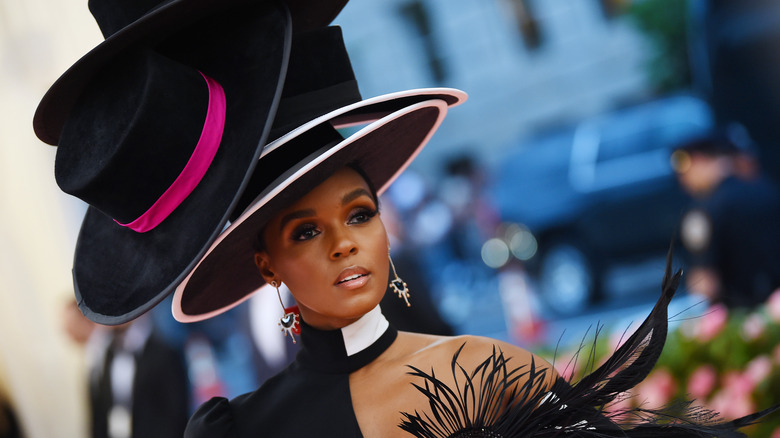 Dimitrios Kambouris/Getty Images
Janelle Monáe had her first voice acting role in 2014 (in "Rio 2") and appeared on screen for the first time two years later in "Moonlight." Since then, she has racked up more credits and, in a rarity for a thespian, there are no embarrassing projects in sight. "Sometimes you read something and some people will say, 'Wow, you should do this for a reason.' And I'll probably have to say no, because it's not what I feel like I should be saying at the time," she told AV Club. "A lot of the movies that I've been able to make ... I've been able to forecast what I feel like is needed culturally."
For Monáe, it is about finding things that fit with her overall mission. With "Homecoming," she exclaimed to NPR that she was excited to participate in a showcase about how PTSD affects veterans, while she told The Guardian that Gloria Steinem herself convinced her to appear in "The Glorias" as Ms. Magazine's oft-forgotten co-founder Dorothy Pitman Hughes. Her roles in "Moonlight" and "Hidden Figures" were also important choices. "They reflect themes I've addressed in my music: the empowerment of women, the empowerment of the LGBT community, and the empowerment of 'the other.'" Monáe explained to Atlanta Magazine. "And as an artist, I want to ensure that moviegoers see different kinds of black women being portrayed on-screen."
Janelle Monáe is a big fan of murder mysteries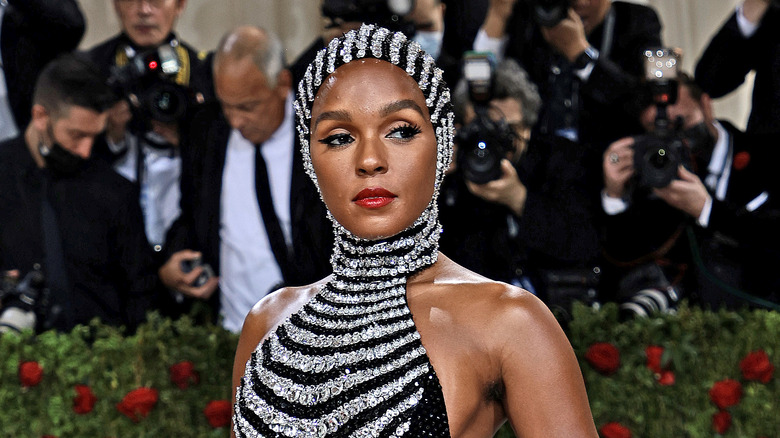 Dimitrios Kambouris/Getty Images
Janelle Monáe is a big fan of murder mysteries, and that fandom did not start when she was cast in "Glass Onion: A Knives Out Mystery." In fact, her love of suspenseful stories and whodunnits is one reason why Monáe accepted the role in the first place. According to Vanity Fair, Monáe is so into the genre that she even hosts her own weekly murder mystery party at her home on Tuesday nights — and she hosted them for the cast while filming as well. Perhaps that is why Monáe did so well when Variety took her to an escape room for a June 2020 piece.
That is not to say that there were no other reasons to take on a role in the second film in the "Knives Out" canon. For Monáe, it was nice to be able to show her fun, comedic side for a change. She was also excited by the chance to work with the film's director and writer Rian Johnson, of whom she was a fan. "In my mind, I had always said, 'If Rian reaches out to me, I don't care if it's a two-second commercial, it's a yes.' And I read the script. I was already a fan of his taste and everything, and after reading it, dream role, dream cast," she told Collider. "It was a once-in-a-lifetime thing. You just say yes to these special murder mysteries that he's making and innovating in. And my character is a dream."
She loves music and acting but not doing both at once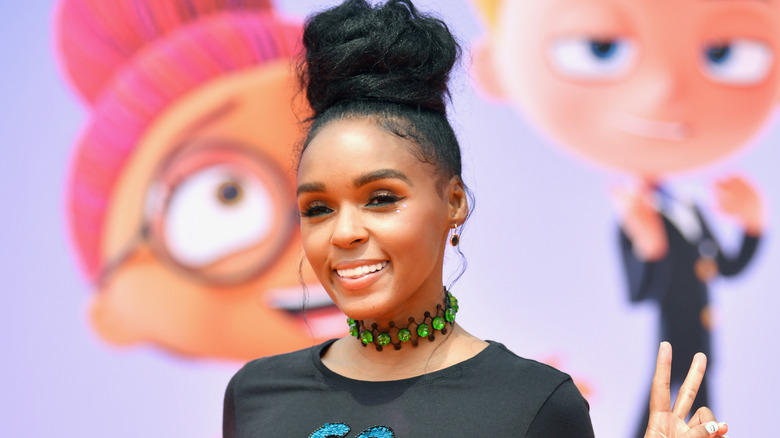 Emma Mcintyre/Getty Images
We love Janelle Monáe's commitment to telling stories no matter what shape and form they come in, and her attention to detail and true innovativeness are the things that set her apart from her contemporaries. "Creating and being an artist and musician is part of my DNA. I don't remember a time when I had a choice to be anything else — you have that calling," she declared to Marie Claire. In an interview with Awardswatch, Monáe said she grew up not only singing but also acting, and she sees her music as telling a story much in the same way a film or television show does. She also said that her fashion choices are part of her storytelling, as are all of the other visual elements of her image.
Though she seems to love both music and acting, Monáe is not a fan of doing both at the same time. In an interview with Variety, she explained that she prefers to give all of her energy to one project at a time. "I look at myself as a magician. I try to make magic with whatever I touch. That requires hard work, that requires a certain amount of focus and attention to whatever it is that I'm doing," she explained. "So if I'm doing a film, I wouldn't try to write an album at the same time. I need to have the mental headspace to stay fully committed to whatever role I agreed to do."
She has a record company and a production company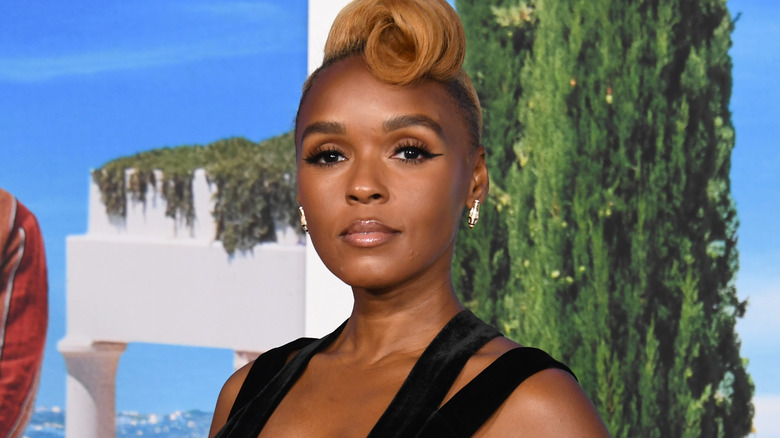 Jon Kopaloff/Getty Images
Look, if you are wondering if and when Janelle Monáe sleeps, you are not alone. The ultimate multi-hyphenate, Monáe is not just a singer, songwriter, actor, artist, and activist, but she is also a businessperson. She owns Wondaland Arts Society, which has both screen (Wondaland Pictures) and music (Wondaland Records) arms. In addition, the company also does branding and activism work. "I'm just looking for those unique stories. There are a lot of other people that I respect and admire, like Issa Rae and Lena Waithe and Jordan Peele, who are who are also pushing forward underrepresented voices," Monáe told NPR in 2018. "I just hope, and Wondaland hopes, to continue to push culture forward and redefine how we are viewed."
As of this writing, Wondaland is partnering with A24 to produce a television series based around groundbreaking entertainer and activist Josephine Baker, called "De La Resistance." The show will focus on Baker's role as a spy during World War II, and Monáe will both star and produce. 
And Monáe may not even be done adding to her ever-growing list of jobs, as there is at least one more that she has her eye set on. "I think that I'm meant to be a director," she told LGBTQ+ website them in 2020. "Let me tell you, I watch all my takes when I do film and TV. And I'm really fast. Because I am very objective about my acting. That's what makes me realize that I think that I'm meant to direct."
She is not afraid to get political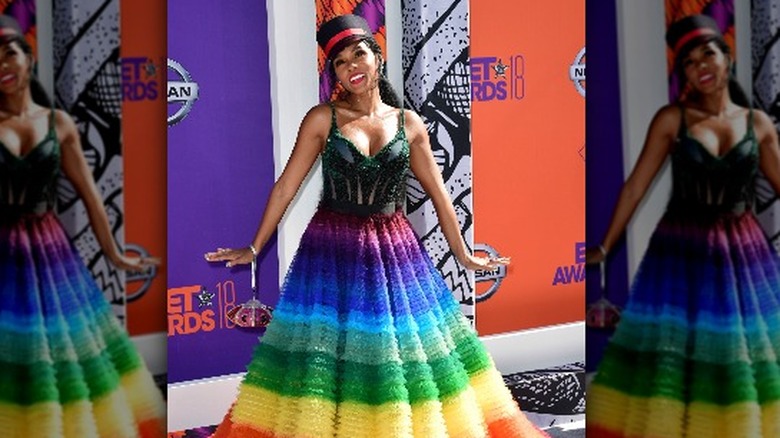 Prince Williams/Getty Images
Janelle Monáe once told Variety that she does not think of herself as a "political artist." Yet, Monáe's music is centered around marginalized identities and continuously confronts difficult social and political realities, which makes her a political artist whether she identifies as one or not. Beyond that, Monáe has become an outspoken activist, both as an advocate of certain causes and a critical voice in other instances. "We're in the middle of a revolution right now," she told Variety in 2020, while promoting a song she created for the documentary "All In: The Fight For Democracy." "I think people are coming together like never before. Black people are holding those who benefit from the system that we're in accountable like never before."
In an interview with the Harvard Business Review, Monáe listed off some of the causes dearest to her — things like voting rights, racial justice, LGBTQ+ equality, women's reproductive rights. She has spoken out about some of these issues in other public forums, such as when she referenced the "Time's Up" movement at the 2018 Grammy Awards, or when she made a NSFW statement about the Supreme Court overturning Roe vs. Wade at the BET Awards. Monáe was also a vocal critic of former President Donald Trump, even calling for his impeachment on Twitter. Finally, Monáe has her own non-profit, Fem the Future, to create opportunities for and offer support to young women of color.