Who Is Brody Jenner's Girlfriend, Tia Blanco?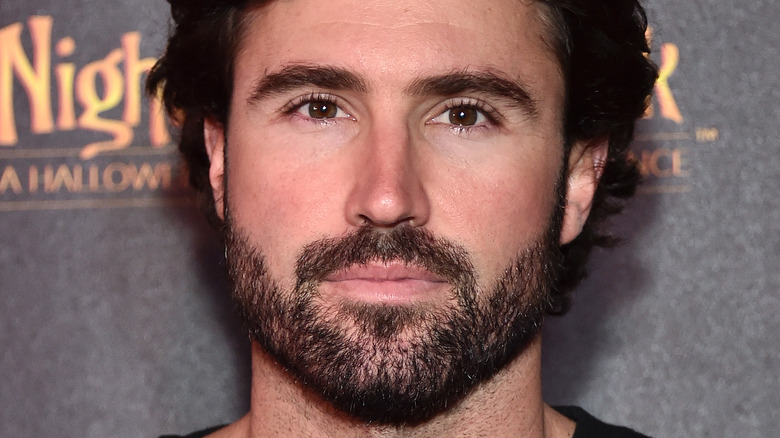 DFree/Shutterstock
Brody Jenner is one of the more low-key Kardashian-Jenner clan, but his reality career actually preceded the more popular members of his famous family. Before "Keeping Up With the Kardashians" premiered in October 2007, per IMDb, Brody had already starred in the short-lived Fox series, "Princes of Malibu" in 2005. Although "Princes of Malibu" was canceled after six episodes, Jenner continued his reality-star pursuits on "The Hills" from 2007 to 2010. The son of Caitlin Jenner has lived mostly away from the public eye since then, aside from his 2021 return to "The Hills: New Beginnings," but Brody's dating history involves a slew of celebrities.
Over the years, Brody has dated singer Avril Lavigne (with whom he once got matching tattoos), socialite Nicole Richie, and influencer Kaitlynn Carter, to name a few. Of the relationships, Brody's romance with Kaitlynn lasted the longest (2013-2019) and evolved into a union — which the public was led to believe was a legal marriage, but actually wasn't, per People. 
Now, however, Brody is in a relationship with current girlfriend Tiarah "Tia" Blanco, with whom he went "Instagram official" in May 2022, according to People. Per the publication, Brody posted a sweet snapshot of Blanco embracing Brody from behind to his Instagram Story, adding a blue heart emoji for added effect. Shortly afterward, Blanco reposted the story to her own Instagram account. But just who is Blanco? Well, like many of Brody's previous exes, Blanco has a lot going for herself. 
Tia Blanco is a pro surfer
Tia Blanco is way more than just the girlfriend of Brody Jenner; she's also a professional surfer. According to Naluda Magazine, Blanco, who was born in Puerto Rico, first learned to surf at a young age. "My dad taught me when I was 3 years old," Blanco told the publication in 2014." When I started committing to the sport [my parents] supported and encouraged me to live out my dream." Blanco's dream has served her well, as she's achieved much success during her career. 
In 2021, Blanco and Zeke Lau won ABC's "The Ultimate Surfer," which put professional surfers through a series of simulated surfing competitions. According to UPI, Blanco won $100,000 and a wild card spot to participate in the World Surfing League Championship. According to The Sun, Blanco currently ranks number 22 within the Women's Championship tour and has an average heat score of 6.27. Previously, in 2017, Blanco appeared on MTV's "The Challenge: Champs vs. Pros," for which she competed to raise money for St. Jude's Hospital, ultimately walking away with $1,000 for her charity, per FanSided.
Tia Blanco also has many other talents
Tia Blanco has found great success within the surfing and reality TV world, but she also has many other hobbies. According to the bio on Blanco's Instagram account, where she has currently amassed 497,000 followers, she's a yogi, a vegan, and an artist. Blanco has dedicated Instagram accounts for her vegan recipes, as well as her artwork, though it appears that Blanco is more passionate about her artistic pursuits. 
In January 2022, Blanco posed with a few of her paintings, gushing about how happy her hobby has made her. "My little California art collection," wrote Blanco to Instagram. "I feel so happy to have discovered this new passion of mine last year. Painting has become such a meaningful outlet in my life that has brought me so much joy. My last piece, 'Celestial Gardens,' is my new favorite." 
In May, during an episode of The Inertia's "Creators" series, Blanco gave producers an in-depth look into her California art studio and shared her artistic inspiration. "I love Bob Ross; he's so good," shared Blanco during the episode. "I love all of Bob Ross' quotes and his whole approach." As for how Blanco got into art and her other passions? "A few years ago is when I knew I didn't want surfing to define every part of who I was," she told the publication, adding that she didn't want "winning or losing to dictate her happiness."