What Really Happened Between Jerry O'Connell And Sarah Michelle Gellar?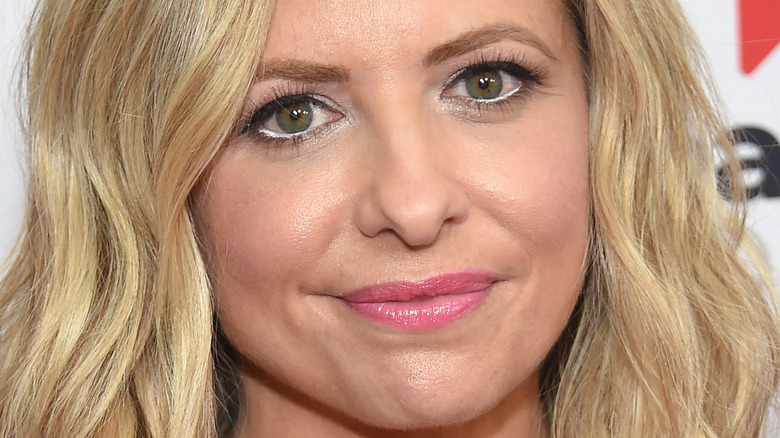 DFree/Shutterstock
Sometimes it's hard to remember stars that dated in the 90s or which actors were friends a decade or so ago. Finding out which of your favorite stars dated can bring a wave of fun nostalgia–who knew that Buffy and the kid from "Stand By Me" might have been an item back in the day? Lots of Hollywood's young stars get cozy, even if they're not walking the red carpet together regularly.  
Sarah Michelle Gellar is known for her iconic role as Buffy Summers in "Buffy the Vampire Slayer," who made sure to save the world from vampires and demons while also studying for finals. You know, just girly things. Recently, Gellar has played the hot-yet-intimidating headmistress in Netflix's "Do Revenge," but she also works a surprisingly regular job today.
Jerry O'Connell has been on TV since he was a kid, from playing Quinn Mallory in the sci-fi show "Sliders" to his big-screen debut movie, "Stand by Me" and the modern classic "Jerry Maguire." As Deadline reported, he's been a co-host on the CBS talk show, "The Talk" since 2021, which gives him the opportunity to reconnect with old friends and reminisce. And in Gellar's case, an old flame.
They went to the same school and dated for a bit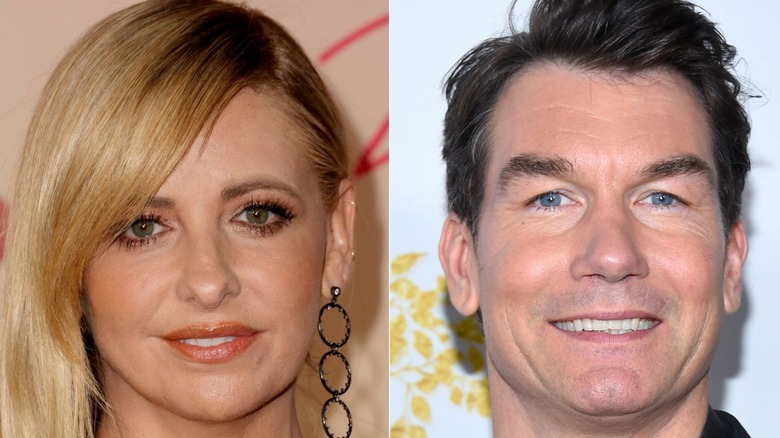 DFree/Shutterstock & Frazer Harrison/Getty
In July 2021, Sarah Michelle Gellar appeared, virtually, on The Talk. It eventually came up that Gellar and Jerry O'Connell went to the same school, the Professional Children's School in New York, as teens. "I was a freshman, he was a senior," Gellar said, according to Us Weekly. She then told O'Connell that he "never acknowledged" her while at school. "It was only later that you would actually talk to me." He pointed out that he was a senior and he didn't want to come off predatory by going for a freshman.
O'Connell's cohost on "The Talk," Amanda Kloots, pointed out the school connection, but that's not all. "You were costars in 'Scream 2' and even dated for a bit," she revealed. In the 1997 sequel to "Scream," Gellar played Cici Cooper, a sorority girl who doesn't have a big part in the movie but she has an impactful on-screen death. O'Connell, on the other hand, played Derek, Sydney Prescott's (Neve Campbell) college boyfriend.
To give O'Connell a hard time, Kloots asked Gellar what he was like in the 90s. "You're getting the more mature, fatherly Jerry," Gellar answered. "The 'lessons learned' Jerry. I had the actual energetic Jerry." As People reported, the two actors attended the 1998 Emmy Awards together and held hands on the red carpet, but their short romance wasn't widely documented.
They're each in happy, longtime marriages now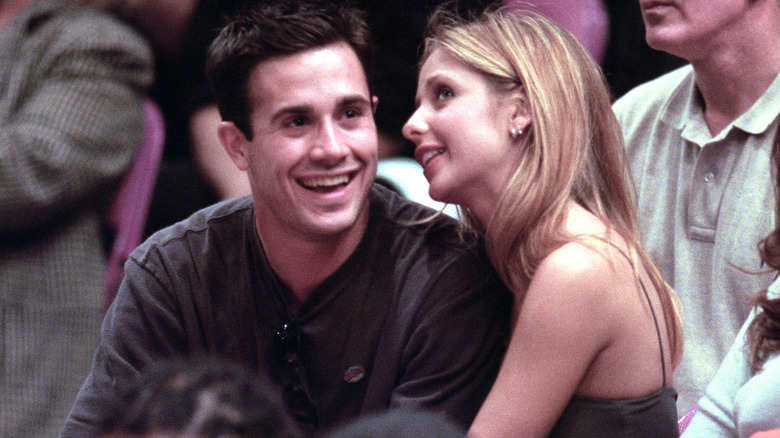 Kmazur/Getty Images
After Sarah Michelle Gellar and Jerry O'Connell's brief time together, O'Connell met and eventually married model Rebecca Romijn in 2007 and they had twins in 2008, per People. They've been together since, with O'Connell saying of their connection, "we just clicked." 
Gellar married actor Freddie Prinze Jr., who she met when they both co-starred in "I Know What You Did Last Summer." Per E! News, they were friends at first, but it wasn't until a group dinner became dinner for two at the last minute that they realized that they had real chemistry. That dinner and Gellar's appetite are what caught Prinze's attention. As People reported, the two got married in 2002 in Mexico, the same year that their film "Scooby-Doo" premiered. Prinze has since left Hollywood behind to become a cookbook author–not to mention a devoted dad. 
The actors have two kids together and just celebrated their 20th wedding anniversary in September 2022. What's the secret to a happy union? Gellar said it's making time for one another and doing things together. "Take the 10 minutes—put the phone down. Have a cup of coffee together. Walk the dog at the end of the night. Read a story with your kids," Gellar told People. "Make the most of the time that you have. We are all pulled in so many directions, so make sure that, whichever one you are focusing on, you're present."