What Taylor Hawkins' Kids Have Been Doing Since His Death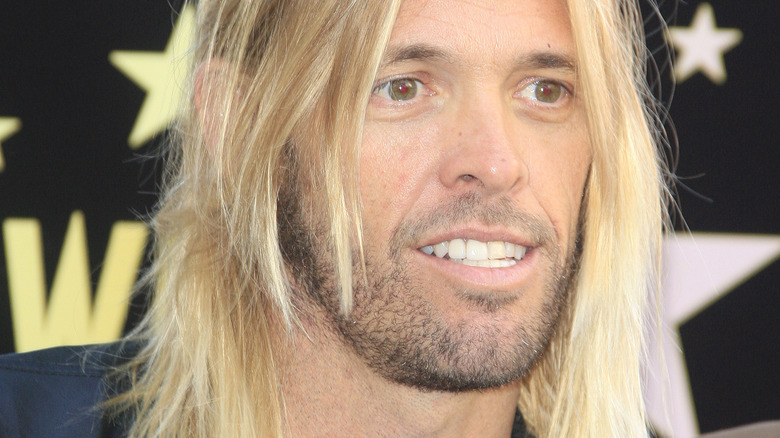 Joe Seer/Shutterstock
Taylor Hawkins, the late drummer for the Foo Fighters, was among the best drummers of his generation, second only to his bandmate Dave Grohl. According to The Sun, former Nirvana drummer Grohl invited Hawkins to join his new band the Foo Fighters in 1997, and the rest was history.
Grohl and Hawkins grew closer as musicians as the Foo Fighters topped the rock charts consistently during the late 90s and 2000s. As the band took off, their personal bond grew. In Grohl's memoir "The Storyteller" (via People) he described Hawkins as "my brother from another mother, my best friend, a man for whom I would take a bullet." He went on to say in the memoir, "Our bond was immediate, and we grew closer every day. I am not afraid to say that our chance meeting was a kind of love at first sight, igniting a musical 'twin flame' that still burns to this day." Tragically, the beloved drummer passed away in March 2022 in a tragic incident.
"The Foo Fighters family is devastated by the tragic and untimely loss of our beloved Taylor Hawkins. His musical spirit and infectious laughter will live on with all of us forever," the band said in a statement via Twitter. "Our hearts go out to his wife, children, and family, and we ask that their privacy be treated with the utmost respect in this unimaginable difficult time." Although Hawkins has passed, his legacy lives on. Hawkins's children are similar to their late father in uncanny ways.
Taylor Hawkins' children also have a love for music
Fans adored Taylor Hawkins for his joyful stage presence and palpable love of the music. Throughout his over 20 years behind the Foo Fighters' drum kit, Hawkins touched the lives of many and loyal fans can see the resemblance of the star in the three kids he shares with Alison Hawkins.
According to Romper, the pair tied the knot in 2005 and share three children — Everleigh, Annabelle, and Oliver "Shane" Hawkins. Per Distractify, the beloved drummer's youngest child Eveleigh was born in November 2014. Although not much is known about his youngest, she does appear in the music video for Hawkins' single, "Middle Child," which was inspired by his second child, Annabelle.
His second child, Annabelle, was born in May 2009. In an interview with the Sydney Morning Herald in July 2021 Hawkins described Annabelle as "his win," and his love and admiration for his broad are unwavering "It's tough being a middle child but she is my win and I love her so much." Although considered one of the greatest drummers, Hawkins remained down to earth and balanced fatherhood along with his hectic schedule and even shared that his children were his inspiration for his music, especially his 2019 album, "Get the Money," which he created with his band Taylor Hawkins and the Coattail Riders. In an interview with Billboard in November 2019, Taylor revealed that the album focused on his life as a "suburban dad." 
Taylor Hawkins' oldest child is following in his footsteps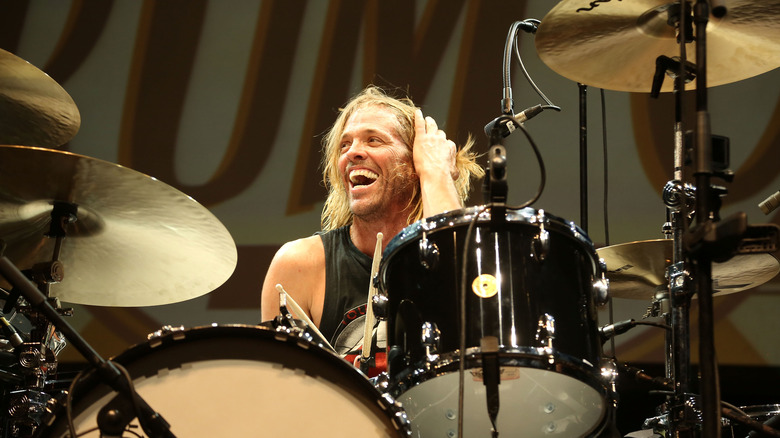 Ashley Beliveau/Getty Images
Taylor Hawkins's oldest child, Oliver "Shane" Hawkins is almost a replica of the beloved drummer and is following in his exact footsteps. Fans got a front-row seat to Shane's talents when he performed at London's Wembley Stadium to perform Foo Fighters' 1998 single, "My Hero," which was a moving tribute to his late father. 
Per HollywoodLife, the concert had an all-star cast of talent, including Travis Barker, Kesha, Nile Rodgers, Mark Ronson, and Dave Grohl's daughter, Violet. The energetic, emotional performance ended with the young Shane Hawkins taking over the stage. "I don't think I've ever seen anyone hit the drums as hard as this person," Foo Fighters lead singer Dave Grohl told the audience, "but beyond that, he's a member of our family." The performance had the audience seeing double as Shane blasted through an epic drum solo.
This wasn't the first time Shane wowed a crowd on the drums. Shane joined a local band in Laguna Beach for a Fourth of July party to shine. In the TikTok clip, Shane clearly moved the audience to tears. "Taylor is living through his son. That's for damn sure," one viewer stated. "This is stunning. Fly high Taylor, your son is an amazing part of your legacy. So talented," another chimed in.
Undoubtedly Shane's energy and talent on stage are similar to his late father, we can only imagine Taylor couldn't be more proud.