Taylor Hawkins' Son Performs Devastating Cover Of His Late Dad's Classic Song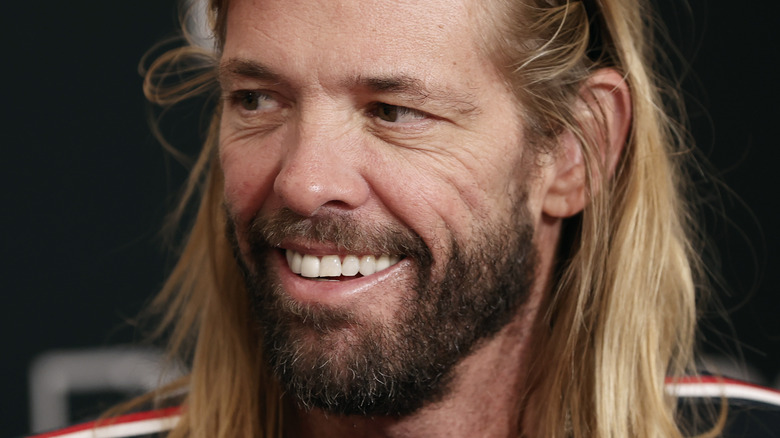 Arturo Holmes/Getty Images
The music world lost a legend in Foo Fighters' drummer Taylor Hawkins. On March 25, news broke that the rocker died in his hotel room at the Casa Medina in Bogotá, Colombia while he was touring with the band. Only a few days later, the Foo Fighters announced on Instagram that they would cancel their remaining tour dates due to Taylor's death. "We're sorry for and share in the disappointment that we won't be seeing one another as planned." As fans know, Taylor and Foo Fighters singer, Dave Grohl, were incredibly close, though the loss profoundly affected all band members.
On June 8, Taylor's wife, Alison Hawkins, finally broke her silence on her husband's death, by releasing a statement on Taylor's Instagram page on behalf of her entire family. "As Taylor's wife, and on behalf of our children, I want to share how much you meant to him and how dedicated he was to 'knocking your socks off' during every performance," she wrote. As many fans know, the pair shared three children — Oliver, Annabelle, and Everleigh.
Now, the family is doing their best to keep Taylor's memory alive — especially his son, Oliver.
Oliver Hawkins pays tribute to his dad with an epic drum session
Taylor Hawkins' son, Oliver Hawkins, paid tribute to his late father in the best way he knows how to — through music. The teen and a local Laguna Beach band — The Alive — joined together over the Fourth of July weekend to play one of the Foo Fighters' most famous songs: "My Hero." Like his father, Oliver rocked out on the drums and looked like a total pro in the process. The band performed on top of the roof of a garage, and a TikTok user shared a video of the performance (seen above).
The TikTok has quickly made its way through the interwebs, and within three days of the post going live, it's already received over 1,000 comments, most of which applauded the performance. "RIP Taylor, happy to see his son enjoying what his father gave us for so many years. Kid rocks," one person wrote. "You can see the raw emotion he's putting into the kit, this is beautiful," another TikTok user said of Shane's rockin' performance. "This is stunning. Fly high Taylor, your son is an amazing part of your legacy. So talented," one more chimed in.
In a past interview with Entertainment Tonight, Taylor talked about Oliver and his passion for drumming. "My son thinks he's priming himself to take over my job in about 10 to 15 years, which is fine," he told the outlet. It's safe to say that Oliver is doing his father proud!