Damar Hamlin's Recovery Honored In Major Way At First Bills Game After His Medical Scare
Megan Briggs/Getty Images
Damar Hamlin, a safety for the Buffalo Bills, suffered a cardiac arrest on the field while playing against the Cincinnati Bengals on January 2, 2023. A statement from his team shortly after the event offered some explanation. "His heartbeat was restored on the field and he was transferred to the UC Medical Center for further testing and treatment," they shared (via AP News). "He is currently sedated and listed in critical condition." The NFL took a stance and said that the unfinished game between the Bills and the Bengals would not be resumed, proving that Hamlin's health took priority over football amid pushback from disgruntled fans.
Despite the severity of the situation, Hamlin has shown remarkable improvement since arriving at the hospital. His breathing tube was removed and he was able to FaceTime his teammates after the scary on-field collapse. Our guy has been active on social media, live-tweeting during games and updating fans on his health, to the delight and relief of everyone. But, it's the team dynamic that has become the most heartwarming sight in all of this. The Bills have really shown up for Hamlin, and they are taking him with them, symbolically, onto the field.
Buffalo Bills wear No. 3 to honor Damar Hamlin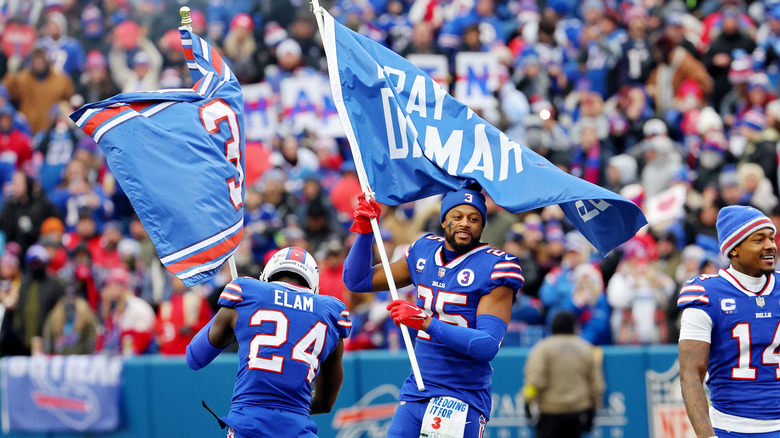 Timothy T Ludwig/Getty Images
The Buffalo Bills were all about their teammate, Damar Hamlin, during their first game since the safety's on-field collapse. The Bills played the New England Patriots on January 8, and the team rushed onto the field carrying flags bearing both Hamlin's No. 3 and his name. The team wore patches with the No. 3 on their uniforms, per Entertainment Tonight. Before the game, the Bills shared a message about their beloved teammate with the crowd. 
"Throughout this week, the entire Western New York community, NFL family and people around the world have been praying for Damar Hamlin," the announcer called out. "Damar's amazing recovery has lifted our collective spirits and we are forever grateful for the love and support Damar's family and friends, and our organization have received. Today we celebrate Damar's recovery, our love for Damar and our gratitude. Please rise and show your support as only Bills mafia can."
Screens around the field showed photos of Hamlin, which hyped up not only his teammates, but the entire stadium. The NFL's official Twitter was flooded with tear-jerking moments of both the Bills and the Patriots coming together for the safety. Both teams knelt together in a big circle before the game to honor Hamlin, shared in a touching tweet captioned "Brotherhood." To make the night even sweeter, the Bills were victorious. "FINAL: The @BuffaloBills win #ForDamar," the NFL tweeted. What a tragic moment, but what an incredible way for the Bills and the entire NFL to come together.