Carrie Underwood Shares Photo Of Herself Following Face Injury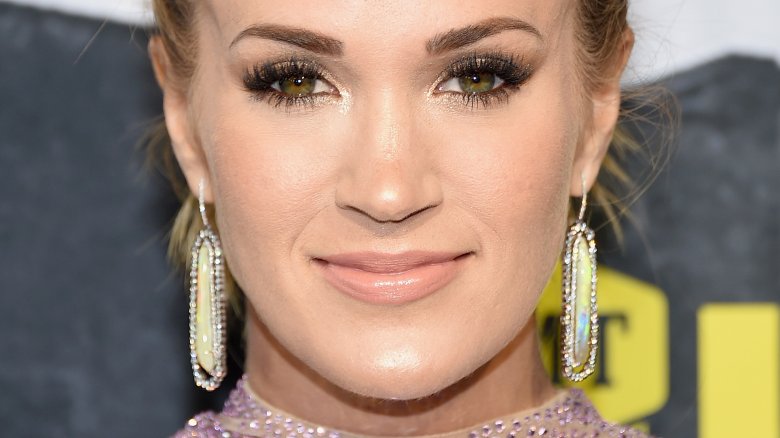 Getty Images
Carrie Underwood is making her way back into the spotlight after getting seriously hurt in a fall.
On Wednesday, April 4, 2018, the "Before He Cheats" singer took the Instagram with a black-and-white snapshot of herself in the recording studio, sharing a rare glimpse of her face with fans following her accident last November. 
While it's unclear when the captionless photo, which shows off a profile view of her face, was taken, the 35-year-old singer can be seen donning a ripped hoodie and messy bun as she focuses on the music. And, of course, she looks as gorgeous as ever. 
According to Entertainment Tonight, a number of fans shared supportive messages in the comments section of the pic, including, "Simply beautiful," "Such a pretty woman," and "What stitches!! I'm so glad ur doing better!!"
As Nicki Swift previously reported, Underwood suffered a "hard fall" on the steps of her home in Nashville, Tenn. in November 2017, which resulted in a number of abrasions, cuts, and a broken wrist. Shortly after, the Grammy winner revealed that she had undergone surgery on her wrist. 
In late December, Underwood warned her fans that she may look "different" the next time they see her, as she also injured her face during the fall. As a result, she received 40 to 50 stitches. 
"I honestly don't know how things are going to end up but I do know this: I am grateful," the American Idol alum wrote in a letter to her fan club at the time. "I am grateful that it wasn't much, much worse. And I am grateful for the people in my life that have been there every step of the way."
Since then, Underwood has taken to partially hiding her face on social media. However, as seen in a photo posted by reality TV star Adrienne Gang one month after the accident, the "Champion" singer's face seemed to look the same as it always had, despite her previous warning.
We're just glad to see that Underwood is feeling better these days!