The Meaning Behind Miley Cyrus' New Song Flowers
Amy Sussman/Getty Images
Miley Cyrus, former Disney darling and millennial pop icon, announced the drop of a new album in early 2023, per People. Titled "Endless Summer Vacation," Cyrus called her project "a love letter to Los Angeles." This is evident in the teaser trailer, which features rippling water and helicopters in a nod to the city. "ENDLESS SUMMER VACATION. THE ALBUM. MARCH 10," Cyrus teased on Instagram, alongside a pic of her swinging from a trapeze in black lingerie. The news has been met with plenty of excitement, especially if Selena Gomez's comment on the post is any indication.
Cyrus being Cyrus, she kept the party going by releasing the record's highly-anticipated single, "Flowers" on January 13. "I can love me better than you can ... FLOWERS SINGLE + VIDEO OUT NOW," she wrote on Instagram. As the Grammy winner probably expected, it didn't take fans long to latch onto the lyrics. Cyrus isn't exactly Taylor Swift, but she's clearly pointing the finger at someone. Could it be her ex Cody Simpson? Or perhaps, the lyric in question could be speaking to her up-and-down relationship with ex-husband Liam Hemsworth? After all, Hemsworth has cropped up in plenty of Cyrus' songs in the past, including "Wrecking Ball" — which detailed her pain following the couple's initial split — and "Malibu," which was all about reconciliation and happy endings. Unfortunately, happily-ever-after wasn't in the cards for Cyrus and her Australian ex-hubby. But maybe, another song is?
Miley Cyrus comes clean about Liam Hemsworth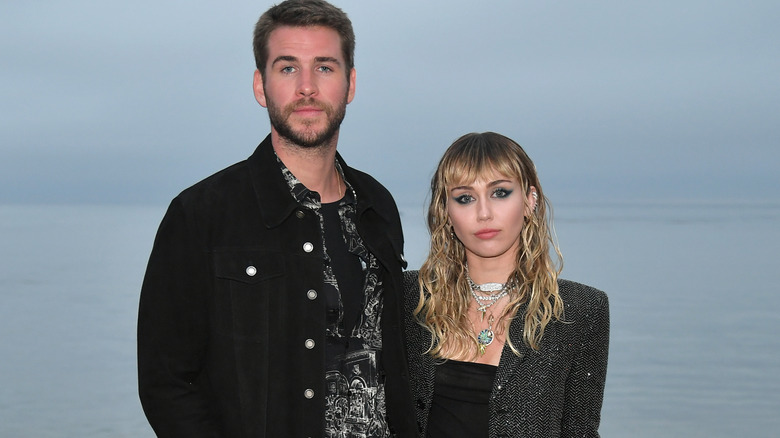 Neilson Barnard/Getty Images
It's been three years since Miley Cyrus and Liam Hemsworth split, but fans are convinced that Cyrus' song "Flowers" is another dig at her ex. Firstly, there's the timing: "Flowers" dropped on Hemsworth's birthday, according to USA Today. Then, there's the song itself, packed with lyrical references to Cyrus' past life with Hemsworth. The line, "We were right 'til we weren't / Built a home and watched it burn," is about the Woolsey fire, which destroyed their property in 2018. Additionally, Cyrus sings, "I didn't wanna leave you, baby / I didn't wanna fight," underscoring what she'd told Howard Stern about her arguments with Hemsworth. "There was too much conflict. When I come home, I want to be anchored by someone. I don't get off on drama or fighting," she revealed in 2020. At the time of Cyrus and Hemsworth's divorce, she was willing to work on things while he was ready to throw in the towel, per TMZ.
Rather than protecting her privacy, Cyrus has been open about what went wrong in her marriage. For example, take the line, "I didn't wanna leave you / I didn't wanna lie," which is about living her truth. In 2019, a source told People that Cyrus felt she had to "change" to be with Hemsworth. "She just got to the point where she didn't want to hold back about who she is. She wants to be true to herself. Being with Liam, this was just not possible," they said.
Is 'Flowers' a diss track?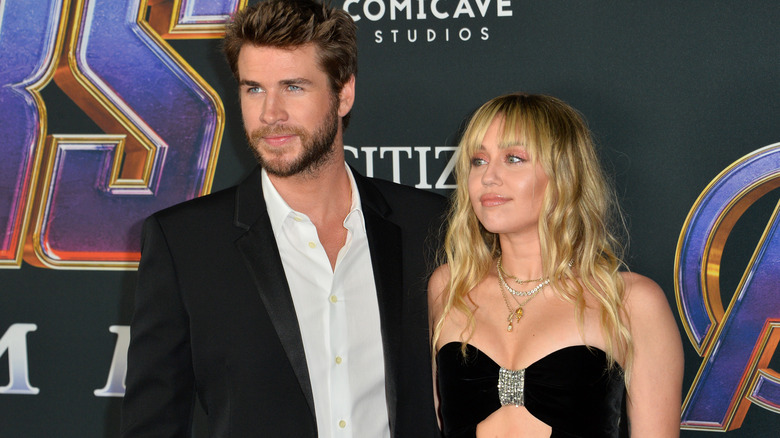 Featureflash Photo Agency/Shutterstock
Miley Cyrus is out there singing her truth, but is "Flowers" a diss track? One Internet sleuth did some digging and pointed out that Cyrus does the same dance in the "Flowers" music video as she did while attending a red carpet event with Liam Hemsworth. Per Us Weekly, Hemsworth's reaction — "Sweetheart, don't do that, we're on the carpet" — says it all. Furthermore, "Flowers" thematically centers on Cyrus' ability to make herself happy ... without a man. In the chorus, she sings (via Genius), "I can buy myself flowers / Write my name in the sand / Talk to myself for hours / Say things you don't understand. / I can take myself dancing / And I can hold my own hand / Yeah, I can love me better than you can." It's worth noting that this self-love anthem closely mirrors Bruno Mars' "When I Was Your Man," as HollywoodLife points out. But there's another connection between Mars, Cyrus, and Hemsworth; according to fan lore, Cyrus' ex once dedicated the song to her.
Ultimately, whether or not "Flowers" shades Hemsworth, Cyrus' lyrical revelations aren't surprising. After all, she's spoken publicly about her regrets, even branding her marriage "a f***ing disaster." In 2019, she also spoke to Elle about how she bucked traditions as a wife. "I mean, do people really think that I'm at home in a f***ing apron cooking dinner?" she asked. More like, she's walking the streets of LA in a gold get-up, singing her heart out.