Saweetie Has An Unexpected Connection To MC Hammer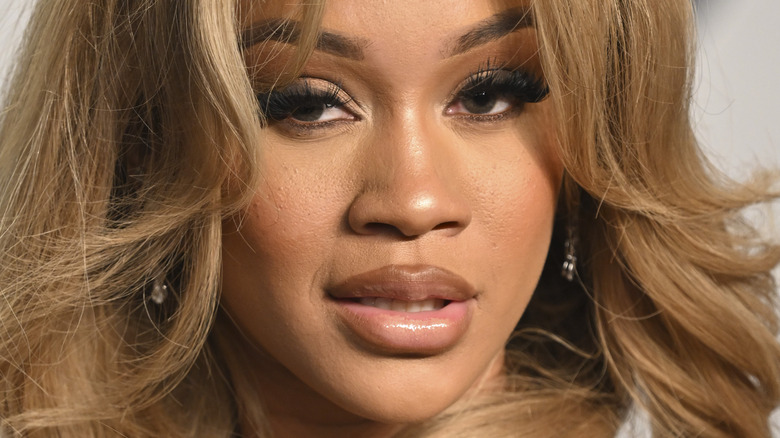 Karwai Tang/Getty Images
Saweetie revealed in an episode of the "This Is Paris" podcast that she was surprised by how down-to-earth Paris Hilton was. But the more we learn about Saweetie, the more we realize just how down-to-earth she is — especially given the circles she grew up in and the people she had access to. Case in point: She has a surprising connection to MC Hammer. 
Before getting into how Saweetie is linked to the "U Can't Touch This" rapper, it's worth noting that MC Hammer isn't the only star she goes way back with. As fans undoubtedly know, Saweetie is related to actor Gabrielle Union. And no, we don't mean that in the same sense that Ellen DeGeneres is a distant relative of Kate Middleton. As Union revealed via Twitter, "Her father and I are 1st cousins." In the same tweet, Union also explained just how tight-knit the family was, sharing that she'd once used Saweetie's grandmother as inspiration for a role. "Her grandma is my aunt Joanne Glass who I based Eva from 'Deliver Us From Eva' on," Union said. 
It's safe to say, then, that Saweetie certainly qualifies as entertainment aristocracy  — and her links to MC Hammer only solidify that. But, just how is she connected to the forefather of pop rap? 
She grew up with his kids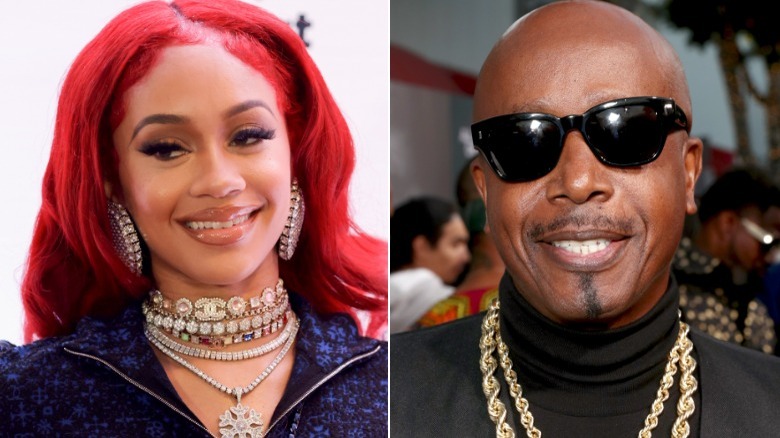 Tasos Katopodis & Todd Williamson/Getty
Gabrielle Union wasn't the only star in the family that Saweetie had to look up to as a kid; far from it. In a 2018 interview with Billboard, the singer revealed that she'd spent a good portion of her childhood with the Burrells. If that name rings a bell, that's probably because you've heard of one Stanley Kirk Burrell — also known as MC Hammer. 
So, what was Saweetie — real name Diamonté Quiava Valentin Harper – doing growing up with Burrell's children? Speaking to Billboard, the "Tap In" rapper explained, "My cousin's dad is MC Hammer." Growing up with one of the best-known rappers of all time, only to become a hip-hop sensation herself? Never has the term "mic drop" been more appropriate. 
Further than her revelation in the Billboard interview, Saweetie hasn't spoken much about MC Hammer or her relationship with the rapper. However, there's a good chance it's because she doesn't want to place a lot of attention on their connection. After all, Gabrielle Union revealed their cousin's status to the world, not Saweetie. Moreover, as she explained during an interview with Desus & Mero on Showtime, "I have so much pride. I believe in, you know, being self-made." Something of an understatement — to say the least.
... but she kept her career secret from her famous relatives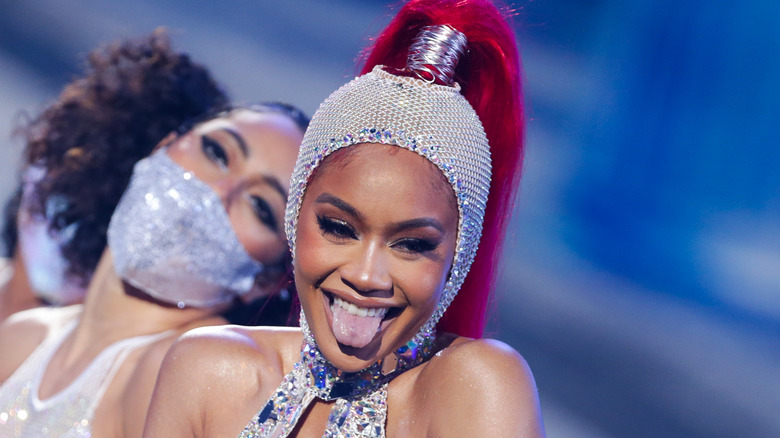 Bsr Agency/Getty Images
Saweetie wasn't kidding when she told Desus & Mero that she was committed to being "Self-made." In fact, in the same interview, she revealed that she did not want to cash in on her famous relatives — and didn't even tell them she'd gone into the music business.
"They were all kind of upset at me, 'cause they heard, uh, 'My Type,' and was like, 'We didn't know you was doing music, what you doing over there?'" she laughed. Saweetie didn't go into the specifics of who she had the conversations with — did we mention that, per Billboard, she's also related to producer Zaytoven? — but she added that once they learned of her career choice, most told her to reach out if she needed anything. However, staying true to form, she shared that she didn't take them up on that offer. "Instead of asking for help, I wanted to see if I could do it on my own," she explained. With an impressive net worth and a new gig as a Mac brand ambassador (all while continuing to make music), we'd venture to say she's done just that. 
Given all of her accomplishments, here's hoping that day she'll collaborate with her famous relatives. Perhaps sampling an MC Hammer song, or better yet, a collaboration? Just something for them to consider at the next family reunion.