Why Todd Chrisley's First Marriage Ended In Disaster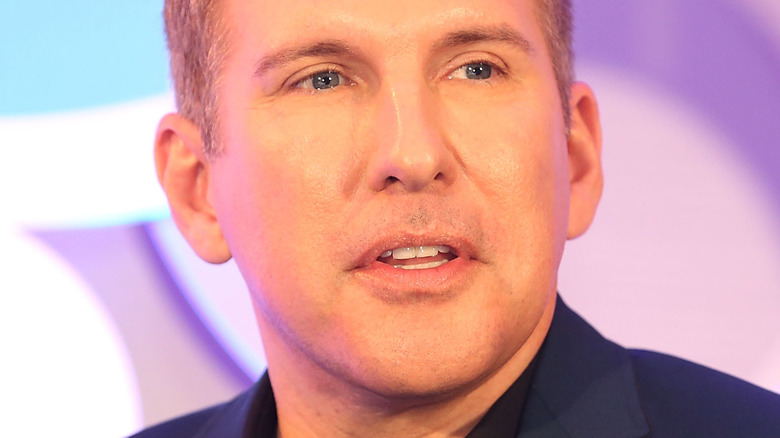 Aaron Davidson/Getty Images
"You gotta risk it to get the biscuit," is a mantra by Todd Chrisley that takes on an entirely different meaning now. The reality star rose to fame with his show, "Chrisley Knows Best," which hit the screens in 2014 per IMDb. The show followed the trials and tribulations of his family, their Southern antics, and their quick wit.
"Chrisley Knows Best" followed the lives of Todd, Julie and their children through tough love and hard lessons. The reality series became a fan-favorite due to Todd's quick wit and strict parenting. "My parenting style is just very consistent," he told People in February 2014. "I think sometimes it's construed as a little bit over-the-top, but when you have children that need to be met at a certain place, then I need to be at that place." The show had an average of 1.5 million viewers per the Nielsen report posted to NBC Universal in March 2021. The family was awarded a spinoff, "Growing Up Chrisley," a show focused on Chase and Savannah's move cross-country per IMDb, and a secondary show "Love Limo," a dating show that was planned but never filmed according to Variety.
Of course, amid all the family drama seen on-screen in "Chrisley Knows Best," one storyline that never made it to the small screen was Todd's first marriage.
Todd Chrisley was previously married to Teresa Terry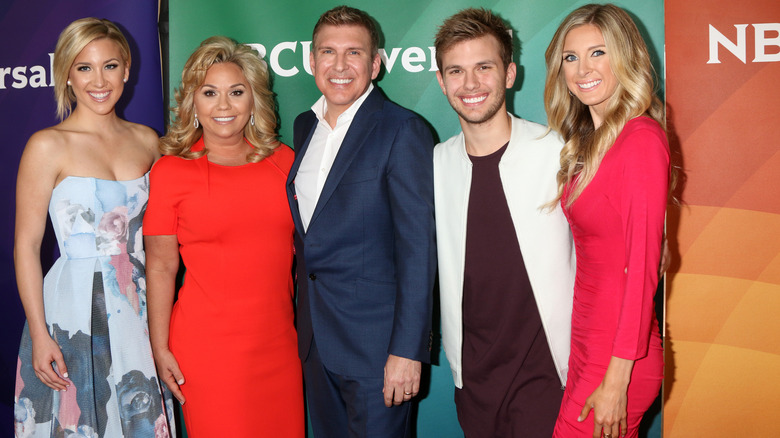 Kathy Hutchins/Shutterstock
Todd Chrisley is typically not shy, as an outspoken reality TV patriarch, one story that "Chisley Knows Best" left untouched was his first marriage to Teresa Terry. The pair met when Teresa was 17 and Todd was 19, and their beginnings were very low-key despite Todd's ambition to live a life of luxury.
Reportedly, the pair were together for two years when Teresa became pregnant with their first child, Lindsie, which prompted Todd to propose. "Most likely we wouldn't have married if I hadn't been pregnant but we did and it was a big deal," she confessed to Daily Mail in May 2014. According to Life&Style, they welcomed their second child, Kyle, in August 1991. 
Todd and Teresa ultimately split after seven years of marriage in 1996. Teresa said the downfall of their marriage was Todd's need for control. "He likes to control his environment," Teresa claimed in divorce documents obtained by Radar, going on to say, "I had two small kids [but at home] everything had to be picture-perfect; your hair always had to be fixed and you had to be dressed to the 10s." 
Todd Chrisley had more legal woes with his second wife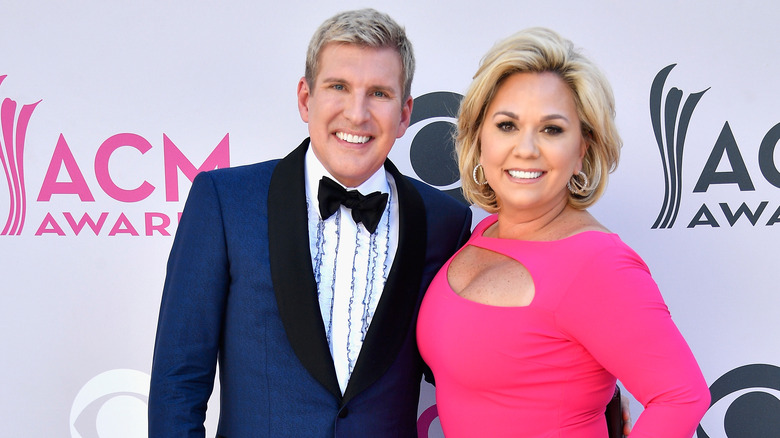 Frazer Harrison/Getty Images
While a romance didn't work out between Todd Chrisley and Teresa Terry, it didn't take long for Todd to find his second wife, Julie. Todd and Julie married in 1996, the same year as his divorce settlement. The dotting pair welcomed three children, Savannah, Chase, and Grayson, and fulfilled Todd's desire for living a lavish life, however, their financial issues began to surface.
Before hitting it big, the family had a few financial struggles including Todd filing for bankruptcy in 2012, and his company Chrisley Asset Management filing as well. Despite his efforts to show no proof of financial doubt, his fears ultimately caught up to him and he was charged with tax evasion in 2019.
Through the glitz and glamour, the reality tv mogul has previously admitted that his downfall was his increased fame. "I got lost when I couldn't tell the difference in my self-worth and my net worth. The bigger my net worth became, the less I focused on my self-worth because everything was being built around that net worth," he revealed on his podcast, "Chrisley Confessions" in July 2022. Todd will serve 12 years in prison and Julie will serve 7, both are expected to appeal. In addition to their sentences, the punishment continues as the series "Chrisley Knows Best," its spinoff "Growing Up Chrisley," and the dating show "Love Limo," which has yet to air, are reportedly canceled according to Deadline.