Kelli Giddish's Marriage: What We Know About The SVU Star's Relationship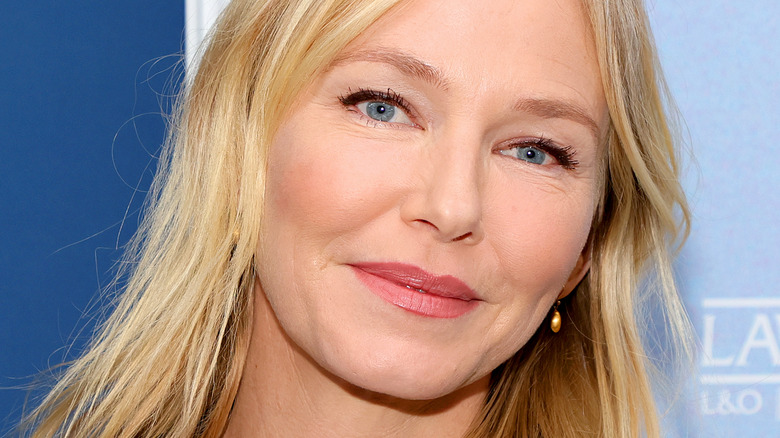 Dia Dipasupil/Getty Images
Kelli Giddish left "Law & Order: SVU" in December 2022 after portraying Detective Amanda Rollins for more than a decade. Her character's final episode featured a happy ending for both Rollins and fans, as she wed District Attorney Dominick Carisi Jr. (Peter Scanavino) before leaving the department. The wedding for Carisi and Rollins was a very private one, with the couple surprising their closest coworkers for the low-key nuptials. Fans who are curious about Giddish's real-life relationship might see some similarities to her character's rather private and protective approach.
In an exit interview with Entertainment Weekly, Giddish talked about filming the courtroom nuptials. She admitted, "When there's any kind of big crowd or a lot of people in a scene, I get super uncomfortable." It appears Giddish might have applied that feeling to how she managed her real-life wedding and relationship, too. As a result, not much is known about Giddish's husband, but there are a few tidbits she has shared.
Kelli Giddish married Beau Richards
In February 2022, Kelli Giddish surprised fans with a sweet Instagram post. In the caption, the "Law & Order: SVU" star wrote, "Happy beyond words to have met and married my love, my man, my sweet beau 11/7/21." She added, "@botorious you are my light, and the most supreme step-father Ludo and Charlie could ask for," referencing her two sons from a former marriage. The black-and-white snapshot (above) shows Giddish and her new husband, Beau Richards, kissing, as they tied the knot in New Orleans, Louisiana. Giddish then shared the same wedding photo on Twitter, writing, "It can be THIS GOOD!! So happy to be Missus Beau Richards."
Not only did Giddish keep the news of her nuptials close to the vest for several months after getting married, but she's never shared much about Richards with her fans. Shortly before her quiet wedding, Giddish mentioned her significant other in a chat with Smashing Interviews. She noted she had "actually recently been divorced," referring to her first husband, Lawrence Faulborn. As Us Weekly noted, Faulborn and Giddish were married from 2015 to 2018. In her talk with Smashing Interviews, Giddish then added she was engaged again and very excited. However, she just laughed when asked for further details on her fiancé, declining to reveal anything more.
Kelli Giddish praised her husband's parenting skills
Beau Richards' Instagram page is private, but Kelli Giddish has shared several photos of him on her Instagram account. The same day she announced her marriage, Giddish posted a picture of Richards playing with one of her sons in a pool. In June 2022, Giddish uploaded a snapshot of Richards holding a toy shark in front of his face, close to the camera. He wore a Hawaiian print shirt and a couple of musical instruments could be seen on a window ledge behind him. Another June 2022 Instagram post was a Father's Day tribute. Richards was at a baseball game, smiling as Giddish's son Ludo wrapped his arms around his stepfather's neck. Giddish wished her husband and all other fathers a Happy Father's Day, noting, "We are so lucky we have you!!!" A comment from Richards' mother read, "Your love and devotion for the boys makes my heart burst with so much happiness." His mom added, "I always knew you would be a awesome dad!"
Giddish has kept virtually everything else regarding her husband under wraps, and he maintains a low online profile for himself. The departed "Law & Order: SVU" star seems very happy, though, previously telling TVLine, "I am so excited about things going on in my personal life and kind of the mirroring of what's going on in my personal life and in Rollins', there's a lot of joy to be experienced."