T.J. Holmes' First Marriage To Amy Ferson Also Met A Bitter End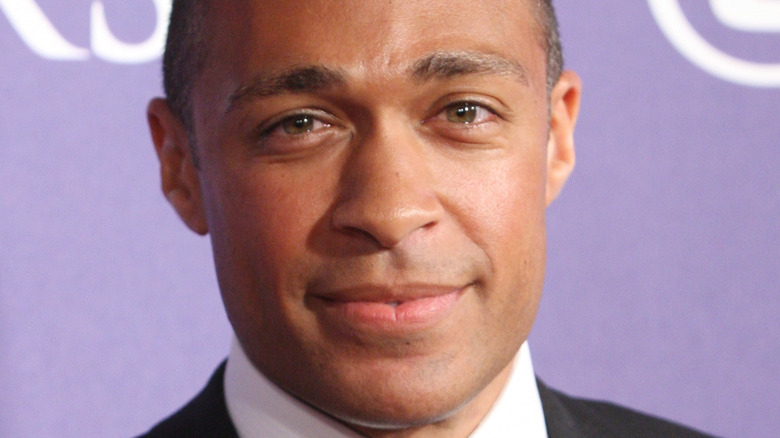 Bennett Raglin/Getty Images
T.J. Holmes went from "Good Morning America" star to a scandalous headline maker in the blink of an eye thanks to his relationship with his co-star Amy Robach. In late 2022, the Daily Mail published several photographs of Holmes and Robac, including some of the pair holding hands in a cab and other where they laughed over cocktails at a restaurant in New York City. The news made headlines because at the time, both Holmes and Robach were married. According to People, Holmes and Marilee Fiebig were wed when the scandal erupted, though a source told the outlet that they were separated when Holmes got with Robach.
According to the outlet, Holmes and Fiebig tied the knot in 2010, and during their marriage — they welcomed one child together. USA Today reports that Holmes filed from divorce from Fiebig in December of 2022 — just after the photos of Holmes and Robach went viral. Fiebig's lawyer, Stephanie Lehman, released a statement to the Daily Mail on Fiebig's behalf. "Marilee's sole focus has remained on the overall best interests of her nine-year-old daughter," she told the outlet. "To that end, TJ's attorney and I have been working together to move their divorce forward privately, expeditiously, and as amicably as possible." Lehman also stated that Fiebig was "disappointed by T.J.'s lack of discretion, respect, and sensitivity toward Marilee and the parties' daughter," though she thanked the public for their support during such a difficult time.
But Holmes' divorce from Fiebig was not his first.
Inside T.J. Holmes divorce from Amy Ferson
When it comes to marriages, T.J. Holmes has not had the best of luck. Before his divorce from Marilee Fiebig, Holmes had a rough divorce from his first wife, Amy Ferson. According to The Sun, Ferson and Holmes split in 2006, and the following year, Ferson filed divorce papers. This was shortly after the pair moved to Georgia together and right around the time when Holmes began working for CNN. In the divorce papers, Ferson stated that her relationship with Holmes was "irretrievably broken," noting that there was "no reasonable hope for reconciliation," which is why she filed the papers.
Ferson requested that Holmes pay her alimony in the filing as he "earns insufficient funds for support." Ultimately, the split cost the disgraced "Good Morning America" star around $100,000. The judge granted Ferson's request for alimony and ordered Holmes to pay her $2,000 a month for three years. In addition, Holmes had to shell out $25,000 from the pair's joint savings account, and the judge ordered him to foot the bill for their $3500 credit card balance. In a small victory, Holmes kept the couple's Georgia home.
According to News Unzip, Ferson works in the same industry as her estranged husband, and many fans may recognize her from appearing on CNN shows like "Larry King Live," and "Anderson Cooper 360." She has kept a low profile since her split from Holmes, and not many other details are known — outside of the two kids they share together.
T.J. Holmes has had many scandals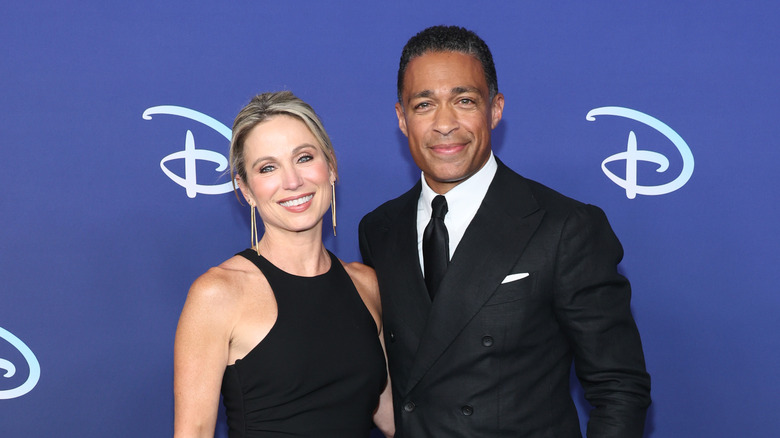 Dia Dipasupil/Getty Images
As we mentioned before, T.J. Holmes' and Amy Robach's romance rocked the nation for many reasons, especially considering the two both appeared together on "Good Morning America." Once the news about their relationship hit the interwebs, the producers of "GMA3" were left scrambling. In early December, ABC News President Kim Godwin had a conference call with the staff, where she announced that would suspend Holmes and Robach from their posts at the show. "These decisions are not easy, they are not knee jerk, but they are necessary for the brand and for our priority which, you guys know, are all of us — the people here at ABC," she said on the call, per Indie Wire.
Not too long after the show benched Holmes and Robach from the series, news of another extramarital affair broke. According to Daily Mail, Holmes and then- 24-year-old intern Jasmin Pettaway had a fling that began in 2015, when Holmes and Fiebig were still wed. At the time of the fling, Pettaway was 13 years younger than Holmes and she worked as a script coordinator for ABC. 'He was a predator who took full advantage of his position, and he was reckless," a source told Daily Mail, adding that when things happened, it was Pettaway's first real gig in tv. The insider added, "She was looking for a mentor and she reached out to several people. T.J was someone who was responsive, but he absolutely abused the position of trust."